It speaks to the nature of the Ireland squad currently in Japan, that even with just 12 caps in Test rugby, Hannah O'Connor can count herself as one of the more experienced in the group.
With eight uncapped players in the travelling squad of 28, some of whom are still in their teens, O'Connor is among a core group of forwards who have multiple campaigns behind them,
Captain Nichola Fryday is the longest serving, while Linda Djougang, Edel McMahon and even 22-year-old Dorothy Wall can also bring some experience and stability to a largely inexperienced touring party.
However, regardless of their experience, this tour of Japan is new to all of them. A first of its kind for an Irish women's team, the extended time on the road together and the challenges that brings will be a departure from the norm.
It's also providing some players a taste of what could become the routine. With the IRFU recently announcing the introduction of professional contracts for elite players, O'Connor says the last few days are exposing them to what life as a full-time athlete could be.
"It will be hugely beneficial," O'Connor says of the incoming contracts.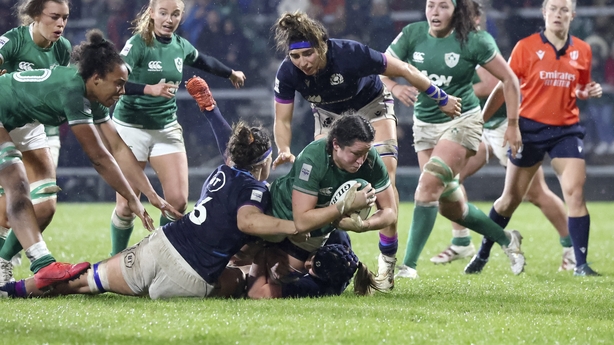 "We're getting a bit of a snippet of that now, having been together just over a week. It's so beneficial being together for a long period of time. You can go out on the pitch, have your two sessions and still come back together knowing you can replicate it the next day.
"It makes a massive difference in terms of recovery, nutrition, it's definitely a step in the right direction. It can only go up from here.
"It's the best feeling in the world. I love my summer rugby because as a teacher I get the abuse for having two months off. It's the best feeling, you can train day-in and day-out as a high-performance athlete, and that's where we want to be and what we want to be doing.
"To be able to do it in that environment, in Japan, is definitely a 'pinch me' moment, as a lot of us had on the plane over. We couldn't believe we were actually going to Japan to represent our country. It's fantastic."
The Blackrock and Leinster back row says even training in the unbearable heat of Hamamatsu hasn't taken away from their their enthusiasm, having been put through their paces in near-40 degree conditions.
"We came over last Friday, and had Saturday and Sunday to acclimatise and get a look at the surroundings and then yesterday [Monday] and today [Tuesday] was down to business. That was great, to get it under the belt, but nothing like we've ever experienced before in terms of the heat and humidity.
"We enjoyed the two days to look around and experience the culture and locality, but getting onto the pitch on Monday and Tuesday, we were raring to go to get out and do what we are here to do.
"At home you might get the odd day where you complain that it's a bit too sunny, but you at least have the air where you can feel like you can fill up your lungs. It was just relentless, we were practicing scrums at one stage on an astro pitch, the heat off it was phenomenal.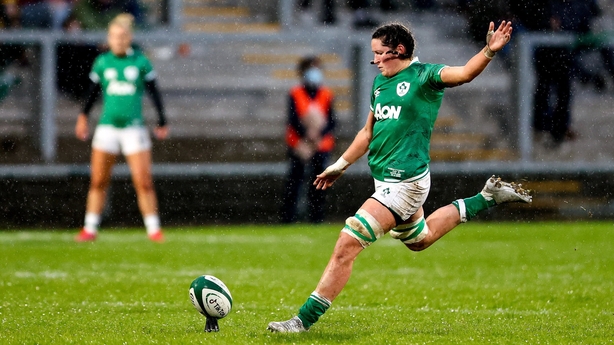 "It was one of those moments when we were looking at each other saying 'this is crazy!', but it was class. The facilities where we are training are top notch, so you take it all in, part of the experience, and it'll stand us in good stead to experience that heat in the day."
The Galway native was red-cared when the sides last met - a 15-12 win for Ireland at the RDS in November - but played all five games of Ireland's Six Nations campaign earlier this season.
And O'Connor says her main aim over the two games is to keep a hold of the number eight jersey.
"We sat down at the start of our trip when we arrived and laid out the personal goals we have and the goals for the team. For me, you're never sure of your place in the squad, nevermind on a matchday pitch. You just hope you get the chance, you hope if here is a next time to step on the pitch you leave the jersey in a better place, it's only yours to borrow.
"I thoroughly enjoyed the Six Nations campaign and getting a few starts under my belt. On a personal level, I'm hoping to be able to kick on from that and start a game as well.
"On a team level, with the style of rugby we're playing we're hoping to gel. Being immersed in this environment together is really helping us gel, and being able to hit the ground running every day and kick on and see the developments. We're hoping to see that cohesiveness come from that extended period of time together."
Follow Japan v Ireland (Saturday, 11am) via our live blog on rte.ie/sport and on the RTÉ News App.