As the dust settles on Ireland's greatest achievement in their rugby history – winning a series against the All Blacks in New Zealand – it's important to reflect on some of the key considerations before the tour began.
We questioned what a successful tour would be. Getting any sort of win in the first two games would have been a huge achievement, and Ireland did that. The rest of the tour success would come down to how many minutes some of the fringe tourists would get and who would put their hand up for selection to challenge what has been a very consistent team sheet.
There was always going to be game time, considering it was a five-game tour. We wanted players like Gavin Coombes, Ryan Baird, James Hume and Joey Carbery to get more time to see if they could handle the hottest cauldron of international rugby.
They didn't play as much Test rugby as we would have hoped, but then nobody expected Ireland to go to New Zealand and come home with a series win. Our expectations of game time and the barometer of success have moved substantially.
The series win isn't about a Steinlager Series trophy. The meaning behind the win is far removed from the trophy that was on offer. That success will breed a different level of confidence within this group for a long time yet. It's similar to what Joe Schmidt helped the team to achieve, and they wouldn't have done it without his previous success, but Andy Farrell has brought this team to another level.
One of the biggest successes for me, was that the older generation of players really stood up and led from the front. They didn't wilt under the public pressure of their selection, and if anything, they showed the younger guys the way in terms of creating history and playing the game in the right spirit, which is hopefully going to set this Ireland team up for further success down the line.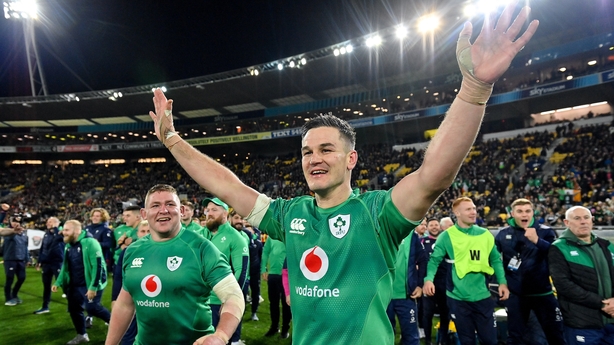 There were cries for Johnny Sexton to retire not so long ago. He shows time and time again just how important he is to this team, game plan, strategy, leadership, and belief. It's not just his wrap around play or putting players through gaps at the gain line.
When you listen to the interviews that Sexton gives, he challenges the status quo all the time. Why can't they achieve the things that they set out to achieve? Why can't they win a three-Test series in New Zealand? Similarly, why can't he make it to the World Cup next year?
Nothing in sport is guaranteed, but Sexton is maximising the twilight years of his career, and long may it continue.
Sexton was interviewed just minutes after the final whistle. He had the composure to bring himself down from the high, mention the supporters at home and in New Zealand and he celebrated the present moment and the win that was in front of him. Yet, it was a comment about how that series isn't going to matter next year that really showed the character that he is.
Honestly, I think his phrasing of the fact that the series won't matter next year was wrong. We'll give the benefit of the doubt to the successful Ireland captain. I think that series stands for a lot. Nobody will ever forget the time that Sexton and Farrell led Ireland to a series victory in New Zealand.
However, it doesn't guarantee you a quarter-final or semi-final place at a World Cup. Sexton's focus has always been on the 2023 World Cup, him making it that far, and Ireland delivering a performance that will see them go further than ever before.
Eighteen months ago, when this team wasn't firing on all cylinders, Sexton knew that it was frustrating but was very balanced about the fact that it will be the end of the World Cup cycle that matters far more than the inaccurate period that the team was going through.
He could see that they weren't far from the success that they believed they would achieve. And yet last weekend, when some of that success was coming to fruition, he was as balanced and calm as he was 18 months ago, knowing that there's a lot of rugby to be played between now and the World Cup knockout stages. I'm sure he'll be challenging the norms then too. Why stop at a quarter-final or semi-final? Why can't the group aim to win the thing outright and see where they land?
Sexton and Farrell clearly support each other, the chemistry between head coach and captain is visible in the press conferences. And the captain is quick to praise others around him. Praise for James Ryan in his leadership role surrounding set-piece and penalty choices within the game.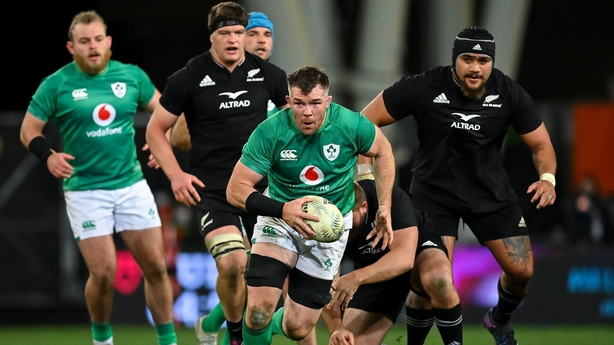 Peter O' Mahony, the arguable player of the series for Ireland, is a right-hand man to Sexton in terms of leadership. Evident from their positions beside each other in the national anthem line up, O' Mahony is still essential when finding the balance in the Irish team's game.
People were wrong to write off the older brigade of Irish rugby players. Yes, we can't get carried away and think that this is the end goal. However, we have to stop and think about the opportunities that this win opens up for the group of players that Sexton & Co leave behind.
It's time to stop looking for the next player and start to appreciate the players that we have. The likes of Ciarán Frawley, Coombes, Joe McCarthy, and Craig Casey will have long careers in the Ireland jersey. Some of them might make it into the World Cup starting 15 still. But retiring players before their time is up is not for us to decide. We can't be in a rush to develop some players and to retire others.
We don't know about the intangible qualities that some players have. We don't know how they train, and we don't always know about their contribution to the balance of team selection or their roles within the game plan.
Farrell has earned the right to have the strongest opinion on team selections and his senior players have earned the right to own the Test jersey until their form dips or their time is up.
For now, our experienced players are continuing to thrive, and we need to celebrate that. The series win against New Zealand should be heavily celebrated and then this team will focus not on a World Cup, but on the next task at hand. That task is getting better and pushing the standard again. There's a mammoth task ahead – taking on South Africa in a World Cup year when they will inevitably peak.
When the World Cup happens, will Ireland make it past a quarter-final? Who knows? You can't predict the future, and beating the All Blacks now doesn't mean history will repeat itself with regards to poking the bear and losing in a quarter-final.
Seeing as you don't get a choice between winning a series against the All Blacks a year out from the World Cup and winning the World Cup quarter final, I would certainly take victory now and see what it will create for this team a year down the line. It doesn't have to be an either/or situation.
Our Irish lens creates a negative spin-off that the victory in New Zealand means we're doomed going into the World Cup year. It's put a huge target on the back of an Ireland jersey, but winning in New Zealand is a huge success for Irish rugby.