Johnny Sexton says he believes his team have done the country proud, after Ireland claimed a memorable Test series win against New Zealand.
Andy Farrell's side produced a stunning 32-22 win at Sky Stadium in Wellington this morning to seal a first ever series win away to the All Blacks, having only claimed their first ever win in New Zealand a week ago.
The tourists had to dig deep to survive a ferocious second half comeback, with Rob Herring's try on 65 minutes giving Ireland enough breathing room to hold on, to the delight of the travelling Irish fans at the Cake Tin in Wellington.
"We speak about them all the time, we wanted to do them proud, all of our families either here and at home, we wanted to do them proud as well, and we certainly did that," said Ireland captain Sexton after the game.
"Even if we didn't get the result, the effort was incredible.
"It's a very special day, because we're playing against the best in the world. To come down here and do it is very, very special."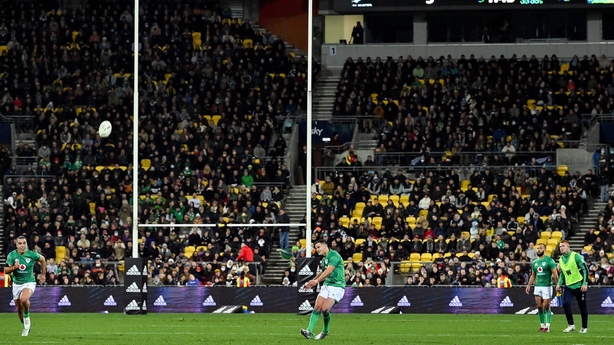 The 37-year-old dedicated the win to head coach Andy Farrell, who has now beaten the All Blacks three times in just four attempts.
The Englishman, who took over from Joe Schmidt after the 2019 Rugby World Cup survived a rough period of transition in 2020 and early 2021, and Sexton says he deserves huge credit for how he turned Ireland's fortunes around.
"It's clear how much belief, it starts with the main lad, Faz coming in here, he's changed things.
"He was brave at the start and stuck with some older lads, and got criticised. He brought in some younger lads, and has just done an incredible job. It's all credit to him really," he added.
And the out-half says this win should just be a stepping stone for future success.
"It means a lot now. I know in a year's time when the Word Cup starts it won't mean anything as we learned before. We'll certainly enjoy tonight - and then maybe a couple of more days and then we've got to keep improving. That's what we have to learn from previous years, we have to keep improving.
"After losing 60 nil the last time I played a third Test in New Zealand 10 years ago..." - Ireland flanker Peter O'Mahony has been speaking to @MichaelC_RTE #NZLvIRE #RTERugby https://t.co/3S90NAicUj pic.twitter.com/cvKIHIRW0Y

— RTÉ Rugby (@RTErugby) July 16, 2022
"This group of boys, the management we've got, they're a very special group, and I'm so proud to be a part of them."
In the closing stages, veteran flanker Peter O'Mahony could be seen in tears on the sideline, with Ireland in an unassailable 10-point lead.
And the Munster captain said the thoughts of winning a series in New Zealand would have been beyond his wildest dreams as a child.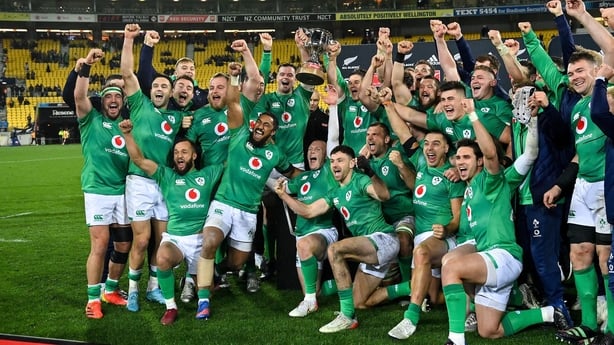 "It's hard to put it into words, really.
"It's never been done before, to win here, to get a series win probably wasn't something you thought of as a young fella, but now there'll be young fellas at home in Ireland dreaming of playing for Ireland, and winning over here.
"It'll have been done before, it won't be the task that it was. It'll never be taken away from that group, they're the first ones to do it. Not only to win once, but win a series."
A strong contender for Ireland's best player of the series, the 32-year-old says they never lost faith, even after their 42-19 loss in the opening Test in Auckland.
"We always believe we can win. We know the work we've put in, it's an honest group of people, an incredible group of people at that. We're all very lucky to have incredible backing by our families at home, who weren't here.
"These days are made by groups of people, and people you have in the background, here and at home, and it means a huge amount to us, a huge amount to them," he added.