Aaron Smith says he's hoping he can find a "chink" in the armour of his opposite number Jamison Gibson-Park, when New Zealand and Ireland face off in their deciding third Test tomorrow (8.05am).
The 104-cap All Black legend gave a masterclass in scrum-half play during their first Test win against Ireland 13 days ago, before Gibson-Park excelled for Ireland last week in Duneden to level the series up at 1-1.
"It's great, I love competing against great half-backs," said Smith, when asked about his individual battle with his fellow scrum-half.
"It's not really a position where you get a good head-to-head, it's more a position where you get your team around the park and he's taken his game to another level.
"He plays at speed, and he's fit and fast and is a great competitor. I've really been enjoying it."
Smith and Gibson-Park swapped shirts after last week's Test, with the 33-year-old adding that it was extra-special to be able to do so with a native New Zealander.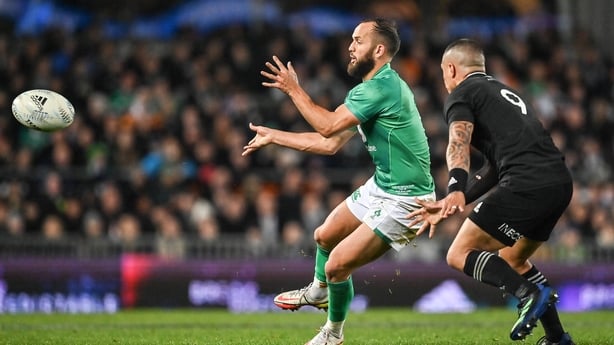 "The jersey thing is a respect thing, it's a tradition of rugby.
"I'm very blessed to have played a lot of Tests, and I want to look back at the jerseys of those I played against and enjoyed those. I've got a couple of Conor's [Murray} jerseys, to have Jam's one with the Kiwi aspect - we're both from the east coast of New Zealand, those kind of things are just little things that are bigger than rugby
"He's a Kiwi boy but we're both playing on the biggest arena in rugby, and it's awesome. Definitely excited if we get the chance to go at it again, I'll be walking towards it."
While the Highlanders man has played in three of New Zealand's four previous defeats to Ireland, he does have fond memories against this week's opposition on Ireland's last tour in 2012.
And with their backs to the wall in tomorrow's third Test in Wellington, Smith is calling on his teammates to cast their minds back to the 2019 World Cup, when they demolished Ireland 46-14 in Tokyo, Smith scoring two of their tries that night.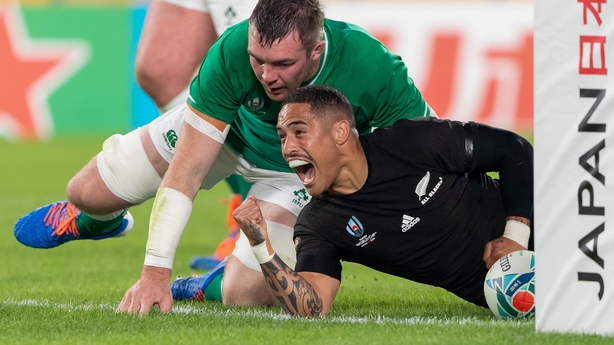 "It's full-circle, I was thinking about it when I got named in the squad. Ten years, where did that go? I remember those moments vividly," he said of his 2012 debut against Ireland.
"You just have to go out there and do your job and be excited and be energised, be a bit nervous, and feed off that. I think in the rivalry with Ireland, which has grown - I think people need to remember every team we play gives us their best. They grow and arm and go at us. I love that, and it's been coming a while.
"I've got great memories against Ireland, and they bring the best out of us in a way.
"I still think one of the better games I've been a part of was the Ireland World Cup quarter-final [in 2019]. We were so amped for that game, and it has that same feeling this week. It's win or go home, this week will be the July series on the line, and at the World Cup in 2019 it was a semi-final berth on the line. It's the same feeling, same vibe and same excitement.
"Like I said on Saturday, I could have played the next day if we had to because of the pain of the loss. The energy it gives you to want to be better, and know we can be better. We play to win, they'll do the same.
"There'll be a definite shift in our mentality this week, and it'll be visible."
Listen to the RTÉ Rugby podcast on Apple Podcasts, Soundcloud, Spotify or wherever you get your podcasts.
Follow Ireland's third Test against New Zealand via our live blogs on rte.ie/sport and on the RTÉ News App or listen to live radio commentary on RTÉ 2fm (8.05am)