Paul O'Connell admitted that Saturday's comprehensive 42-19 defeat to New Zealand was both frustrating and disappointing.
The Ireland forwards coach felt that the team gifted the home side some valuable scores, which made a tough task even tougher as the All Blacks moved out of sight following a four-try blitz in the second half of the opening period.
The former Ireland lock was full of praise for the All Blacks defence, holding firm while making it very difficult to score at Eden Park.
"It's frustrating and disappointing," said O'Connell, speaking to RTÉ Sport. "They are a very good side and they're always going to score tries, [but] we can't give them access to those tries, which we did a little bit unfortunately with some of our play.
"We got turned over at the ruck and they scored pretty quickly and then an attack on their 22, unfortunately we put the ball down and they go the length of the field, and those kind of tries are the ones you can't give away against them. Those tries are frustrating.
"We were over the line a few times and not to get those scores is tough. You need to take every single chance that you can get."
O'Connell admitted Ireland struggled at the set-piece and as a result it prevented the team from implementing their own game-plan effectively.
"It was poor, there's no doubt about it," said O'Connell.
"From a scrum point of view, some of the interpretation was frustrating, but that is something we have to address and figure out.
"We had 17 lineouts and lost four of them. Another we won but lost immediately on the ground, so effectively five lineouts [lost]. Two were good lineouts, but we got our drill wrong, and two they had good defence, which you would expect against New Zealand.
"And that was a frustrating part of the game. It is an important part of our game in terms of being able to play our game and stop the opposition play as well. When we have the ball and they don't have it, it's good for us."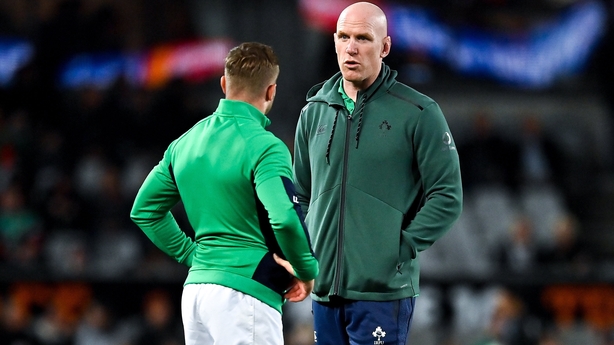 Ireland ended up getting several penalties late in the game as they put pressure on the home defence, looking for a late score, however, O'Connell was disappointed with some that Ireland conceded throughout the game, which he felt could and should have been avoided.
"One of the ways we score is by being very tidy in how we go about our own business, and at times we weren't that last night," said O'Connell.
"Up until the 70th minute the penalty count was 10-7 and one or two of the penalties are ones that we don't need to give away. Some are inevitable but some you can avoid giving away and we didn't manage to do that.
"When they get into your half or your 22, they are very effective, they have great speed and great power, and once the ball has been in play for three or four phases, they are very good, so we have to stop giving them those opportunities."
Looking ahead to the second Test on Saturday, O'Connell said that Johnny Sexton will continue his HIA assessment, however, he confirmed that Dave Heffernan is ruled out with concussion.
"Johnny passed his HIA 2 and he'll do his HIA 3 in the next 24 hours, while Dave Heffernan had his concussion confirmed so he is going to be out certainly until the third Test."