Options left and right, even a chip and chase for a stunning solo try, but once Johnny Sexton spotted a blur of red over his shoulder there was really no decision to be made.
And still that blur had to be distinguished from any of the seven Toulouse defenders that were zeroing in on the out-half, who had just sold an outrageous dummy that was bought by as many of his own players as opposition ones.
Josh van der Flier still looked an unlikely try-scorer from that position but as the players' player of the year-elect (he'll pick up that award on Wednesday) has been doing all season, he excelled and scored.
"I certainly didn't back myself to go the distance, I thought about chipping it but then Stu [Lancaster] would have killed me if I did," smiled Sexton when asked to talk about Leinster's second try in the 40-17 Champions Cup semi-final win over Toulouse.
"I just saw the red scrum-hat and know the form he has been in, if I could get it to the red scrum-hat he'd score.
"He's been incredible for the last few months, incredible performance again by him."
'Bravo Leinster' - @StadeToulousain boss Ugo Mola #LEIvTOU #rterugby pic.twitter.com/Hgut9GWlvS

— Michael Glennon (@MicilGlennon) May 14, 2022
Ugo Mola's men got the first try of the day but the first half belonged to the hosts at the Aviva and Antoine Dupont's breakaway was merely an early consolation score.
The French had no complaints about the final result, save for a line or two about the rigours of their schedule in comparison to their opponents.
"When I came out of the dressing room Johnny Sexton was exchanging jerseys with Romain Ntamack," said Mola when asked about the effects of fatigue on his heavily raced side on their third trip to Ireland in a month.
"There is one of them who is 22 and the other 36, but one has played 27 matches this season and the other 12.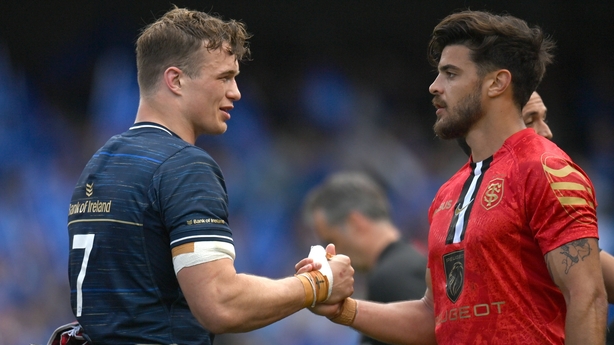 "We made our task hard for ourselves with a lot of away matches in the European Cup.
"What is certain is that the 32 minutes (actual playing time) in our championship does not prepare us for the level of rugby we experienced today.
"There is bound to be disappointment when you lose in the semi-finals.
"It's hard not to go all the way to Marseille. Afterwards, quite logically, the best team will play one more game.
"Today, too much separated us from Leinster. We failed to stem the blue waves.
"They came across a much better team than ours. Leinster have existed at the highest level for 15 or 20 years."
Leinster will host Munster at the Aviva Stadium next Saturday night but already assured of a home quarter-final in the URC, will rest many of their front-liners for the battle with Racing 92 or La Rochelle, who meet today at 3pm.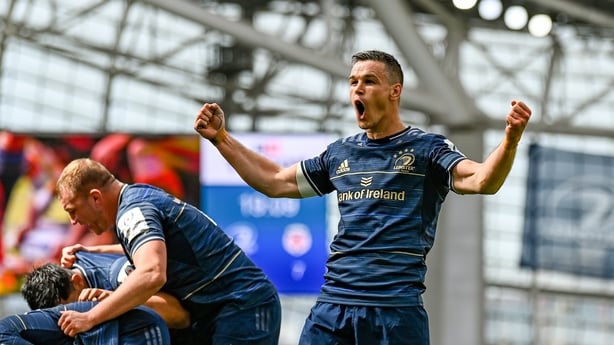 Sexton joked afterwards: "I think Munster softened [Toulouse] up for us a little bit and they came here probably not at their best but we were close to it and we have to go again in the final because Racing and La Rochelle are two top quality sides.
"La Rochelle beat us last year and we've had tough battles with Racing over the years."
"Any time you get to a final you're extremely happy, but in some ways it's only half-done.
"The last time we were in a final against Saracens [2019] we got out-played.
"It was a special day in Newcastle for the wrong reasons but our crowd turned up and we just didn't on the day.
"But we've got to learn from that lesson and hopefully go one step further this year."
Sexton was named man of the match and while James Ryan got through another massive game unscathed, playing 76 minutes in total, his fellow lock Ross Molony (below) had an outstanding match in the face of the brutal French second row of Rory Arnold and Emmanuel Meafou.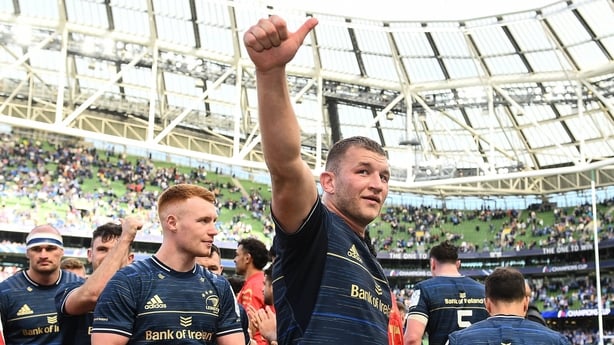 "He leads the forwards really well, both him and James," said head coach Leo Cullen.
"It's a good combination, the two of them played together in a [Leinster] Schools Cup final. It's amazing to see them now, go on and play for Leinster together.
"Ross came up with a couple of huge moments, a couple of big lineout steals but yeah, he's getting better all the time. He has a lot of games for Leinster under his belt but it's the step up now to this level.
"Okay, it's European level first but then it's into the play-off stage. Another encouraging performance from Ross. It's good to see him go well out there."