Knowing what Toulouse will do, and stopping Toulouse from doing it are two entirely different things.
Ulster knew what to expect in the Round of 16, and while they executed the right plan for the bulk of the 160 minutes of rugby, they still felt the wrath of Dupont, Ntamack and co.
And having played them in the Heineken Champions Cup last season, Munster will know what to expect this afternoon when Stade Toulousain come to the Aviva Stadium, the defending champions putting their title on the line in Dublin.
Ten of Munster's starting XV this afternoon started last season's 40-33 defeat at Thomond Park, a game in which they traded blows with the French giants for 80 minutes.
Jack O'Donoghue is one of those who started last season, as will do so again today, this time swapping flanker for number 8.
And while this year's lineup is having to make do without the likes of Dave Kilcoyne, Tadhg Beirne, Andrew Conway and Gavin Coombes, Munster arrive into today's quarter-final looking a far more rounded group than they do a year ago.
"I think this group, we are already writing our history," O''Donoghue said this week.
"You can look at the past and it's a completely new crop of players and so for us, it's all about enjoying the occasion and the build-up to the game. Some lads, it's their first taste of Champions Cup rugby with a bit of a crowd and playing in the Aviva with a crowd, 30+ thousand people there is going to be incredible.
"While it's a massive game, it's an opportunity for lads to embrace the occasion, and go out there and really express themselves."
"I think we brought a varied attacking game [last year], we stretched Toulouse right until the very end. The game was in the balance right up until the 80th minute and that's something we have probably backed up again this year. You saw games where we won it right at the end and to still be in the fight at 80 minutes against them was good but we probably came out of that game and saw areas where we needed to improve a lot more.
"Our exits, I don't think we exited efficiently enough that day and as a result of that, they kept the pressure on us. That's something we need to be really clinical with this weekend - when we have an opportunity to get out of our 22, that we do so efficiently.
"Controlling their nine and 10, they're massive game controllers for them and there will be moments of magic out of them, so it's about not being shocked by that and really taking the game to them."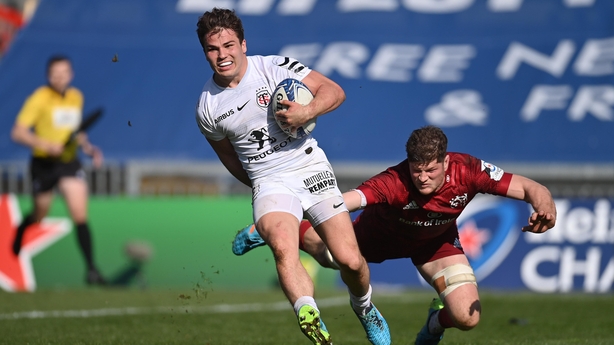 While Leinster's lead atop the United Rugby Championship afforded them toe opportunity to rest their first choice XV in recent weeks, Munster have been in a fight for a home-quarter final, and as such have had to keep their frontliners in the battle.
A backlog of Covid postponements means they're also playing week-to-week rugby, this afternoon's quarter-final will be their 10th game in as many weekends, while if they were to advance to the semi-final, that number would be up to 12.
It's a two-sided coin though. While there's a lot of squad rotation and planning to be done to keep a side ticking over 10 weeks in a row, it also builds momentum.
"I think the coaches have managed that incredible well in terms of the rotating a few lads in and out, week-to-week," O'Donoghue adds.
"It just kind of keeps everyone fresh and everyone on the same page and everyone the chance to express themselves and put their hand up for selection. At the end of the day we've an incredible squad here and they're really competing for places and so for us, it is using that momentum we have week on week to build up to a big game like Toulouse."
The week-on-week aspect of the last three months is also evident in their current style of rugby, with Van Graan and senior coach Stephen Larkham seemingly giving the players more licence to play expansive rugby with the better weather conditions and pitches.
"Absolutely, if you looked at our game back at Christmas time and how we progressed, we got the first sniff of it down in South Africa, when we were playing in good conditions, warm weather and to be able to have that in our back pocket that having more order in the game plan, and not being as predictable, that's certainly something we're working on and building throughout the week and bringing into games as we go on."
A crowd of more than 31,000 will be at the Aviva Stadium, which is counting as a 'home' game for Munster, due to this week's Ed Sheeran concerts at Thomond Park.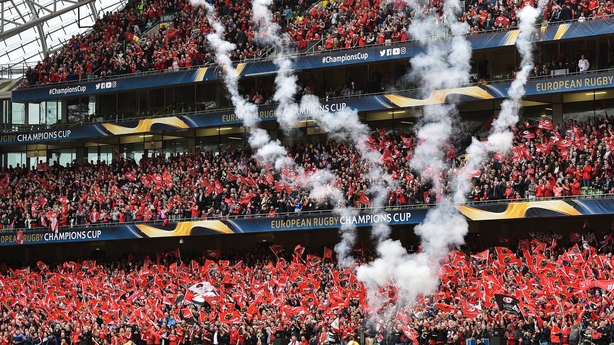 And despite having a poor record at the ground - just two wins from 14 visits - O'Donoghue says they have no qualms about playing at the national stadium.
"It's incredible. A lot of people say all the time that Munster fans are incredible but they've really shown it now. They've really got behind us.
"Yeah, there was news that we couldn't play at Thomond Park but it didn't bother anyone. Everyone just said, 'Where's the game on? On we go, up to the Aviva.'
"The sea of red is just following us around and it's going to be an incredible atmosphere having 30,000-plus Munster fans there as well as the travelling Toulouse fans, it's really going to make for a special occasion and I think the atmosphere is going to be electric."
"It's incredible, it's the national stadium and people do dream of playing there. A lot of them dream about playing there in a green jersey but to play there for Munster and have had a sold-out Aviva Stadium like we have had in the past, the atmosphere is second to none.
"Results probably didn't go our way there in the past, but the fans still stayed around after and clapped us off the field and showed their support and appreciation.
"You can't let the occasion get the better of you this time around - that's something we spoke about, that it's another rugby field with four lines, two goalposts, and that's all we're speaking about. Yes, it's our home game. but we will look forward to that and embrace it."
Listen to the RTÉ Rugby podcast on Apple Podcasts, Soundcloud, Spotify or wherever you get your podcasts.
Follow Munster v Toulouse (Saturday 3pm) and Leicester v Leinster (5.30pm) via our live blogs on rte.ie/sport and on the RTÉ News App, and listen to Munster v Toulouse on RTÉ Radio 1.