Robert Baloucoune's face said it all.
Partially hidden behind his hands, the Ulster wing, just minutes into their Champions Cup second-leg clash with Toulouse, winced as he looked up and saw Anthony Jelonch lying flat on the ground.
He prayed to the rugby gods and they were kind. They need not have been.
Baloucoune and his team-mates had plenty of recent examples to look back upon in those famous reviews.
You can imagine the cleaned-up version of the coach's instruction. 'See that idiot? Don't be that idiot'.
Juan Cruz Mallia had lasted just 11 minutes of the first leg for going in dangerously on a vulnerable Ben Moxham. The Argentine wing departed to let his 14 mates try to get something out of the game.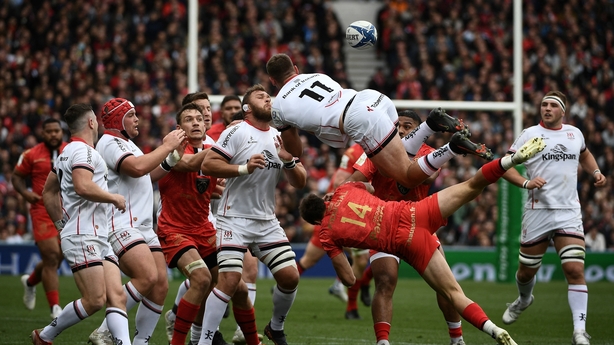 Moxham, meanwhile, left the field, his European adventure was over.
Dangerous tackles have been the hot topic over the last couple of months.
Ireland twice played against teams in the Six Nations with 14 (or fewer) men after dangerous high tackles.
Connacht and Leinster met three times in the four weeks prior to this weekend and cards were scattered like confetti at a wedding.
Leinster wing Tommy O'Brien got a yellow for taking Niall Murray out in the air after just five seconds of their URC clash, while two minutes later Connacht centre Tom Daly saw red for shoulder to head tackle on Ciarán Frawley.
Here's Tom Daly's early red card
Follow live updates: https://t.co/H1RxA2NRel #CONvLEI | #URC pic.twitter.com/jAdcpval0j

— RTÉ Rugby (@RTErugby) March 26, 2022
Leinster scrum-half Jamison Gibson-Park was deemed lucky to only get sin-binned for contact with the head of Kieran Marmion seven minutes after coming on in their Champions Cup first leg.
Referee Karl Dickson said Gibson-Park stood stationary and "accepted the tackle" rather than going forward, somehow missing the brace-for-contact motion that resulted in the point of the Ireland back's shoulder smashing Marmion's nose.
Lessons learned for the third match at the Aviva Stadium? Not really.
Connacht centre Bundee Aki, twice red-carded for Ireland, saw yellow for high challenge on Johnny Sexton on 35 minutes.
"Low danger, no mitigation," said referee Luke Pearce, leaving most people wondering if he had confused the word 'low' with 'high'.
"The majority of the force is taken by the body but there is head contact," agrees TMO Tom Foley to further confuse the matter. Had the English whistler flashed red, there would have been no appeal.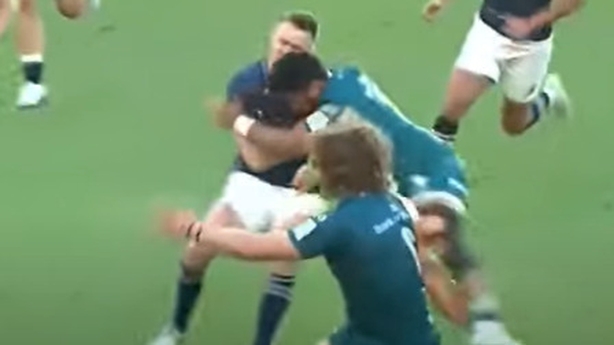 Connacht prop Jack Aungier soon got in on the game. Yellow for making contact with Josh van der Flier's head five minutes after coming on.
"Brainless...those things kill you," was the over-kind summation of head coach Andy Friend, who has had to deal with Abraham Papali'i for the last two years. The recipient of three red cards in the first nine months of his Connacht career heads to Brive next season.
Need more?
Leicester's Ollie Chessum: red for a high tackle against Clermont.
He didn't accept the decision and got banned for six weeks but in the world of independent disciplinary committee hearings that was reduced to three, a sanction that would rule him out the home quarter-final against Leinster.
But, of course, if he decides to do a World Rugby 'how to tackle correctly' course, the England international will be free to face Leo Cullen's side.
Baloucoune got ten minutes in the bin and counted his lucky stars. Toulouse's advantage lasted all of three minutes before wing Dimitri Delibes lifted Ethan McIlroy dangerously in the tackle.
And we weren't finished there: with the game in the melting pot, Tom O'Toole, just on as a replacement, saw red for a textbook high tackle on Jelonch. Rob Herring, somehow, escaped a sanction.
Referee Matthew Carley, possibly reckoning that discretion was the better part of valour in the midst of a boisterous Ravenhill crowd, quickly ascribed Herring's shoulder intervention to the movement created by O'Toole's tackle. Highly debatable.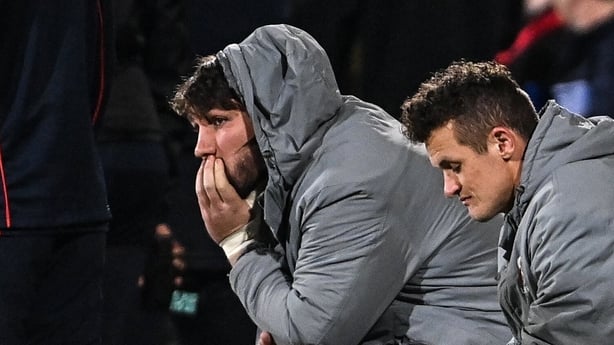 The captain wouldn't have complained had he been sent off.
The days of 'shut that door, we're going through the wall' dressing-room madness are gone, we are told.
No more, or to a lesser extent at least, do we hear tell of Paul O'Connell-like beseeches.
"I want them standing back thinking what the f**k is going on here!" the former Ireland demanded of his Ireland team-mates before the France match in 2007.
"F***ing manic aggression! Did you scare anyone, did you put the fear of God into anyone?!"
Head coach Eddie O'Sullivan chimed in: "Heads-up and f***ing chests out here! Throw down the marker early, let them know what's going on! It's our f***ing back yard! It's our f***ing turf!"
We are led to believe players are more focused these days and that's all in the past.
"It's much calmer than before," says former Ireland hooker Bernard Jackman.
"[The game is] so fast," he adds by way of explanation of why professionals are making such seemingly self-defeating decisions, discounting the hyping up of players before entering the fray as a reason.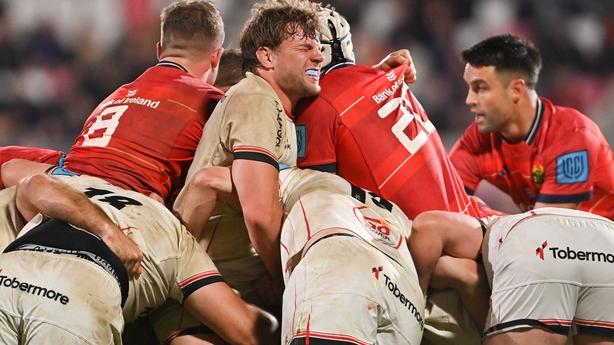 "Player welfare is key, and we work on our tackle technique," Jordi Murphy, the Ireland and Ulster flanker said this week.
"It's one of those games where things are happening so fast, and it's ever-evolving.
"If you're one step off it could be the difference between a penalty, a yellow or a red card.
"Unfortunately, we were subject to a couple of cards over the last while, but certainly there's no malice or ill-intent in those plays.
"It happens in an instant; we'll always work to try and lower our body height and make sure we don't get ourselves in compromised positions.
"We want to play fair and clean, and certainly practice that, but sometimes these things happen. There's no malice intended."
So why then are players getting sent off so often and why are we not seeing a reduction, especially in the current climate? The risk v rewards analysis needs calibration.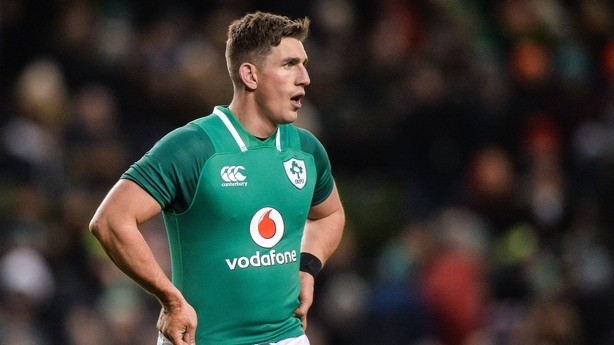 Ian Keatley has a theory of why seasoned students of the game are constantly making it hard on themselves.
"Rugby is a physical sport and it's only getting more physical," says the former Ireland and Munster out-half, who retired last season.
"That's rugby, it's never going to go away from being direct and physical.
"Even if you watch Leinster or Toulouse at the moment, everyone would say they play free-flowing rugby but that's all built on winning front-foot ball.
"If you don't have that emotional connection you're in trouble, those one-percents are massive; you have to be in the right frame of mind.
"I wouldn't say it's like the old days with people shouting and roaring, it's all about being mentally focused but a lot of teams say it: 'You are going to war'.
"You are putting your body through physical torment.
"If your opponent is more 'up for it', then you're already on the back foot.
"It's tough. There are too many head collisions, and I don't think the onus should be on the referee, they have their mandate and a clear framework."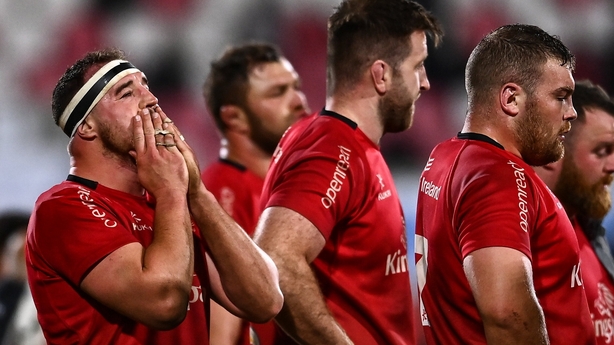 So there's the conundrum: a coach is tasked with coming up with a way to win a game and coming second in the physicality stakes is a sure way to make that you end up on the losing side.
Keatley, who also played with Connacht, London Irish, Benetton and Glasgow over the course of a 295-game career, is now coaching Clonmel and soon after implementing a new tackle practice with the AIL club, realised it wasn't going to work.
"On the coaching side, it's very hard because the rules of the game favour the attacking team," he told RTÉ Sport.
"If you go chop tackle, your opponents can get quick ball.
"You have coaches saying, 'make a dominant tackle', that involves getting your shoulder into the contact, wrapping, being physical, hitting with intent, putting time on the tackle.
"If you don't you are giving away quick ball and you are giving away tries.
"That's the coaches' dilemma. Obviously, they want player safety but also, they don't want to lose.
"And most referees are favouring the attacking team.
"I had changed our tackle to chop focus, but teams were getting such quick ball"
"There should be more focus on players dropping their height.
"It's complicated. With the new rules, I had changed our tackle to chop-focus, but teams were getting such quick ball.
"Two of our tacklers would end up on the ground, we'd have two in the backfield and maybe a 9 [sweeping], so then the attacking team might be facing just 10 guys.
"So I had to change focus to underneath the ball, around that waist-bellybutton line, and get time on the tackle. It's working well for us, we've only had one yellow card for a head-shot and our player didn't drop his height.
"There are ways around this but it must come from the players and the coaches."
No-one claimed it was easy. A solution must be found or else horrific stories, like the one told by World Cup winner Steve Thompson will become more common.
---
Thompson reveals he was put on suicide watch
---
The 43-year-old former England hooker has been diagnosed with early-onset dementia after suffering repeated concussions during his career.
He said: "I just want things to change. Rugby needs to understand the problem and stop lying about it. There is a crisis. I'm f*****. But this is for the sake of the next guy."
And, as they say, you could write a thesis on it, which is exactly what Kathryn Dane is doing.
The Ireland scrum-half is studying for a PhD in tackling, focusing, in particular, in the women's game but there are lesson to be learned for everyone.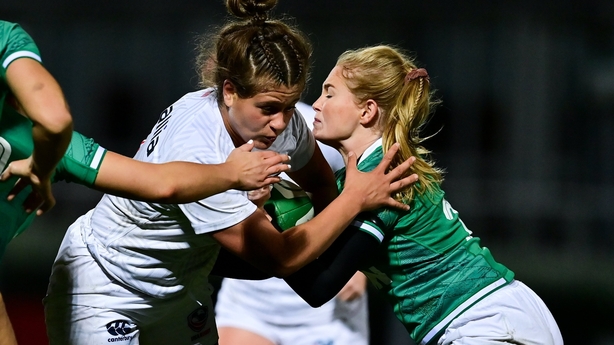 "They're starting to notice that the mechanism of injury [concussion] is slightly different [in women's rugby], perhaps head-to-ground impact or head-to-head, as opposed to men's game where a lot of it is head-to-hip or head-to-knee," Dane (above) said.
"In the women's game, it's a bit more whiplash type but we don't actually know the mechanisms around why that is happening.
"Is it a training thing and they're not prepared enough or women [physically] just tackle differently than men and are more at risk because of exposure?
"I'm hoping my PhD will help answer some of those questions.
"With the amount of red and yellow cards at the moment they're looking at it.
"World Rugby make sure that everything is evidence-informed so they're doing lots of work around the world and are working very hard on it."
The one thing we know is that something has to be done but finding an answer is not going to be easy.