Two-legged knock out fixtures certainly added a new dimension to European rugby this year.
In a time where clubs are struggling financially and stadia are being used for external events, rugby is cashing in on multiple fronts in the post-Covid (lockdown) era, including home and away fixtures.
I don't have strong feelings either way when it comes to the aggregate score across two legs of matches. Some were against it, but it added an element of fairness to the knockout stages before we get into the quarter-finals.
The one big loser of the knockout series has to be Ulster. They managed to beat Toulouse away from home. That was a serious statement of intent, as well as a confidence booster going into the rest of the tournament. Yet, after the return fixture, they find themselves eliminated from Europe and grasping at winning the URC to make any strides forward this year, such are the expectations now in the northern province.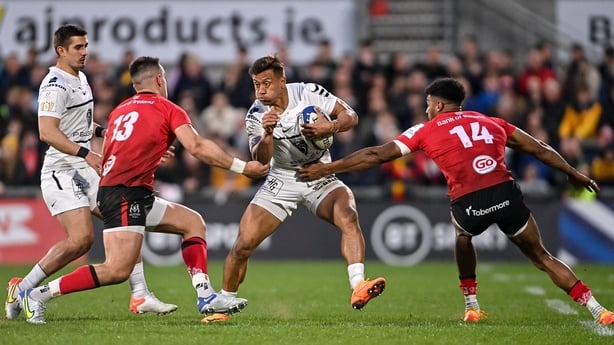 I felt as though Ulster were after making strides towards catching up with Leinster, to a degree, and were now seen as the second-placed Irish province. Munster's form has been up and down, whereas Ulster seemed to be building something, despite their own inconsistencies.
Before their slip up against Toulouse, there would have been uncertainty surrounding Munster's ability to win an away quarter-final at Kingspan Stadium. Ulster would have been clear favourites.
That's because of the development and transition that Ulster have gone through, and they seemed to be out the other side of it. They have experience in the likes of Henderson, McCloskey, and Rob Herring, mixed with serious potential in the younger leadership group with the likes of Lowry, Balacoune and James Hume.
With Vermuelen in the back row, they had that match-winning mentality and experience, although still missing one key figure somewhere throughout the team. You'd think that if they had a game winner at out-half they'd be strutting their way into a home quarter-final in a few weeks.
Unfortunately, for now, this team is still a 'what if' and 'full of potential' conundrum in the minds of the supporters. They had the European champions rattled in Toulouse and were steady in their control of the return leg until the maestro scrum half had his say on proceedings, following a poor enough performance by his own standards. Dupont had kicked Toulouse out of trouble many times throughout the game but stuttered in his attempts to open the game up and forced many offloads.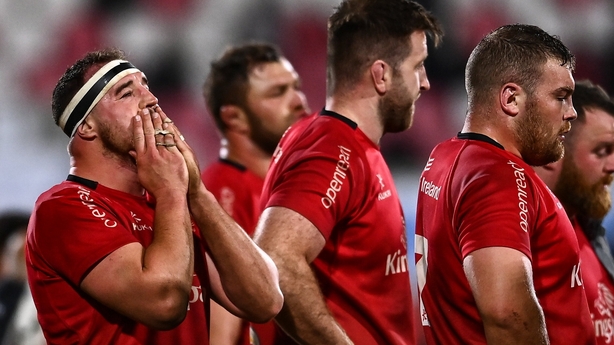 With only five minutes to go, he took it upon himself to seal the deal and send Munster supporters into a tizzy about where they'd be travelling to play their home tie against the reigning European champions.
For Ulster, it's early for the end of season frustration and introspective questioning. They don't have much time to turn things around, and maybe that's for the better, as they will host Munster in Kingspan on Friday night.
It will be an agonising replica of what might have been a few weeks later in a Heineken Cup quarter-final and maybe a chance to show that they are indeed the second best Irish province, ahead of both Connacht and Munster, but now the energy has shifted, and they're left battling on just one front.
Both sides will be targeting this game in a bid to secure a home last-eight tie in the URC so the level of importance placed on this game will still be quite high, yet Munster will have one eye on a European game a fortnight later.
Ulster had turned a corner in terms of beating the powerful European teams when they went to Clermont and won, and they backed it up at home in January. The same feat against Toulouse in the knockout stages of the competition would have made them contenders for genuine progress this year and a real opportunity to challenge for the trophy.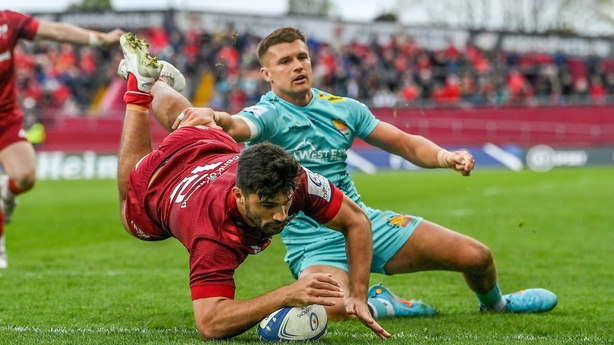 The momentum has now shifted. Munster dogged out a superb win after coming from behind against Exeter. They have a similar mix of more mature leaders and an exciting pool of young players that are all putting their hand up for selection. Munster have been without a couple of key figures such as Tadhg Beirne, Gavin Coombes and Andrew Conway, yet there's now a level of competition in the side that means they were replaced competently en route to another famous day of European rugby at Thomond Park.
For now, we don't really know who the best Irish province is to challenge Leinster. Ulster and Connacht have both beaten them more recently than Munster, yet Munster are still in Europe and get the chance to do what Ulster couldn't, which is knock the reigning champions out of the tournament.
Leinster might yet struggle in Europe when they face a side that can match them physically on the gain line. They gave away too many penalties in their own 22 when the pressure came on in both Connacht matches, despite their dominance for large periods of the two-legged fixture. If they do this against some of the European powerhouses, or away at Welfare Road in a quarter-final, it could well spell disaster for them.
"The next round will be another step up and Leinster will have to win away if they are going to get back to where they believe they belong"
Their attacking game is unrivalled and their ability to manipulate the opposition into making poor defensive decisions is what makes them so good to watch. The quality of internationals throughout the team makes them one of the favourites to win both the domestic league and the Heineken Champions Cup.
However, the only question mark over Leinster is whether they can remain competitive with the largest forces in European rugby. They came up short last year when facing the strength, power and depth of La Rochelle and the year before against Saracens.
Leo Cullen seemed pretty smug about the backlash that Connacht were going to receive, and Leinster well and truly handed them a beating. Nevertheless, the next round will be another step up and Leinster will have to win away if they are going to get back to where they believe they belong.