Thomond Park may have been a few thousand shy of capacity, but it's been some years since the Munster ground shook so violently.
The back-and-forth nature of the two-legged last 16 ties in the Heineken Champions Cup added an extra layer of tension to what was already a ferocious game between Munster and the 2020 champions Exeter Chiefs, and that air drifted to the crowd like osmosis.
The second half was played in front of a raucous atmosphere in Thomond Park, as the 21,133 fans in attendance willed on every minor moment, before erupting at the big ones.
"That was a performance," exhaled Munster head coach Johann van Graan after the 26-10 (Agg: 34-23) win.
"Two very proud clubs going at each other, a very unique experience over two legs, but the 16th man pulled us through today.
"We as a group said that to claw back the five-point difference would be massive, and the fact that we were unbeaten in the pool stage meant we were always going to finish here at Thomond Park.
"We banked on the crowd, and they were phenomenal today."
Munster's standout performers were Peter O'Mahony (below) and Joey Carbery, both of whom missed last week's first leg at Sandy Park due to injury.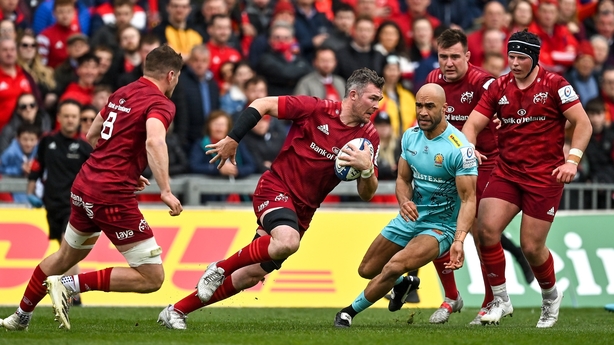 O'Mahony's stamp was all over the performance, leading from the front with 14 tackles and three vital turnovers on the ground, two of which came close to his own tryline.
"Pete's a man for the big moments and that's why you back your captain to come though in big European games, and we targeted this one," Van Graan added.
"We knew that we needed to stay in the fight last week, which we certainly did. Last week they were over the try-line four times and we scrambled, and that five-point deficit, we knew that we needed to claw that back.
"I thought that we started the game pretty well and then came back into it, but from Pete's point of view, that's what you want your captain to do on the big days, perform like that."
"We gave them soft entries last week, with maul and scrum penalties. That was an even battle today, the quality of our hitting was a lot better and our decision better at the breakdown was excellent."
The Munster captain led the way with the dirty work, with he, John Hodnett and Jack O'Donoghue proving a constant source of disruption at the breakdown.
Behind the scrum, Carbery was pulling the strings, and until Damian de Allende's sensational try on 74 minutes, the out-half had scored all 19 of his province's points, with a try, four penalties and a conversion, before his second conversion made it six out of six off the tee.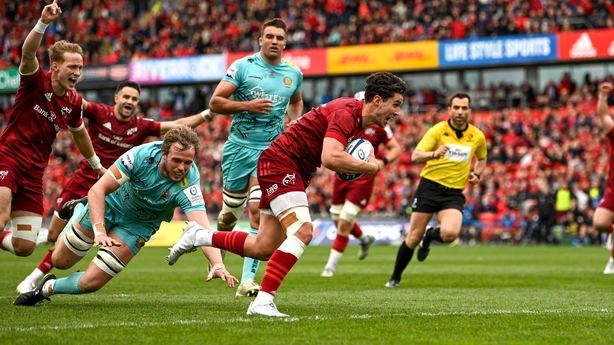 It was a performance Munster fans had been waiting for from their 10, after he had spent so much time sidelined through injury in 2019 and 2020.
And while Van Graan was keen top stress the impact of his entire squad, he allowed himself a moment to shine a light on Carbery's individual display.
"Joey is a special player. I said to him early in the week, that when I met him a few years ago I had so much belief in him.
"He's such a special player, and I said to him 'today is the day to lead us through'. He certainly responded, not only with his kicking, but the try he scored.
"He's a phenomenal man, he's been through a lot, but he's led us to victory from a 10 perspective.
"On that note, all 23 players gave it their all, I know Ben Healy didn't get on the pitch, but in terms of being all-in, we were 23 guys."