Ireland may have plenty of room for improvement following two defeats from two in the TikTok Women's Six Nations, but the defence of Neve Jones has been one of the biggest positives.
The hooker, who plays with Gloucester-Hartpury in England, has been responsible for 35 tackles across the two games.
While the team has struggled at the set-piece, Jones, who made her Ireland debut when she was a Malone player, has been a tour de force in the loose, making 30 metres off five carries so far.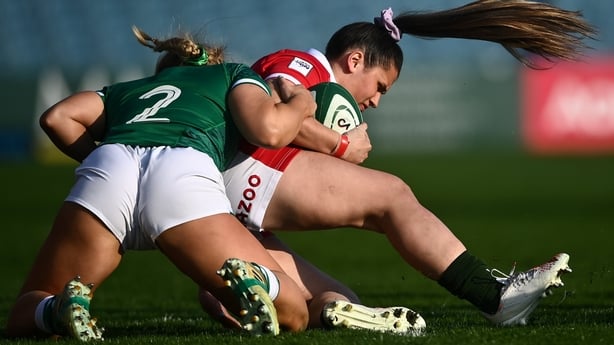 "It backtracks to when I was a kid," she says when asked about her appetite for the physical or "smash some players" as she puts it.
"I was the only girl with the boys in mini rugby, my dad had me out on the back field at home practising tackling with him and then, just as the game progresses, tackling is a big part of the game and I like a challenge.
"Playing in the Premiership, the girls play at that level week in, week out and I've learned so much about being smarter around the jackal and the tackle. I'm constantly learning and growing as a player."
Her growth as a player has seen her win eight Irish caps and take over as starting hooker under new head coach Greg McWilliams, who preferred the Ulster woman to the experienced Cliodhna Moloney, who also plays in England.
Jones said of her switch to England: "I moved over to Gloucester at the start of the year, absolutely loving the environment and thriving in it. It's like I've been there my whole life and the coaching is fantastic, I love it.
"I'm just doing some nanny work over there and love that, getting to look after a little boy every week and then getting to train, it's just fantastic.
"[It was] just to play rugby and improve my game.
"In Gloucester we're training and gyming three times a week as a squad and I'm getting some experience from the likes of Kelsey Jones (Wales international) and Connie Powell (England international), working with those kind of hookers every week, trying to improve bits of my game."
Ireland know they will have to improve their lineout and scrum performance and McWilliams revealed yesterday that they were due to have a training session with the UCC Under-20s on Friday afternoon.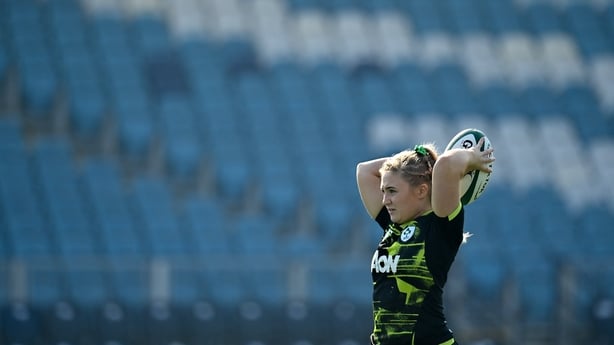 "We're trying everything we can," he said. "You've got to be innovative to try and get us up to speed.
"It will be very controlled, but it will give us the opportunity to train against a live scrum, which beats absolutely anything and I can't tell how important that is.
"It's an area we have to work on."
Jones concurred.
"We're constantly working on it," she added.
"We've regrouped, we've done our analysis work and we've done lots of practice. We are going to go against the U20s lads. We're building week-on-week and we're constantly looking to perfect that."
While many players have made the switch from Gaelic football to rugby, Jones went the other way and had a stint with newly founded East Belfast during lockdown in 2020.
"I always say Gaelic footballers make good rugby players but it's not necessarily the other way around," she said with a laugh.
"I gave it my best shot. Absolutely loved it but a lot of running in the sport so I think I'll stick to the rugby for now but if I get the chance to give Gaelic football another go I'd definitely do so."
Listen to the RTÉ Rugby podcast on Apple Podcasts, Soundcloud, Spotify or wherever you get your podcasts.
Follow Ireland v Italy (Sunday 5pm) in the Women's Six Nations via our live blog on rte.ie/sport and on the RTÉ News App or listen to live radio coverage on RTÉ Radio 1.