Ireland have put the past behind them under their new coaching ticket, according to back row Edel McMahon.
Last year's failure to qualify for the Rugby World Cup sparked a high-profile review into how women's rugby is run in Ireland, which has led to huge changes both on and off the pitch.
Head coach Greg McWilliams took charge in January, replacing Adam Griggs - who stepped down following the November Test wins against Japan and USA - while key team leaders Ciara Griffin, Lindsay Peat and Claire Molloy all retired in the months that followed the World Cup debacle.
And with other notable veterans Cliodhna Moloney, Sene Naoupu and Anna Caplice left out of the squad for the TikTik Women's Six Nations, it leaves the current Irish team light on experience.
The upheaval of the last eight months leaves McMahon as one of the more experienced players in the current squad, despite the fact the Clare native earned just her 15th Test cap in Saturday's first-round defeat to Wales.
The team dynamic is similar to the one Stephen Kenny found when he took charge of the Republic of Ireland soccer team in 2020, picking up the pieces after the side had fallen to their lowest ebb in years, and having to build with an inexperienced squad.
And while Kenny's side had to endure some difficult times in the last 18 months, they appear to have come through that experience as a far better team, one which has recaptured the attention of the general public.
Similar to Kenny, new Ireland women's head coach McWilliams is putting a skills-based stamp on the team, one which will take time to develop, but there were signs of promise in the 27-19 loss against Wales.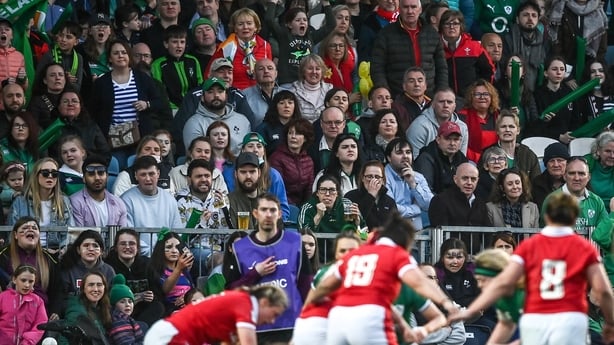 "I was disappointed, obviously, with the loss, but I definitely came away from the game knowing that a lot of things went right for us," McMahon tells RTÉ Sport of the defeat.
"Even just looking at the possession [66-34% in Wales' favour] and how much we converted, there was a lot of things that we could fix. There's a lot of things that we're working on: looking at that maul defence, making a few tweaks to our structure in attack and defence.
"But as a whole, I thought we got to grips with the gameplan that Greg wants us to set out with very quickly in the last two weeks. It's a very new system, everyone has bought in very well and we had glimpses there where we had the shape and we were set up and we were exactly where we needed to be.
"So I was disappointed - it's never easy to lose - but it was certainly easier to take knowing we were trying very well to execute the plan that we've just picked up. Positives to take away from that."
As well as the on-field changes McWilliams and Niamh Briggs have brought, their arrival has also brought fresh ideas and fresh air into the Irish camp.
"Yeah, it really is a turning of a new leaf and there is an air of positivity around the place," McMahon said.
"Everyone that's involved is kind of ready to just put the past behind them, move forward, and kind of entrusting that what's in place now is happening.
"But we're already starting to see that: Gemma [Crowley, team manager] has been excellent since her appointment in. Greg, Niamh, the whole new staff... I think the whole encouraging environment is probably what's the biggest turnaround, and the licence to play.
"But also, Greg has come in with a plan and it's quite consistent in what he wants, very constructive. The feedback is very good and there's a clear path, a transparency around it so it definitely breeds that positive environment where people are comfortable and happy.
"I think the November series was probably the time when we did put that past behind us. It's certainly not something that we're bringing into this camp now; it's been done and dealt with and I don't think we need to revisit it.
"I know there are a few of us that are still there from that era but that's certainly not needed. It's been kind of parked up since November, we all got to move on from that and it didn't even need to come into this campaign."
The 28-year-old is among seven of the current Irish squad playing their rugby abroad, based at Premier XVs side Wasps along with fellow Irish women Sam Monaghan, Cliodhna Moloney, Claire Molloy and Ciara Cooney.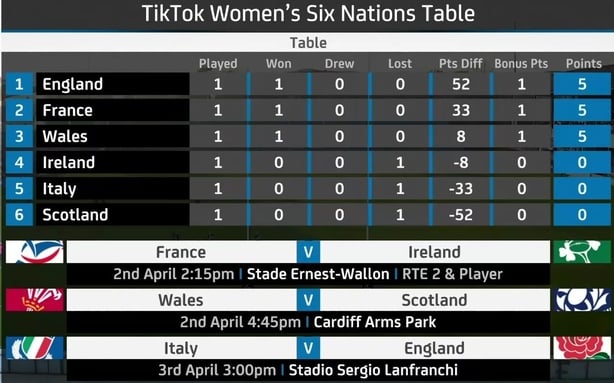 McMahon has been at the club since 2019, and the number of Irish players playing in England is continuing to grow with captain Nichola Fryday and hooker Neve Jones among those to make moves across the water in recent months.
However, while there are several professional players playing in the Premier XV's, it's not yet a full-professional league, with McMahon pointing out that she and most other players still have day jobs, as they would if they were based at home.
But while they aren't fully professional, they are able to get the benefits of training and playing against those who are. Saturday's opponents France are a semi-professional squad.
"I work still, and I know Sam Monaghan as well, my Wasps comrade, she works full-time as well," McMahon added.
"At Wasps I think we have only two players - Abby Dow and Claud (Claudia) MacDonald - that are full-time professionals. Everyone else at the club is working part-time or is working full-time and training full-time. It's just a balance.
"I think the biggest help from playing in the Premiership is that you come up against those Welsh players, those Scottish players, the English players that you see week in, week out, so that level of familiarity makes it easier.
"You know what they play like, you know that style, and that factor of the unknown is less. You're not intimidated by those teams because I play against those players week in, week out."
Listen to the RTÉ Rugby podcast on Apple Podcasts, Soundcloud, Spotify or wherever you get your podcasts.
Watch Benetton v Connacht (Saturday 12pm), France v Ireland (Saturday 2.15pm) and Munster v Leinster (Saturday 7pm) live on RTÉ2 and RTÉ Player (also live on RTÉ Radio 1).