Ireland played Wales in the first round of the Women's Six Nations, and the first game of Greg McWilliams' tenure.
However, it wasn't the start that any coach would have wanted. Ireland gave away their first penalty after just 12 seconds, on the way to losing the penalty count 14-5 across the whole game. The frustrating thing for McWilliams and the team is that many of these penalties were self-inflicted.
The breakdown area proved particularly troublesome for Ireland, repeating the same penalty concession a number of times. Whether Wales were trapping the tackler in the tackle area or not, Ireland continued to compete at the ruck to try to win turnovers. If the poaching player hadn't competed for the ball, the referee would have given them more time to roll away from the tackle area and the game could have played on.
This is a difficult situation because poaching players see a window to win the ball back and they don't always think about how their teammate is rolling away. If they have a look at their own player, it could be too late at that stage to win possession back. Although, you'd like for a team to read the trends of the penalty count as they happen and come to terms with which penalties the referee is focusing on during the game.
Conversely, a lot of the penalty count is in Ireland's control and can be easily fixed ahead of their monumental task away to the inconsistent French team that ran away as convincing winners against Italy.
Bar a couple of scrum penalties, Ireland can work through of the penalties that they conceded. They gave away three penalties in the first four minutes and were caught for penalties and mistakes straight after scoring their own tries which allowed Wales an entry back into the game.
Wales had the upper hand in the scrum and maul, and despite both teams turning over a number of lineouts each, Wales did a lot more damage when they were able to set up their maul to springboard their attack. Maul defence and scrum height are big areas of improvement for the team to work on and it will be needed against a very powerful French pack.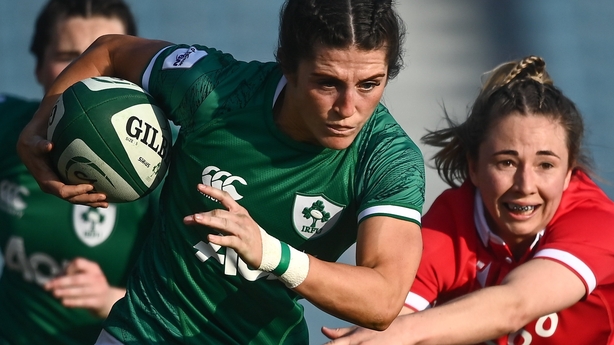 Despite a loss in the opening round to a well-improved Welsh side, there are many positive areas for McWilliams and his coaching staff.
Ireland had a rock-solid defensive foundation with 11 dominant tackles versus zero from Wales in just 50 minutes of play. Ireland's back row and centre partnership were responsible for the vast majority of these dominant tackles. The stat of dominant tackles is one thing, but Ireland regularly forced the Welsh attack backwards and looked very comfortable in defence for large parts of the game.
If you took the penalty count and set piece dominance out of the equation, Ireland's defence definitely had the upper hand, and it is something that they can build on in this championship.
In attack, the use of two playmakers at out-half and first centre with Cronin and Flood worked really well for Ireland. Both are great passers of the ball. Cronin varied her distribution throughout the game and Flood helped to move the ball into wider channels with crisp passing. Flood had long passes and also threw one over the top of the defence to challenge the Welsh defenders out wide.
By having both players on the pitch, Ireland were able to force the Welsh defence to one side of the pitch and then Flood was on hand to hit the other wing on the way back which opened the chance for Amee-Leigh Murphy Crowe's early try.
The second try for Ireland came through the middle of that stretched defence when Sam Monaghan punched a hole through the middle and still had the wherewithal to offload to Linda Djougang's run under the posts. There was nice variation in the possessions that Ireland had and McWilliams will be pleased with that.
Ireland's management of the game, through their penalty count and a couple of errors, meant that they were only playing off 34% possession. If they can tidy up some of those errors and play with more territory and possession, there will be more tries and more cohesion in their attack.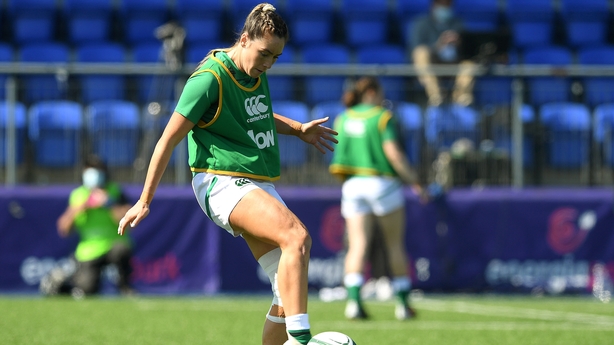 Territory shouldn't be an issue if they can use their kicking game with a left and right footed option at out-half and first centre and Considine's kicking ability at full-back. That's another really positive threat that Ireland had. In the first half, Flood threaded a ball through on her left foot and Cronin attempted a right footed kick pass not long after. The execution might not have been perfect on all of these kicks but to have the options there is a huge advantage. It will cause trouble for the back field of most teams if the attacking team has the ability to kick to both sides of the pitch and to switch their first receiver regularly.
It was disappointing for Ireland to lose the game after being 19-10 up with 57 minutes on the clock, despite some of their scores coming against the run of play. To give away the lead and to concede another try from a midfield scrum late on is discouraging but there are loads of areas that can improved quite quickly for the challenge that lies ahead in France this weekend.
There has been a lot of change for the squad, and after the frustrations that have played out in the last year, it feels as though they are building something to improve going forward. There are enough positives in attack and defence for team to get excited about and there are easy fixes from their performance last weekend.
There are some tougher fixes too in the scrum and maul which will be challenged again with a short turnaround to France. Achieving some level of parity in the pack is going to be crucial but it's still early days for them as a group and they'll need some time for everything to come good.