It's been said frequently of England in the last week that they haven't been able to put together that complete performance yet.
They ran out of steam against Scotland in Round 1, did what had to be done away to Italy in Round 2, before letting Wales back into it at Twickenham in Round 3.
Paul O'Connell warned last week that Eddie Jones side looked on the verge of a big performance, and that day could very well arrive against Ireland.
But while Ireland have almost double England's points difference, it's also fair to say that they are also still looking for that full performance.
They picked their moments and scored in flurries against Wales, while their first half against France in Paris was like a splash of cold water in the face, and although they put 57 points on Italy they never really moved into top gear.
It hasn't stopped Eddie Jones from lavishing them with praise, the England coach this week describing Ireland as the most cohesive team in world rugby.
"We've seen it in patches but we definitely haven't gotten a full 80 minute performance, even going back to November we didn't have it there," said Ireland back row Caelan Doris.
"We had it in parts against Italy but obviously they were down to 13.
"We had it in parts over in Paris as well and against Wales it was probably the most we've had it this year. The consistency of it and all being on the same page is the important part.
"The way we train sets us up to be pretty cohesive as well I think, getting quite a bit of reps in our unstructured stuff and trying to learn different people's nuances and what they are going to do.
"There's massive faith in what the coaches are trying to bring and all the players in the whole squad are taking it on board and are excited by how we want to play. We've seen what it can do when we get it right and it's exciting, the thought of what we can really do when we get it right more often."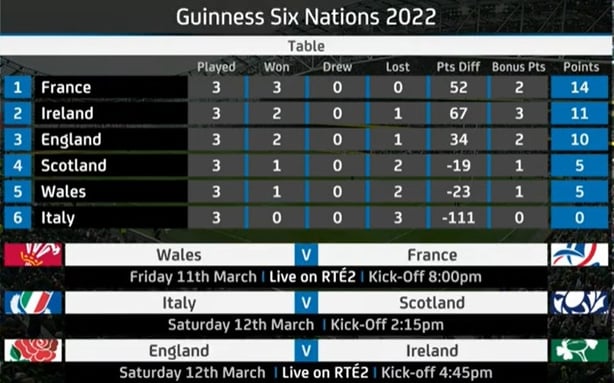 In terms of Ireland's cohesion, Doris was likely the exact type of player Jones was referring to when he went on the charm offensive.
The Leinster back row has looked equally at home playing either as a six or an eight, and he's one of several players in the Ireland pack who can move between positions.
"We've sort of evolved in mixing quite a bit, probably learning from November and even the last Six Nations, being capable of playing six, seven and eight, across the back rows, learning each other's roles and things like that so the transitions are easier.
"I think it was against Argentina when there were a few late changes in the pack and we had pretty smooth transitions there because of knowing each other's roles.
"I have been doing quite a bit of 'eight' stuff in the lineout anyway so it didn't make all that much of a difference. I'm happy enough in either position.
"If there's injuries, if there's a yellow card in the forwards, if one of back rows or second rows gets a yellow then one of the back rows has to go in and do that lineout role.
"It's just having clarity across the rows," the 23-year-old added.
Still only 14 caps into his Test career, the Mayo native has made himself a locked-in selection in Andy Farrell's starting line-up in recent months, hitting a new level in November when he was named Player of the Series for the autumn internationals.
This Saturday's game against will be his third trip to Twickenham in just over two years, and on both occasions he's been involved in limp Irish defeats.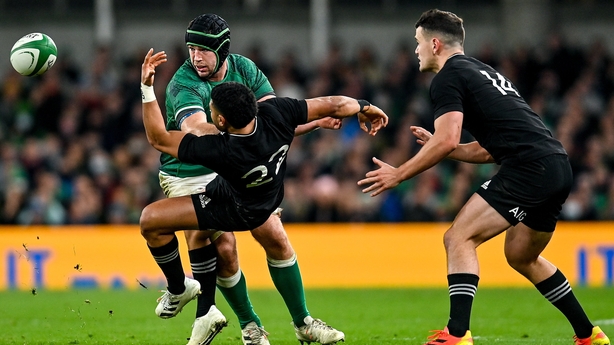 However, he says there has been a considerable evolution in Ireland's attack since those losses, with the Irish forwards attacking in numbers and distributing the ball a lot more, rather than taking it directly into contact.
"Obviously there was no crowd but a big learning then was the ability to use our plus and minus options, clever clip-ons on the line instead of just always trying to win the gainline yourself.
"So taking that learning forward now, feeling a little bit more pressure sometimes and sometimes having two men in your face instead of just one, having the skills to try and get a plus (outside pass) or a minus (inside pass) or an out-the-back ball is definitely going to be helpful.
"So having a few more strings rather than just carries, trying to keep getting better at the ability to off-load or clip it just before contact if defenders are coming in, trying to use that as an advantage as well as obviously not getting as many carries as in the past.
"Just being able to read the picture, you've obviously got one defender opposite you and then another coming from the inside or outside, and if they come from the inside then that will open up a little space for the minus runner or the opposite from the outside, so it's seeing those pictures and getting reps at that."
And making those split-second decisions will be vitally important on Saturday, with the likes of Tom Curry and Courtney Lawes charging down the Irish attack.
"They're (England) obviously a massive linespeed team, will put a lot of defensive pressure on us, very good defensive forwards especially, the like of Underhill might be back involved and Curry as well, Courtney Lawes, Itoje, all their front rows are strong in that area so we're definitely going to need to be on it.
"A big thing in the last few weeks is to take a bit more responsibility as forwards, organising each other, not leaving it all to the backs to give us the calls or the set-up.
"We're trying to be a little bit ahead of the game in organising and getting into our twos and threes. That will be important again."