Ireland head coach Andy Farrell says there is plenty that Ireland can learn, despite the facile nature of their 57-6 Guinness Six Nations win against Italy this afternoon.
Ireland ran in nine tries against the Italians to consign them to their 100th defeat in the championship and 35th in a row.
However, the contest was especially lopsided by Ireland's numerical advantage, which saw Italy reduced to 13 players after just 18 minutes.
After substitute hooker Hame Faiva was red-carded for a dangerous tackle on Ireland's Dan Sheehan, the Italians were forced to declare uncontested scrums, with Favia having been a replacement for the injured Gianmarco Lucchesi.
The laws of the game dictate that when uncontested scrums are a result of a red card, the offending team must lose a further player, a measure brought in to prevent teams from cynically manufacturing it.
"It's just weird", Farrell said after the game.
"We understand why the rule was brought in but at the same time I suppose, in situations like that, occasions like that, it'll bring the rule back to everyone's attention and they'll look at it."
With Ireland having a two man advantage for three quarters of the game, their win seemed inevitable and they eventually scored nine tries despite blowing hot and cold throughout.
"Rightly, Italy were trying to slow the game down, it's what everyone would have done. When you've got uncontested scrums for so long in the game, everyone's legs are nice and fresh and it's the reason Italy were tenacious in defence, even when they went to 12 men.
"The space that you think is there, they're going to throw caution to the wind and kamikaze-style defence at times, flying off the line and hitting us man-and-ball, putting our skills under pressure, and we needed to be calm and accurate.
"In the second half we hit a few more front doors, rather than throwing it out the back, and got some quick ball ourselves and managed to get some much needed points in the end."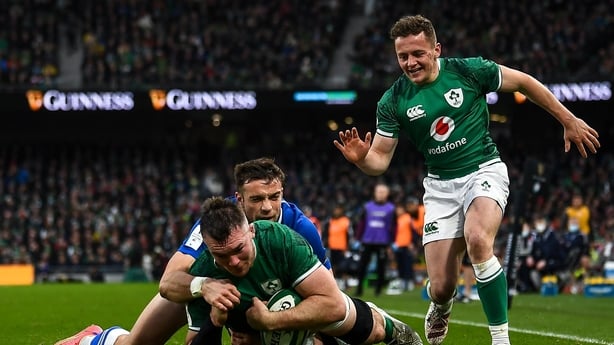 Ireland captain Peter O'Mahony (above) scored the fourth try to bring up a bonus point just before half time, and he admits the red card and subsequent confusion caused Ireland to lose momentum.
"It probably did, and it shouldn't. There was a lot of waiting around with regard to what the ruling was, and just the whole stop-start of the whole 20 minutes that surrounded it.
"What we need to be better on the pitch is negotiating our way around what the opposition are presenting us with," he said.
Ireland will break up for the next few days heading into the second break week, before regathering to face England on 12 March.
Robbie Henshaw will follow the return to play protocols for a head injury, while Andrew Porter was removed from the game as a precaution with an ankle strain.
Farrell says there is still a lot they can learn from the game, despite the chaotic nature of win.
"There's plenty we can take away from it. There's not many times we've played a Test match against 12 players, so there's plenty we can take away from it. The start of the game, getting off to a good start and going seven points up was a nice enough start, and then I though we started to overplay it a little bit.
"I thought Italy defended really well and they were aggressive in defence, even before they went down to 13 men, and aggressive at the breakdown.
"I thought because of our lack of accuracy and obviously the tenaciousness in defence there were a few errors that we tidied up before the 13-man situation happened."
And the head coach was also quick to praise the debut of Ulster full-back Michael Lowry who capped off his first Test with a brace of tries, which could have been a hattrick had he not unselfishly passed to James Lowe for one of Ireland's late scores.
"He was great, he was lively and he was as brave as we knew he was going to be. I think getting the two tries and then getting the space to score his third and passing it on to his mate James Lowe in the corner typifies what Mikey is all about.
"Everybody involved in the squad, the management and the players are absolutely made up for Mikey and his mum and his sister and his girlfriend. It was a big day for them."