Given Ireland are arriving into next month's TikTok Women's Six Nations at such a low ebb, you could make the argument that it might not be the most ideal time for an Irish legend to put their neck on the line and step into the coaching team.
With Ciara Griffin, Claire Molloy and Lindsay Peat all retiring in recent months, following on from Hannah Tyrrell and Katie Fitzhenry earlier in 2021, and the fallout from Ireland's World Cup qualification disaster still running as we wait on the independent review to be published, new head coach Greg McWilliams clearly has a job on his hands to pick up the pieces, both in the short and long term.
But 25 minutes in the company of his new backs coach Niamh Briggs would convince you that however far Ireland have fallen back from their rivals, there's light somewhere in the distance.
The former Ireland captain was recently confirmed as an assistant to McWilliams, with the pair reuniting from their days in the glory years of women's rugby in this country, when McWilliams was assistant to Philip Doyle and Briggs a full-back and future captain.
A new era for the women's game begins next month, with the Six Nations back in its original format following last year's truncated version, although it will remain in its own window, separate from the men's and U20s.
Ireland open up their new campaign on Saturday 26 March against Wales at the RDS, with their short-term goal likely to be quite different to that of the other five nations.
With Scotland expected to confirm their qualification for the World Cup in this weekend's repechage, it will likely leave Ireland as the only team in the championship not using the Six Nations as a primer for the World Cup in New Zealand later this year.
"You can look at it two fold; are we getting a head start or are we trying to catch up? For me, I definitely think we're going to be able to get a head start," said Briggs, speaking at the launch of Pinergy's new 10-year partnership with Munster Rugby.
"What's done is done in terms of that World Cup qualification and now it's time for us to really look forward and try to develop what we can do on the ground here.
"I think that the Six Nations is going to be a little bit different, in terms of the rest of the teams are going to be preparing for a World Cup, we're literally rebuilding.
"I'm not really sure results will be a goal-driven business, I think it'll be more about performances and being able to get as many of these girls up to scratch in relation to Test level and international rugby, and provide them with - I keep saying it - that confidence to go and express themselves."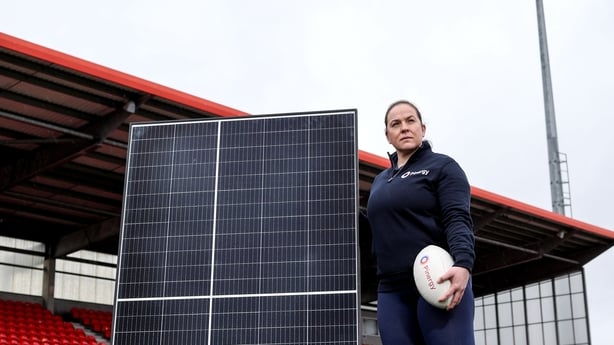 Briggs and McWilliams held their first camp last weekend, with a group of 41 Irish-based players gathering in Abbotstown, before they begin preparations in full at the start of March following the conclusion of the AIL.
With large parts of the squad being rebuilt and expectations low given last season's disappointments, Briggs says they are being cautious around how they define their targets in the coming months, pointing out they are at the start of a new World Cup cycle.
"A big focus for us over the next few weeks is definitely gelling a squad together because there has been a huge amount of retirements and a lot of young girls coming in. But it's also about working on core skills and understanding that Test level rugby has massive intensity and pace, and trying to get them up to scratch on that.
"Short-term, I think we're looking at ourselves. We can't really look at anyone else.
"It's almost like a blank canvas for us to go and have a look, so I don't think we can compare ourselves to any other team in the tournament at the moment.
"We've got to look at ourselves and hopefully whatever we decide as our goals and standards as a group, we can stick to them in order for us to be able to measure something at the end and say, 'Yeah, that was a good few months for us'."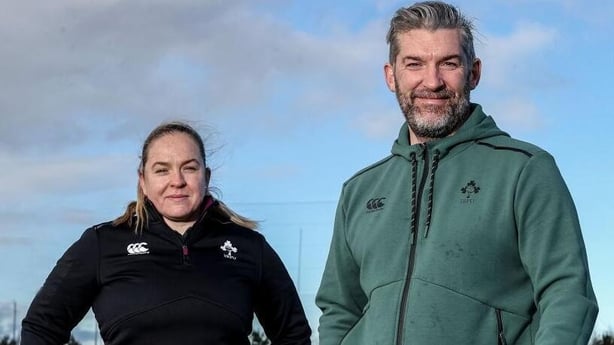 The 37-year-old admits to being surprised at receiving the offer from McWilliams and women's rugby director Anthony Eddy, with her coaching career still in its infancy having taken over as head coach at UL Bohemian just under a year ago.
However with 62 caps of playing experience and having been a core player in a team that consistently expected to win, her reputation in the game can't be overstated.
"I've had 10 years of playing experience at international level but also I think I found out very quickly when I started coaching that it's not really about the rugby, it's about the people and making those personal relationships," she added.
"Because I've been involved in the AIL and grassroots rugby for a huge amount of time, coached the provincial U18s for a couple of years and was with the Munster seniors this year, I definitely have a good knowledge of the player base and the calibre coming through.
"That's probably one of the main reasons why I took this job as well. It's obviously working with Greg but also knowing that there is a huge amount of talent coming through and how exciting it is. What a brilliant opportunity for me to learn but also help players develop. That's probably the most important thing."
"There's something very pure about women's rugby, because it's not honed in on physique and strength, it's to do with skill and the ability to move around the park, and that's a big focal point for us."
Her experience both playing and coaching in the All Ireland League is also worth noting, with indications the AIL is going to play a bigger role in squad selection.
The new format of the competition this season has also seen the best teams playing each other on a more regular basis, with the new Top Four round-robin set to conclude next week when Railway Union face Blackrock in the final.
And while Briggs admits a tinge of disappointment that her own UL Bohs missed out on the final, she says the pool of talent on the club scene is getting bigger.
The Waterford native said: "This girl Natasja Behan from Blackrock just blew me away, she's taken to senior rugby like a duck to water. There's just a huge amount of talent across the board.
"It's really important to note that when they got into the Top Four of the AIL they're playing competitive games week-in and week-out for six or seven weeks, every week you can see the games being a better calbre, a higher pace, it's huge and brilliant to see that.
"I'm so excited to get my hands on them to be able to shape how we want to play, and more so than that to provide them with enough confidence that they can go and express themselves.
"There's something very pure about women's rugby, because it's not honed in on physique and strength, it's to do with skill and the ability to move around the park, and that's a big focal point for us."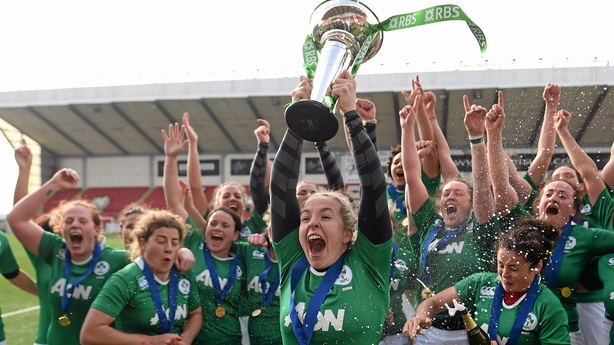 Briggs says the recent off-field issues between the IRFU and women's players were not off-putting for her when approached to step up to the national team, adding that she would rather concentrate on what's happening on the field of play.
Having represented Ireland as a player, she says the pride at coaching with her country was something she couldn't turn down.
"When I was playing I was ridiculously intense, very cranky and just wanted to win all the time," she said.
"I didn't really understand the personal side of things, and never took a huge amount of time to get to know people properly. You have team--mates and have the craic, but I'm talking about properly getting to know them.
"When I started coaching, the buzz I got became obsessive very quickly because I realised it's not just about rugby, it's about people. It's about connecting people to others. If you have a connection with people off the pitch, you'll more than likely have a good connection on the pitch.
"It's that way of thinking that's probably drawn me to coaching so much. It's why I love it, I love watching people interact.
"Starting with Bohs and then Munster, it was all different, and coming into Ireland is a different kettle of fish.
"It probably means just as much to me as playing because your purpose is different, you can impact players more, you can help them develop not just as players but as people as well and that's a really good thing to be able to do."
Listen to the RTÉ Rugby podcast on Apple Podcasts, Soundcloud, Spotify or wherever you get your podcasts.
Follow all of Ireland's Six Nations games via our live blogs on rte.ie/sport and on the RTÉ News App or listen to live radio coverage on RTÉ Radio 1. Highlights on Against the Head, Mondays, 8pm.