The first 50 minutes of Ireland's opening match of the Six Nations started right where they left off in November.
Both their attack and defence looked unbelievably cohesive against what turned out to be a very lacklustre Welsh side.
Defensively, Ireland shut out Wales to all but one try which came from a combination of errors from Ireland and it happened when the game was truly over. Wales never looked like creating their own score and there's actually not a single moment that I can remember where Ireland were under pressure.
There was a 12-minute period after Sexton's kick at goal at around the 20-minute mark where Wales and Ireland traded turnovers and errors and Ireland were stuck in their own half for the full 12 minutes. However, other than that, they never struggled and Wales imposed nothing on them.
Ireland's defence was helped massively by their discipline with zero penalty concessions in the first half. That can be a result of great discipline from Ireland, or it could be down to their set-piece dominance, their possession and effectiveness in attack, or simply due to Wales being completely average when they got their hands on the ball.
Ireland attacked a lot of Welsh breakdowns with penalties awarded to Conan, Porter and Peter O'Mahony. To go after as many breakdowns as they did with no penalties against them in the first half is incredible. It also destroyed the Welsh attack because even when they didn't win penalties, they disrupted the Welsh flow and slowed down their ball or forced an error.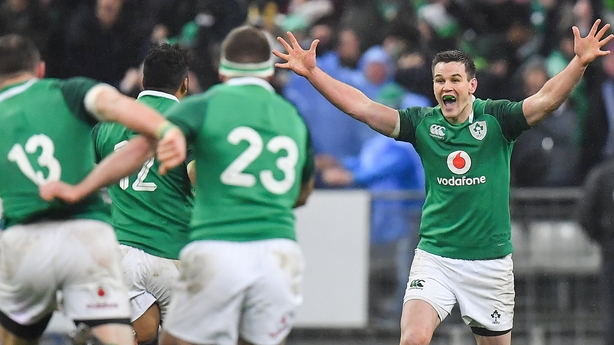 With France up next, Ireland will be challenged a lot more in defence. France boast the most exciting back line in the tournament, despite not finding top gear last week, and have a pack that will cause a lot more pressure throughout the game.
However, it's the Irish attacking game that will get the plaudits. Sexton is the orchestrator, but their attack is now multi-faceted and doesn't depend on having more numbers on their feet, as was the case in the Schmidt era. Joe Schmidt was heavily organised around the set piece too, but the Irish attack has a lot more decision making and flow about it at present.
The current attacking shape isn't a major change of system. They still run a variation of the 1-3-3-1 set up that most teams are running with now, however there's a noticeable difference in how they are executing that.
We are used to seeing a pod of three forwards with Sexton in the position behind them. He's the eyes and ears for that pod of three and makes the decision for them, whether they should play the front line or hit him in the boot position where he does a lot of damage, evident from the subline Tadgh Furlong pass in the first half where Sexton accelerated into the gap.
At other stages, Sexton gets the pass pulled out the back so he can play outside him again. We saw this in the Japan and New Zealand games with a lot of variation in November. There's another short runner outside Sexton or Aki, who take up this deeper 'boot' position, and a back behind that short runner again.
It means that once the ball is shifted a channel wider through Sexton or Aki, the defence will try to read it by accelerating forward into the space but Ireland are starting to pick on that defender. If the defender races wide to shut down the attack, the next short runner will run into an easy gap. If they stay tight to stop the short threat, Ireland can go to the next deep runner in a second or even third line of attack.
It's not just the deeper pass that is causing the defences issues. Within that pod of three forwards, whether that is run off the scrum-half or out-half, they are running clever lines with the inside man as a real threat, and the outside man running a slightly inside or straight line to turn the defensive hips in.
When The Welsh defence were worried about the threat of Sexton, Aki and Ringrose in the wider channels, the forwards carried cleverly and physically in the front line. There was a phase in play where Sexton was the first receiver and Wales were numbers up in the wider channels. He simply took on board the information and decided that the easiest way forward was with an inside pass to Josh van der Flier.
"Farrell will be judged on his World Cup success, but thus far he seems to be creating something positive for this Irish group."
And that is the crux of how Ireland are attacking now. They have options everywhere; everyone can pass and make decisions. Despite looking like a complex system, there are very simple cues within the shape that makes it easier for the decision maker. Wherever the clearer gap is within the pod of three, the inside runner, or on the outside, the ball seems to go to the right channel more often than not.
This is down to a collective understanding of that they are trying to do, the licence to read the situation in front of them and a lot of work done within the camp when they are together.
Last year, when things weren't going so smoothly for Ireland, the belief maintained within the group. It's very obvious to us outsiders now why there was so much belief. It was nearly there but we weren't sure whether to believe it or not. However, the players did.
Having worked under Farrell for a short period of time, that's one thing that can be guaranteed by the environment he sets up; belief. He forces players to believe in themselves and he creates a very positive environment.
Farrell will be judged on his World Cup success, but thus far he seems to be creating something positive for this Irish group. Positive on the ball, positive around their camp and positive in his selections. Mack Hansen is proof of the latter.
As for next week against France, the attack will be tested a lot more. Shaun Edwards is a world class defensive coach, with a world class squad. He's after changing the thought process around French rugby and what it means to defend. Ireland will be up against a pack with a much better set-piece, much more horsepower and the cleverest half-back pairing in the world.
This is going to be the best litmus test for where the Irish team are at. The World Cup in 2023 is being held in France. France are playing their way into the favourites position at the moment, despite some covid and injury disruptions. They had their eureka moment much earlier than Ireland, but the timing is right for Ireland now to build and hopefully peak a bit later than they have in past World Cup cycles.
If Andy Farrell can mastermind an away victory in France next weekend, Ireland will be favourites for this tournament, and who knows what they can go on to achieve after that.
Follow all of Ireland's Six Nations games via our live blogs on rte.ie/sport and on the RTÉ News App or listen to live radio coverage on RTÉ Radio 1. Watch live TV coverage of England v Ireland (12 March, 4.45pm) on RTÉ2 and the RTÉ Player. Highlights on Against the Head, RTÉ2, Mondays, 8pm.