The IRFU have led the tributes to Munster and Ireland legend Tom Kiernan, who has passed away at the age of 83.
The Corkman leaves behind a legacy as one of the greats of Irish rugby, playing a then-record 54 times for Ireland between 1960 and 1973, and scoring what was also a record 158 points in the green shirt.
The full-back captained Ireland 24 times, as well as being skipper on the 1968 British and Irish Lions tour of South Africa.
Kiernan kicked the winning score in Ireland's first ever win against the Sprinkboks in 1965, captained the first Irish team to win a Test in Australia in 1967 and was full-back on the first Munster team to defeat Australia the same year.
He is also remembered for coaching Munster in their famous win against New Zealand at Thomond Park in 1978, before enjoying Triple Crown success as Ireland boss in 1982.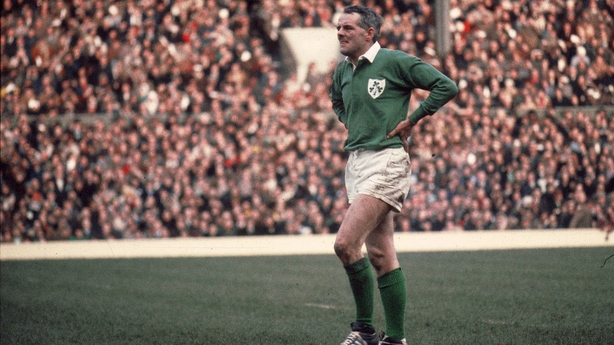 In later years, the Cork Constitution and UCC great was also president of the IRFU, and was inducted to World Rugby's Hall of Fame in 2015.
Leading the tributes, current IRFU president Des Kavanagh described Kiernan as an "inspirational leader".
"It is with great sadness that I pass on condolences to the Kiernan family on the passing of their beloved Tom, on behalf of everyone in Irish rugby," Kavanagh said.
"Tom was an inspirational leader both on and off the pitch and he helped to shape rugby into the strong and vibrant game it is today.
"Tom's life will be reflected upon at our matches this weekend, and his legacy will live long in the history of Irish rugby. May he rest in peace."