Such was Ireland's ambition in their first ever HSBC World Rugby Sevens final appearance that a silver medal should prove somewhat bittersweet.
The Irish reached the decider and were underdogs against Australia in Seville, making a fast start before the reigning champions fought back to claim gold.
But as the dust settles on a brilliant run and fine achievement, Aiden McNulty's side are aiming to build on it after victories over Poland, Brazil, Russia, Canada and England during the three-day tournament en route to the final.
"It's kind of a double-eged sword nearly," Irish sevens captain Lucy Mulhall told RTÉ's Game On as she reflected on her team's progession and how it's helped put "Sevens on the map" in Ireland.
"On one side I dreamt about this for years. I've been playing for eight years, Sevens has been my life, so getting to the final was so special. I'm heartbroken that we didn't win it and I never thought I'd be disappointed walking away with a silver medal after singing my national anthem. But I was massively disappointed and still am.
"But the flipside is our over-arching goal to everything that we do. Just hearing all the people who have actually watched that game or have heared about Sevens for the first time or heard about Amee-Leigh Murphy Crowe or Beibhinn Parsons, that's the most important thing.
"Success is success but for us it's really about making more girls in Ireland play rugby so I think that's been a massive positive and I'm definitely trying to enjoy that end of it and try and learn and grow to make sure that it's a goal the next time."
Key to Ireland's success in Seville according to Mulhall was setting attainable targets - although they did not envisage actually reaching the final.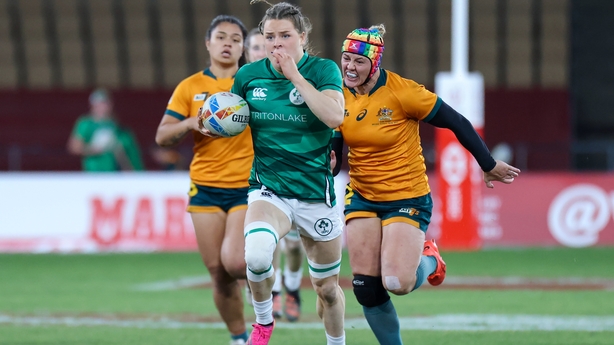 "What we've done as a group differently this season is we've sat down and created very tangible goals and expected to reach those goals," she explained.
"One of them was top four and I do believe that sitting down and saying that was something not that 'we could do' but something that 'we were going to do' was a big part of actually doing it.
"What we didn't actually write down funnily enough was reaching a final so we managed to over-do our goals. But I think it's the belief in knowing that we could and would do it definitely played a big part in it."
Among the standout results was a 29-0 demolition of England and Mulhall said the proudest aspect was keeping the English scoreless.
"It was a special moment for us definitely. I think the 'nil' part of it was what we came away with happiest about, to just keep a clean sheet," she said.
"And you don't need motivation anyway in a semi-final but to be up against England on a Sunday morning, it was easy to get out of bed that morning and we went out with a very definite game plan and that's a very talented England team."
Follow all of Ireland's Six Nations games via our live blogs on rte.ie/sport and on the RTÉ News App or listen to live radio coverage on RTÉ Radio 1. Watch live TV coverage of Ireland v Wales (5 February, 2.15pm) and England v Ireland (12 March, 4.45pm) on RTÉ2 and the RTÉ Player.