Moving from one country to another is not easy.
Moving from one side of the world to the other is even harder. And doing it in the middle of a pandemic, well, that's not a walk in the park either.
Meet Mike Ala'alatoa.
Born and raised in Sydney, Australia of Samoan heritage, the giant prop arrived at Leinster last August following a five-year stint with Crusaders, where he won three Super Rugby titles.
The province's home-grown production line means that they don't have to look outside their own pool of talent as often as the other Irish sides but when they do they like to make sure they get bang for their buck.
Weighing in at 19st 11, and standing 6'3", the imposing tighthead cuts quite a swathe at the RDS, even among the Leinster pack, for whom he has made nine appearances to date and scored his first try in the demolition job on Montpellier a week and a half ago.
The 30-year-old, whose brother Allan, has played 43 times for the Wallabies, lined out for Samoa against Ireland in the 2019 World Cup and has captained the team.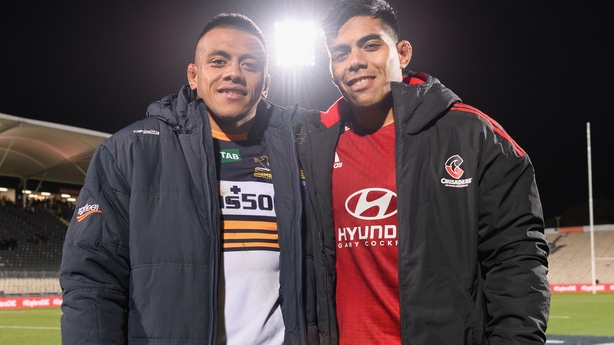 On the field, Ala'alatoa is slotting in seamlessly but what about the switch from Canterbury to Dublin, wife and young child in tow.
"I'm settling in really well," he tells RTÉ Sport.
"I've done a few months here in Dublin. We've enjoyed the lifestyle and the environment here in Leinster has allowed us to do that.
"Everyone from an administration point of view has been really supportive to help us to get settled, which puts my mind at ease and lets me concentrate on my job.
"It's made it a lot easier. I'm really clear on what my purpose is. The Leinster environment is set up to make it easier for us to succeed."
Once a player stays fit and gets enough game time, the work side of life tends to take care of itself.
Balancing that with family life, wife Kara and son Parker, is the secret.
"They've done really well to settle in, my son goes to creche. My wife has a good support network around here," he says.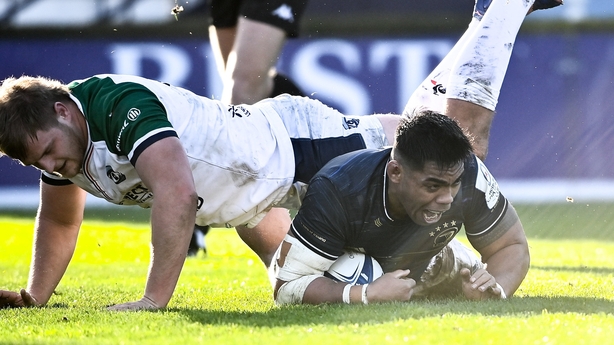 "There are a few of the players who have moved from New Zealand already like Jamison [Gibson-Park] and James Lowe so it's been good for Kara to talk to their partners around their transition.
"Jamo has kids as well so it's been good to talk to them about how the Irish system works with schools and healthcare and stuff like that. That's been a really big help.
"Next week my parents are coming; Australia's borders are open.
"It's great that everything has opened up here so they can come and enjoy it a bit more than we thought.
"It will be good to take them around and show them a bit of Dublin. They'll get down to a couple of games hopefully.
"We came directly [from New Zealand] but I saw them in the middle of the year because we played in Sydney for the Crusaders.
"But my wife hasn't been home since before Covid so it will be great for her to see people from home as well. We are really looking forward to them coming."
Between restrictions and bubbles and coronavirus hitting the Leinster camp, it's been difficult to get out and about but the front-rower's time is well spent when he clocks off after training and matches.
"It's a bit hard at the moment because my hands are full with my son," he says when asked about his hobbies.
"Every time I get home, I'm straight into 'dad mode' and look after him and give my wife a break.
"I like playing the guitar, that's something that I do at home and my son loves it too, he'll pick up the ukulele and play it so that's a bit of fun. He keeps me really busy."
Guitar? Ukulele? Go on...
"[I play] a bit of Samoan music and a bit of reggae, that's probably more my style. I'm not very good, it's sort of something that I do at home for myself.
"I won't be bringing it to any team things any time soon," he adds optimistically, as if he's never heard of a rugby social committee that decides where and when you break out the guitar.
Back in March 2020 when no one was sure when and where rugby would come back, Leinster and the Crusaders linked up, and analysed each other's game as if they were about to face off.
That connection may have played some role, according to Stuart Lancaster, in Ala'alatoa choosing to come to the four-time European champions.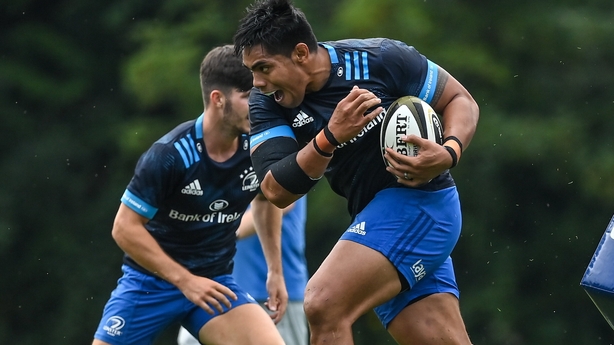 "It was right at the start of the first lockdown, we built this relationship with the Crusaders," says the former England boss.
"Mike was looking for a new option. Leinster came in for him but, I'm not certain this happened but it might have had a part to play.
"Mike goes to the coaching staff of Crusaders, says I'm thinking of leaving, this is an option.
"Crusaders coaching staff might turn around and say you know what, 'we virtually met them, we think they are good guys, we think you benefit [from going] there'.
"Word gets around, if you create a good environment, good coaching, good S&C, good support for players, values, leadership.
"Players, when you are trying to recruit or retain, talent will often do their homework.
"If there are players who we want to retain, we make it very hard for them to leave and hopefully make it attractive for those who want to come.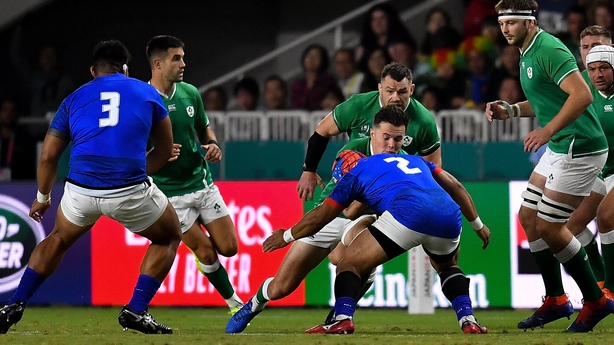 "Not just because of winning trophies or getting to finals or ambition, just the environment that we create.
"Hopefully that played a part for Mike and if the Crusaders coaches helped in that regard, then great."
"It's a remarkable story," adds Lancaster, who is helping to prepare the team to face Cardiff away in the URC on Saturday.
"He's respected by the whole group for the way he conducts himself, trains and plays.
"He's been a fantastic addition to the squad, both on and off the field. He's got integrity and the journey that he's had is fascinating. He's fitted in brilliantly into the Leinster environment.
"The route he has taken to go from Australia to New Zealand, to become the captain of Samoa and then to join Leinster,
"Last November it was probably hard for him [to take a leadership role during the autumn internationals], he was still finding his feet and settling in.
"I'm certain he'll come to the fore in this next block. Mike adds to the mix for sure."