There's a degree of irony in how Leinster's signing of Michael Ala'alatoa could be the propeller for one of their own becoming an All Black.
The Samoan prop has proven to be a reliable acquisition by Leo Cullen this season, supplementing Tadhg Furlong on the tighthead side, and even scoring his first try for his new province off the bench in last weekend's demolition of Montpellier at the RDS.
Having been a long-serving first choice tighthead at the Crusaders, Ala'alatoa's departure from Christchurch has opened up a gap in the market for a new number three to emerge when the 2022 Super Rugby Pacific season kicks off next month.
In recent years, his first deputy has been an Irishman; Kildare's Oli Jager.
Having left Ireland straight after his Leaving Cert in 2013, Jager is preparing for his sixth Super Rugby season with the Canterbury franchise, and it will be by some distance his most important one.
Still only 26, the former Newbridge and Blackrock College student describes himself as "one of the older boys", as he speaks to RTÉ Sport from his home in Christchurch.
On paper, he would appear to be in the lead for the number three jersey that's currently up for grabs. His main competition comes from 21-year-old prospects Tamatai Williams and Fletcher Newell, and while both are highly rated, Jager was consistently chosen as Ala'alatoa's back-up throughout last year's Super Rugby Aotearoa and Trans Tasman competitions.
"I have to earn it now, earn it from the start," Jager said.
However, having been involved with Scott Robertson's side since 2017, he knows he can draw from a lot of experience as the season draws closer.
"There's a mentality switch where it's not as nerve-wracking anymore. I can go into a pre-season and know what to expect and know what's expected of me, but in my first couple of years you get to the weekend and you're already thinking about Monday, overthinking it.
"Now you know what you can do and what you need to do. It's more planned out, that's probably the biggest thing that's changed."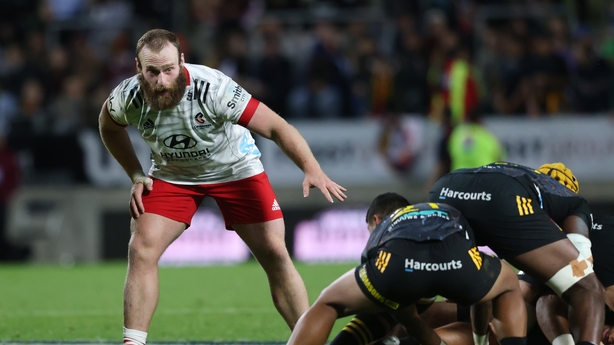 The reason nailing down a starting place is so important for Jager is that there's a World Cup on the horizon in 2023, and he has ambitions of being there. Having resided in New Zealand for almost nine years, Jager has long since qualified under residency to be an All Black.
And while being first-choice tighthead for the Crusaders doesn't automatically come with a place in Ian Foster's squad, it certainly puts him high up the queue.
He's previously spoken of his desire to represent his adopted nation, and doubles down when asked if anything has changed.
But he would also be foolish to shut the door entirely on Ireland, especially as he enters a contract year in Christchurch.
"That's one of the coolest things someone can do," he said when asked about the prospect of playing for the All Blacks.
"International rugby is the goal, it's every rugby player's goal. Being in New Zealand right now, New Zealand is the goal, All Blacks is the pinnacle, but who's to say maybe two or three years down the line maybe I'd like to go home and play for Ireland and maybe have a different goal.
"Rugby is an interesting game, you just never really know what's around the corner.
"International rugby is the goal, whether that's for New Zealand or Ireland, we'll have to see whether or not I'm good enough."
He's had an offer to come home before. A few years ago he turned down an approach from an unnamed Irish province in favour of signing a two-year extension at the Crusaders, a contract that is set to expire at the end of the season.
"It's definitely the number one choice to stay here, but the whole thing with rugby is that you never really know what happens next. Things can blindside you and you have to adapt to it."
He's diplomatic enough to leave that door open in the future, every man has his price at the end of the day. But it's easy to see what his first option is.
"I think the best way to put it is that I'm pretty happy where I am. My whole life is here for me at the moment. I've got my fiancée, I've a house here and all that stuff, everything is going pretty well in Christchurch. I'd consider it home, I've been here for nearly ten years.
"It's definitely the number one choice to stay here, but the whole thing with rugby is that you never really know what happens next. Things can blindside you and you have to adapt to it."
The All Blacks were far from his mind when he flew out to New Zealand's South Island in the summer of 2013. By his own admission, his rough plan was to "play a bit of footie, make some friends and drink some beer".
He'd been part of an impressive Blackrock College team containing future Ireland internationals Garry Ringrose and Nick Timoney, as well as Munster prop Jeremy Loughman. That group won a Leinster Schools Senior Cup title in 2013, defeating a St Michael's team which contained the likes of James Ryan, Ross Byrne, Ross Molony and Josh Murphy.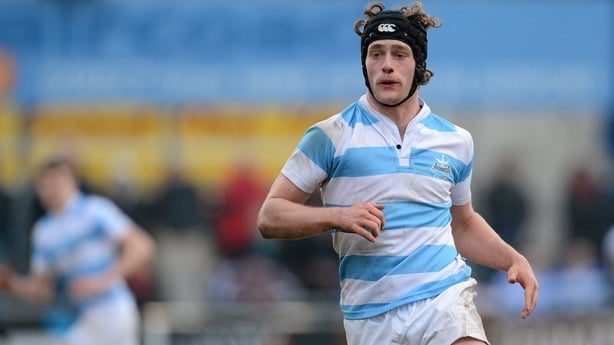 Jager had been marked as a prospect, but his age ultimately cost him a place in the Leinster academy; he did his Leaving Cert at 17 and the province wouldn't usually bring someone of that age into their setup. He could have played the club game for a year and stood a good chance of getting an offer at the end of it, but he didn't feel ready to be mixing it with senior teams.
Career-wise, he hadn't nailed down what he wanted to do. University didn't appeal to him, and he liked the idea of getting a trade to eventually work in building or plumbing, before his father Harm suggested a leap into the unknown.
"He suggested taking the opportunity and taking the year to go do something different: 'Why not go to New Zealand and play rugby for a couple of months, who knows what might happen? You might love it there and stay, or you might hate it and go home'.
"I liked the idea of it, and so we organised to send me out here to have a crack and see how things go. Straight after my Leaving Cert I was on the flight out to New Zealand.
"It grew out of hand and three months turned into nine years," Jager added.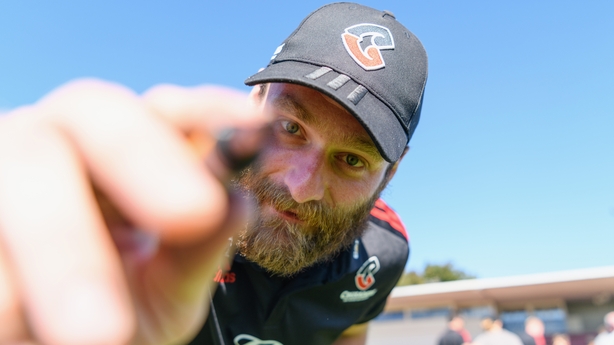 His father has always been a huge influence on his career. It's also safe to assume it's where Oli got his athletic profile from; Harm Jager stands 6ft 10in tall and is a former water-polo international for the Netherlands, eventually becoming a strength and conditioning coach on Oli's rugby teams.
Harm didn't pass on the rugby gift to his son however, the story going that when he first moved to Ireland, he went to one training session with his future brothers-in-law before deciding he was better off in the pool.
"Honestly, I just don't think he liked getting dirty!" laughed Oli.
"I've got a special relationship with my Dad, the big man. I love him very much.
"But he also helped me get better as a rugby player. I said to him at a young age, probably 12 or 13, that I wanted to be a professional rugby player and he threw everything at it, he dived head first in with me, did everything he could in order for me to get where I wanted. I'll be forever grateful for him and my mother who would always cheer me on.
"I still ask him for advice every day, sometimes you just have to talk to your dad about things and get his story on it, and what he thinks should happen.
"He's a very important part of my decisions, and he always has been."
Jager initially linked up with the Crusaders International High Performance Unit, and found the physicality and skill level to be "out of this world".
"You have big boys over in schools rugby in Ireland, but when I came here and played at U21 level I was playing against guys who were 160kgs. I was thinking, 'What the hell am I doing here, what's going on?'"
His fitness got him through it, although he's unsure whether it stemmed from the high level of conditioning they had been given in Blackrock, or just a natural fitness that comes with the Irish.
He made enough of an impression that by the time he was 19 he was offered a place in the Crusaders academy. That was the sliding doors moment, the point he realised his dice-roll in New Zealand might become a longer stay.
"As the story goes, if a prop says they haven't had their ass handed to them before, they're lying. You wear it on your chest and learn from it. It made me a better player and made me the player I had today. I'm happy it happened but it definitely wasn't a fun time."
The academy offer had come as a surprise. At the time he was recovering from a torn ACL, and was preparing to pack up his suitcase and head back home. So when the academy manager pulled him in for a chat and told him they wanted him to step up to a new contract on his return from injury, he didn't even have to consider it.
"Before he finished talking it was signed and I was ready to go."
The academy offer came with a catch though; he had to move full-time into the front row.
Having always considered himself a flanker or No 8, Jager had flirted with the front row in school and ended up playing his Senior Cup rugby at Blackrock as a tighthead. But his new adventure in New Zealand brought with it a fresh start, and he was determined to rebrand himself as a six all over again.
But when the academy offer came with the condition that he play tighthead prop, it was a deal he couldn't refuse. He was a paid-up member of the Front Row Union: "Us front rowers know that once you're in you can't get out."
He had to learn the mechanics of the scrum the hard way. Having transferred from the back row, he was initially quite light before a long-term injury allowed him to build up some weight. Even still, when he stepped up to a training contract with the Crusaders Super Rugby side in 2016, he was thrown in at the deep end.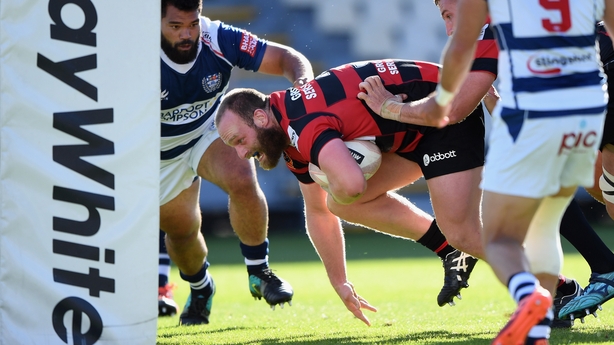 It helped that he was packing down opposite World Cup-winning All Black looseheads like Joe Moody and Wyatt Crockett, who gave him an education he's not likely to forget.
"I didn't have the size or mentality for it, but obviously they saw something in me, and Jason Ryan (forwards coach) saw something in me that they liked as a tighthead. I worked extremely hard with him and he worked countless hours with me in order to get me where I needed to be, but there were definitely a few teething years to get where I needed to go.
"When you have Joe Moody packing against you, you know you're getting your ass handed to you if you haven't played there for a while, which is exactly what happened. But I feel like that's the only way you can learn as a front rower, getting your ass handed to you. You really get to know what you're made of.
"As the story goes, if a prop says they haven't had their ass handed to them before, they're lying. You wear it on your chest and learn from it. It made me a better player and made me the player I had today. I'm happy it happened but it definitely wasn't a fun time."
Jager admits he didn't fully feel comfortable in his ability as a scrummager until the latter stages of the 2019 Mitre 10 Cup with Canterbury. But there's no feeling quite like the moment of turning your opposition prop inside and out.
"It's better than scoring a try. No matter what anyone says, I'd rather do that 100 times than scoring a try," he declared.
There are few better clubs in the world for a young player - let alone a prop - to learn their trade than the Crusaders. Ten-time Super Rugby champions, winning is expected in Christchurch.
Leading that culture is Scott Robertson; head coach since 2017, All Blacks coach in-waiting, and breakdancing expert (below).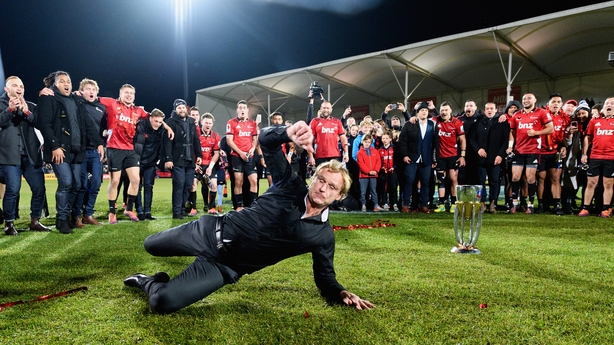 It may seem like a pie in the sky notion that 'Razor' will be the next Munster head coach, but it hasn't stopped some fans calling for the province to make him an offer he can't refuse.
"Wait and see," is Jager's tongue-in-cheek response when asked for the inside scoop on whether Robertson's had any phone calls from Limerick.
"He's got a bit of everything.
"He knows what to say at the right time, he knows what makes the boys click, and that really makes it worth his time to know his players, to know who he's coaching whether it's backs or forwards, the training players, everyone who comes in.
"He really gives up his time in order to get to know the person behind the player and I think by doing that he really gets to know how you tick. He can mould that into something that fits the team.
"I think that's his special attribute. He never has to be shouting, it's just precise, a few words, and he knows what to do. It always works."
The former All Black back row is expected to be the next New Zealand coach whenever Foster's time is up.
Another reason why the 2022 season is set to be the biggest of Jager's career.