Bernard Jackman believes the "unambitious" style of rugby Munster are currently utilising will hold them back when it comes to the crunch time of challenging for domestic or European honours this season.
The province edged to a win 16-13 win away at Castres on Friday in the Heineken Champions Cup through a late converted try from Gavin Coombes.
While it maintained their 100% record in Europe this campaign, Jackman told RTÉ's Morning Ireland that their current approach is unlikely to yield trophies come the end of the season.
"I take that Munster are winning but I still think that if you objectively look at the content of their performances, it's hard to say how they're going to win a trophy - and that's where I'd put Munster. I think Munster should be expecting to win a trophy every year," he said.
"They have the history, they have the fans, they have the players and they have the budget.
"They got a last-gasp win against Castres. It was Castres' second team, away from home, and [they] had nothing to play for and it's just (Munster) are playing a very unambitious style of rugby.
"And you watch the way the game's going, you watch Connacht-Leicester, Ulster or any of those big games like Clermont-Sale, everybody's trying to play with the ball in hand and at the moment Munster look more comfortable without the ball and I just don't think they have the forward pack or even a kicking game at the moment to say that that's going to lead them to trophies.
"It's early days and you can't win a trophy in January and they may improve and may add some layers to it but I just think they're getting results but there's not a huge amount of positivity around what they're doing."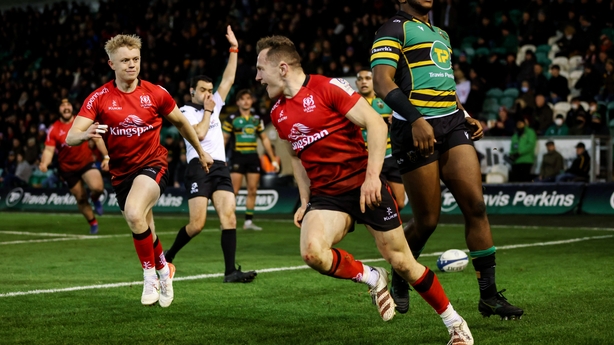 Overall, Jackman felt it was a largely encouraging weekend for the Irish provinces with Ulster and Munster having booked their last-16 places, Leinster on course and Connacht sill in contention.
But it was Ulster's away win over Northampton Saints which stood out for the former Leinster front row.
"Obviously, having three of the four provinces win - Connacht losing but getting two bonus points which I think they'll definitely qualify (with), it's just a case of can they sneak a home draw - but the highlight for me and the best performance was Ulster," he said.
"I thought they were exceptional away, missing McCloskey, Henderson and Cooney who had been huge for them over the years and will be important for them as they go forward.
"But Balacoune, Hume and little Michael Lowry, every time he touched the ball, good things happened. I just thought they played a really, smart, attractive brand of rugby and it was a big win for them."