It was hard not to feel sorry for Philippe Saint-Andre.
The legendary French winger had tears in his eyes for the duration of a 10-minute press conference in the wake of his Montpellier's side 89-7 hammering at the hands of Leinster at the RDS.
He was hurting. Badly.
Leinster, who hadn't played a game in five weeks, racked up a record European win, simply out-classed a second or third-string visiting side.
The Top14 outfit's clash with Toulouse was cancelled last week due to Covid outbreaks and while not wanting to find excuses, Saint-Andre pointed to the difficulties his side endured.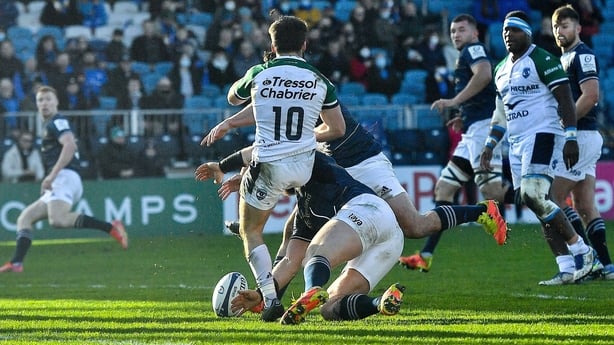 "First, congratulations to Leinster," he said.
"We were hurt for the last two and half weeks with Covid; 18 guys in my squad had Covid, we couldn't play last week against, Toulouse.
"Today, we managed to have a team but we changed it three times during the week. We were struggling from the first to the last minute.
"I coached for a long long time. I never lost by this score. There is not so much to say.
"I hope that next week I will have a lot of players back available. Today we finished with nearly all the academy backline against maybe the Irish backline.
"You can see there was huge difference. It was men against boys. We have nothing to say. We wanted to play, we didn't play for the last 20 days. We had injuries, we had a red card too.
"We'll come back and hope we'll have no more Covid in the squad and train again and get back some key players."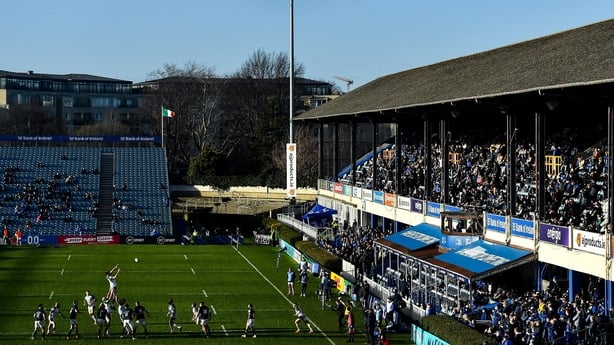 Leo Cullen's side, who lost the 'away' leg of this fixture 28-0 on a technical walkover, had a bonus point in the bag by the 25th minute and added another two tries before the break.
Seven tries followed in the second half, there was no let-up.
"Leinster are the one of the best if not the best in Europe and on the first attack we go back 30 or 40 metres," added the Montpellier boss.
"You concede two early tries and after it's very difficult to cope with them. They put a high tempo in the game, the conditions were amazing to play.
"Some of our guys are new to this level and others came back shortly after Covid.
"I didn't have a tighthead last week. Today, we managed to have two tightheads but one was negative on Tuesday but after 10 minutes he hurt his calf so we couldn't manage the tempo and Leinster are so skillful and their bench.
"They bring in the loosehead of Ireland [Cian Healy], the winger from Ireland [James Lowe], one of the best fly-halves [Johnny Sexton] in the world was on the bench, congratulations to them.
"I'm very disappointed because I was expecting at least we show more than what we did today. I don't want to blame anyone. First it's my responsibility.
"After we come back and prepare better next week and show another face than we showed today."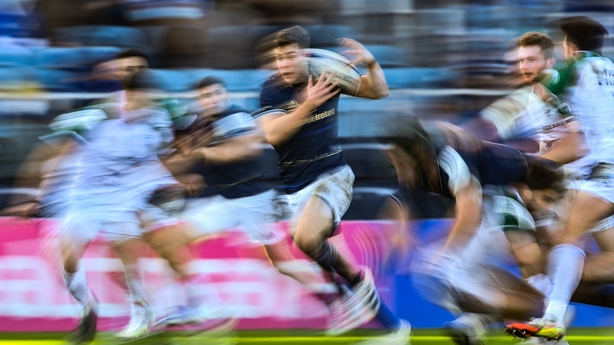 Asked what hurts most, looking across the empty RDS, he said: "The score. It's not a rugby score, it's a basketball score.
"We fight last year to win the shield and be in this competition. And to not show more than this is very painful after we have three or four more positive cases three days ago, a lot in the backline.
"Today our backline was very young with little experience but I was expecting more than we showed but Leinster were amazing."
Cullen, meanwhile, was eager to move on from the 13-try training session ahead of next Saturday's game at Bath but preferred not to comment on what such a scoreline does for the competitions' image.
"Ideally you'd like every team to go full-out for every game, but I don't know the situation in Montpellier, so it's unfair for me to comment," he said.
"For the game in round two, we had a decent group of players we thought, but obviously circumstances and all the rest, so it's hard to keep talking about the same thing over and over.
"I don't know what their situation is. For us, we just need to focus on ourselves really. That's all we can do now, and as I said it hasn't been an easy time for sport in general.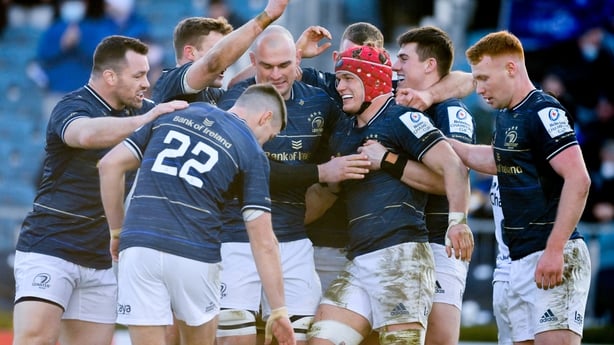 "[We didn't learn] a huge amount, is the honest answer.
"We just have to park that game and move on and focus on the next challenge. We played Bath in our previous game so they are an opposition that is reasonably fresh in our memories.
"It's a different challenge playing them at The Rec so we will see what the conditions are like.
"It can be quite tricky, that pitch, at this time of year so we'll see.
"We'll assess and recover, it's a short turnaround so a couple of training days and make sure we're aware of the threats coming our way.
"It's very much onto the next one because you can only spend so long analysing that one there."