Cian Prendergast doesn't want Connacht to stand accused of shirking their physical responsibilities.
There's no escaping that the Westerners are renowned for their stylish, adventurous running game but this is rugby after all and there is a minimum amount of heavy lifting required before you can start with the fancy stuff.
And speaking after picking up his man of the match award following last night's 10-8 "ugly win" over Munster, the Connacht wing forward wanted to get something off his chest.
"There was an idea a while back that we just wanted to play fluid rugby and we don't want to get involved in the confrontational side, but as a group we really loved it," said the 21-year-old Kildare native.
"We want to impose our physical mark on the game. [If] that comes with the territory of a push and shove or nothing really, it's just rugby, it's a contact sport.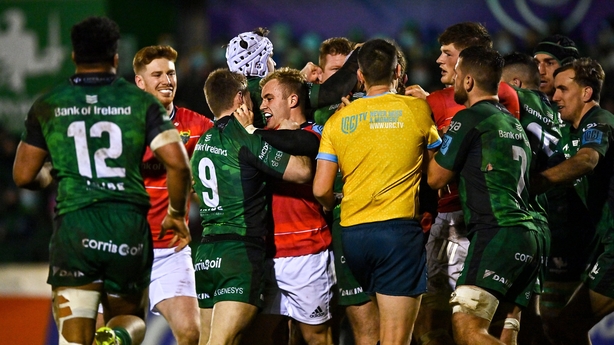 "If you are together as a unit as we are, no one is going to back off if you see your team-mate getting a bit of treatment off the others so it's just a unit thing and we don't really look to do it, just things unfold in front of you."
In particular there was the period just before half-time when the home side withstood a bombardment on their own line as Munster won penalty after penalty, each time tapping and running.
In the midst of that, Connacht lost Oisín Dowling to a yellow before holding out against three more penalties to win a turnover.
"It was a very physical game, it was it was emotionally draining as well," he said .
"I think those kind of big moments and those spurts that of energy, the goalline stand really gives you energy.
"And to be involved in those moments rather than being on the receiving end of those is excellent.
"As a group we were really enjoying the challenge we had.
"You can see Bundee [Aki] really firing the guys up, you see JB [Jarrad Butler], Conor Oliver, and we're just really enjoying the moment and ultimately coming out in top in that probably say game-defining moment."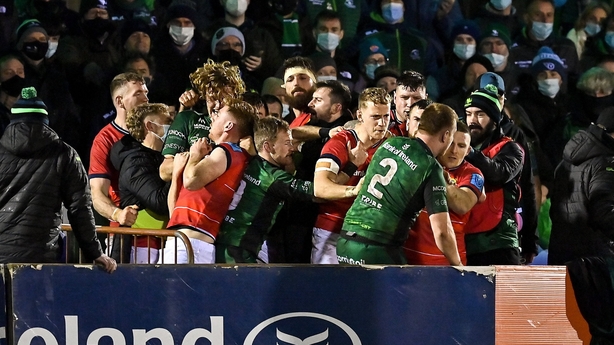 But that moment preceded a talking point as the players rushed off for half-time.
Prendergast was credited with six runs for 12 metres in the stats but they didn't include the yards made as he rushed to diffuse some argy-bargy in front of the home fans in the Clan Terrace.
"No comment," said Prendergast with a smile on his face of the incident that led to yellow cards for Connacht's Shane Delahunt and Munster's Ben Healy when they returned to the field for the second half.
"Ah, it was just getting to know each other a little bit better, I think."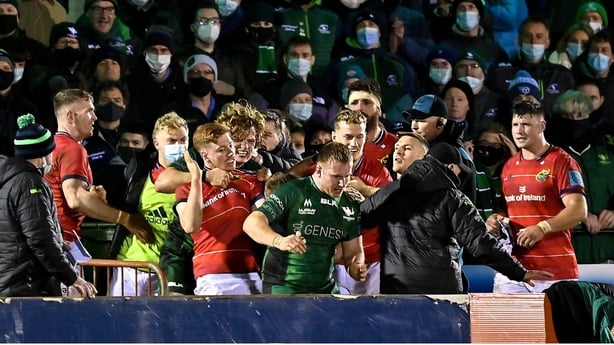 On the same topic, head coach Andy Friend told RTÉ Sport: "It's just young men who have a lot riding on the game.
"From a team point of view from a personal point of view, it was just a bit of pushing and shoving to be honest.
"Credit to both sides, no punches were thrown. It was just handbags at dusk, it got sorted out and the second half we just played on."