Irish rugby was forced into a weekend of rest due to Covid-19 cases in Ulster and the continuing concern in Leinster.
The players that were unaffected would not have complained much, I'd imagine. A festive weekend off is a rarity, unless you are not selected to represent the team, in which case you would probably prefer to give up the Christmas break and not your place in the squad.
Most players do not want to be rested unless it's due to their importance in the long run and/or IRFU-enforced player management. In this case, the game was postponed, so you couldn't pick a better week from the players' perspective in terms of spending time with family and friends.
However, it won't have been a welcome break for any of those that were stuck in isolation, unable to mix with their family or close friends for a Christmas celebration. I'm sure many supporters would have enjoyed four fit and healthy squads going at it on St Stephen's Day too.
When you contrast the fortunes of the Irish supporters and players with those in the Premiership, it was odd that a country with a vastly greater population and similar percentages of positive case numbers could continue as normal, with mask-less crowds at various venues across the country.
The same can be said for other sports in the UK. The PDC World Darts Championship is being played in an indoor arena; it's like a different world compared to what's happening here at home.
Unfortunately, the cases in Irish rugby were in the squads themselves and therefore the games had to be pushed out. What we missed in Thomond Park and the Kingspan Stadium were tight-fought, personal battles which are usually niggly affairs - the flashpoint between Fineen Wycherley and Johnny Sexton springs to mind.
So too does the Sexton moment with Joey Carbery in Thomond Park. The bragging rights and direct competition for places ahead of the upcoming Six Nations camps gives these fixtures that added spice.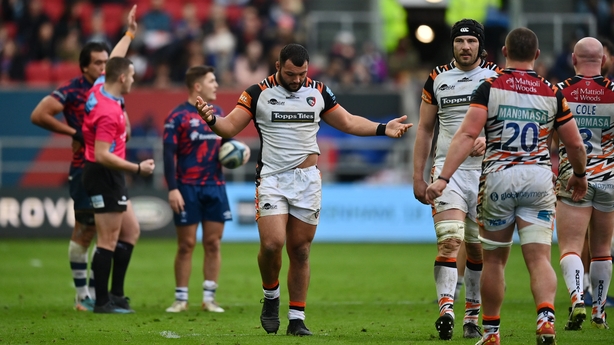 Leicester and Bristol gave us that same competitive spark yesterday. This time Ellis Genge and Kyle Sinckler provided a continuous battle at the scrum, made particularly more interesting by Genge's recent contractual announcement with Bristol at the end of the season, which didn't stop him from celebrating when his Leicester team-mates snatched the victory with the clock well into the red.
The game had everything, including a dramatic ending, world-class superstars in Radrada, Piatau and Nadolo as well as the next generation of internationals like Freddie Stewart and George Martin.
There were other interesting battles as well. Ben Youngs, the veteran, was up against the electrifying newcomer to the English squad, Harry Randall. In an unlikely war of words, Richard Wigglesworth was having a go at Kyle Sinckler too.
The personal touch between current or former international team-mates always makes the game that bit more interesting. I suppose, this happens most weeks in the Premiership, but the Irish provinces have only three national rivals and when they get to meet in the league it's always a feisty affair.
Munster would have relished the opportunity to take on Leinster at home, given Leinster's stuttering season so far. Stuttering might seem somewhat exaggerated, but there's definitely something not quite right with Leinster at the moment, and I think some of that frustration can be seen with Leo Cullen in his interviews.
No doubt their recent Covid experiences will have caused some disruption with their preparations too, much like Munster, who seem to be out the other side of it after revelling in the challenge of bringing their academy players up to speed.
Ulster have also been disrupted after their European heroics in the previous weeks. They'll be looking forward to getting their season back on track after their recent Covid-19 cases. Just as they made a statement in Europe, which hopefully put their stop-start season behind them, the misfortune of the dreaded virus has disrupted their flow too.
Unfortunately, there will be a lot of doubt and uncertainty cast over sport in the coming month
Hopefully we will have some games to look forward to on New Year's Day, depending on the next round of PCR tests within the provincial camps. At the very least, Connacht should be able to host Munster, considering their squads were most recently unaffected, but you would hope they are still that way after the Christmas break and players being out of their so-called bubbles to visit some family and friends.
Unfortunately, there will be a lot of doubt and uncertainty cast over sport in the coming month. With rising cases within the communities, social contacts have more than likely gone up due to the Christmas period and the sporting schedule remains in the balance.
This isn't only with regards to professional sports. Local sports and national competitions are under more pressure than the professional game due to the lower level of funding, less control over players and the greater ease in postponing or cancelling the events.
At least at professional level, PCR tests are done a few times throughout the week and definitely at the start of each week to ensure a level of safety for all players and staff.
Hopefully this will allow the squads to get an up-to-date assessment of their players in the next day or two and we can all look forward to some thrilling interprovincial rugby this weekend.