Johann van Graan, on some level, will be more than happy that Munster finished off their European block with two wins from two.
At one stage about a fortnight ago it seemed that they might not even have been able to field against Wasps last weekend.
But field they did. And added to Saturday's night's 19-13 win over Castres, it totals nine points from a possible ten.
Given the squad had been split up into three bubbles, it's quite an achievement.
"I'm very happy with the win and the nine points," the head coach told RTÉ Sport.
"I'd say this was an ugly win, certainly not great on the eye but we're very thankful for the support.
"It's not the performance we wanted but we spoke in the changing room about lads in isolation, some coming out tomorrow, some on Monday.
"That was the first game for many in six or seven weeks. The three groups, it's been a tough few weeks so very happy with the nine points. We can certainly perform better."
"It's been a real mental battle the last few weeks.
"We've got to take two days off now, everybody gets out of isolation in the new two days. Hopefully, we can be together as a squad again for the first time since the Ospreys week.
"A lot of guys haven't seen each other for a long time, we've two days of training, then Christmas Eve and Christmas Day, looking forward to the Leinster game on the 26th."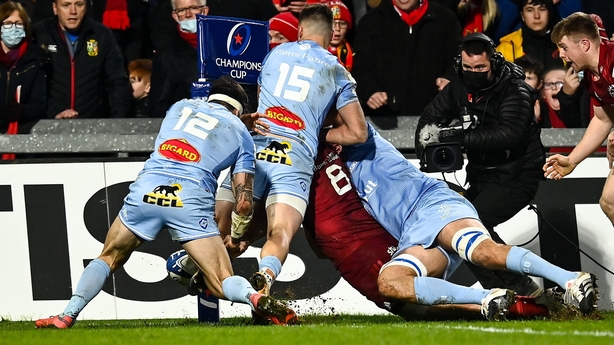 The win sets the two-time champions up nicely for qualification for the last 16, however, with Covid playing havoc with the fixtures it's hard to look too far ahead.
The South African added: "I have not even looked at the [table].
"The thing I am glad about is that we have two wins out of two.
"When we spoke a few weeks ago, we certainly would have taken two out of two at that stage.
"Obviously, the next game is on a Friday evening in Castres in the middle of January so we look forward to that – and I am just thankful that we played the game. We would have taken nine points.
"In terms of preparation and planning, the only thing that is certain is that we can plan.
"The important thing to note is that every club is going through this. There are postponements, clubs are unable to travel all through the sporting world.
"We are just thankful to be able to play in front of our home support, thankful we ground out a win.
"We had a sold-out stadium in a week's time [to face Leinster]; we are now down to being able to host just 5,000.
"That is currently the way the world works. The most important thing to note is that we are talking about people's health Currently our whole squad is in good health."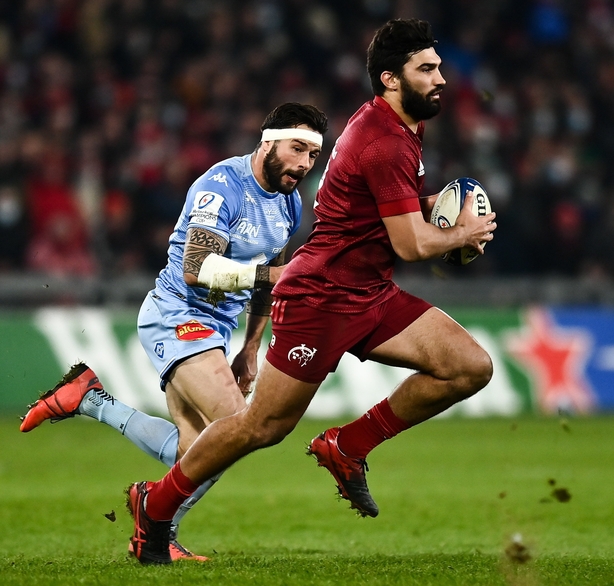 Man of the match Damian de Allende was also happy to take the points and run.
"I think we tried to do too much with the ball, it was just that final pass," said the Springboks centre.
"It was a bit frustrating on the field where we thought we should have scored and didn't.
"We are still happy to get the win but we left a bit out there.
"It's a very good win but I think the boys feel a bit disappointed."
On his disallowed first-half try, he said: "Touch and go, honestly I thought it was a try. If it wasn't I would say it wasn't . But it wasn't given, at least Jack's was. It was a good finish."