A lot has changed in rugby in the last 12 months, but unfortunately Covid-19's fingerprints are still all over the game.
Whether it's the URC or Heineken Champions Cup being pulled apart by the fixture chaos of Covid, or the sight of empty and near-empty stadiums, it feels like we've turned several corners only to end up back where we were a year ago.
That's enough of the doom and gloom; the destination we've landed at may not be desirable, but the journey was eventful all the same.
We saw a strange Six Nations where Wales defied the odds to win a 39th title, only to fall short of the Grand Slam against France. We figured out the answer to the eternal 'Which France side will show up?' question (Answer: The good one). We saw Ireland look uninspired and predictable, until they suddenly became inspired an unpredictable.
We saw another Irishman captain the British and Irish Lions as Conor Murray followed in the footsteps of Peter O'Mahony and Paul O'Connell and Brian O'Driscoll. It proved a temporary change as Alun-Wyn Jones rose from the ashes like a phoenix with shoulder strapping, grabbing the metaphorical armband in time for the Test series.
We witnessed the most toxic and forgettable Lions series both on and off the field and we saw the return of Toulouse to the top of European club rugby, as Leinster lost another arm-wrestle in the knockout stages.
We got a new name for the old Pro14; the United Rugby Championship, a new competition with new teams, new cities, a new format, but unfortunately the same old Covid issues. Here's to 2022.
We looked on as the storm clouds rose over Irish women's rugby, before they burst at the World Cup qualifiers in Parma, and we saw the all-too-early retirement of captain Ciara Griffin as relations between the players and IRFU soured.
We saw the All Blacks not just beaten but ran off the pitch at the Aviva Stadium, we sat through RG Snyman's emotional rollercoaster of return and re-injury, we rang in Johnny Sexton's 100th cap and endlessly debated Ireland's succession plan at number 10.
We got through a lot, and here's what the RTÉ Rugby podcast thought of it.
---
Your moment of the year?
Bernard Jackman: Johnny Sexton's try on his 100th cap against Japan. I'm very fond of him and I wonder if the public have finally understood and appreciated him. The reception he got from players and fans was special.
Hugh Cahill: The win against New Zealand, because up until that game I didn't have much faith in what they were doing or where they were going. That was the moment where I realised something is clicking and I started to believe that Ireland were moving in a really good direction, playing some nice rugby and moving away from the conservative style that had been under Joe Schmidt.
Wes Liddy: The moment that stands out is the Keith Earls interview on The Late Late Show. It just took huge courage to come out and admit to problems he'd been dealing with, and gave a huge insight - not just with his mental health - into the injuries he's had over the years, and the incredible levels of resilience the guy has to perform at the level he's done.
Neil Treacy: The moment Ireland walked out onto the pitch before they took on New Zealand. For most of the 51,700 people in attendance, it was the largest crowd they had experienced for the guts of two years, and it all just felt surreal. There are always large pockets of empty space during the national anthems as people filter in, but when New Zealand are in town everyone gets to their seats early. It was a special atmosphere, and a reminder of what we'd missed in the last two years.
Michael Glennon: Two particular moments from Ireland v New Zealand. The first, 39 minutes gone, Ireland's Jack Conan is five yards short of the line and New Zealand are scrambling, he tries a one-handed offload to Jamison Gibson-Park – knock on. Later, on 76 minutes, Ireland lead by six, Hugo Keenan intercepts a crossfield kick and runs for his life, there's a low percentage offload on, he tries it, Ireland lose possession. But it shows the players have been given the freedom to play. Sometimes it comes off, sometimes it doesn't. So what!
Fiona Hayes: Keith Earls's 34th try for Ireland, in the Six Nations against England in March. The Irish attack hadn't been firing, and we thought we'd lose to England at home. That try just set it all off. It was a release to see something like that.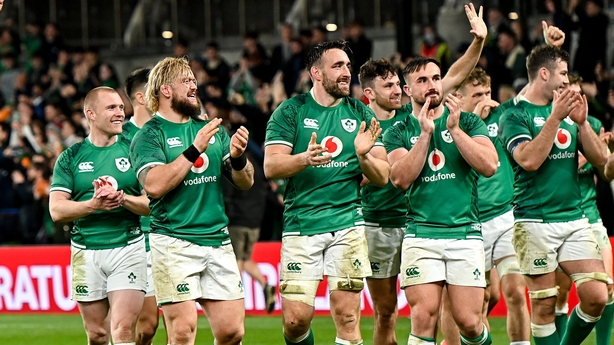 The moment you want to forget?
Bernard Jackman: Leinster's defeat away to la Rochelle in the Heineken Champions Cup semi final. There was an ominous feeling, where it was obvious on the day Leinster didn't have the tools to overcome it. That was demoralising, and it had me worrying about Ireland as well, because we realised unless we have a unique way of playing, we'd come up short.
Hugh Cahill: The entire Lions tour in South Africa. The worst rugby I've seen in my life, behind closed doors, nothing about it was a Lions tour, and I think it should just be scrapped from the record books! It should never have taken place, the players hated it, the rugby was rubbish, and it was just awful.
Wes Liddy: Munster's performance in the Pro14 final against Leinster. It was just a complete no-show, and sobering for everyone in Irish rugby that one team had gone so far ahead of everyone.
Neil Treacy: It's a collection of moments rather than one in particular, but the last four months in Irish women's rugby have been filled with more controversy and PR missteps than you would expect across an entire decade. From the embarrassing end to the Interpro series in September to the World Cup qualifiers and resulting fallout, the last four months have exposed so many flaws in the way women's rugby is controlled in this country. You can only hope in 10 years we look back on 2021 and realise it was the turning point.
Michael Glennon: A young Munster side is cruising against the Scarlets. RG Snyman comes on to get some more minutes under his belt, his third game back following more than a year out injured. A few moments later he's on the ground grimacing, he's knows what's ahead. Disaster for Munster, the giant South African has re-ruptured his ACL.
Fiona Hayes: Ireland's defeat to Scotland and missing out on the women's World Cup. We thought we'd qualify as direct winners, for them to be knocked out completely it was devastating and we knew we were heading into a terrible place for women's rugby. Al, the talk had been about the World Cup in New Zealand, and we weren't even going there.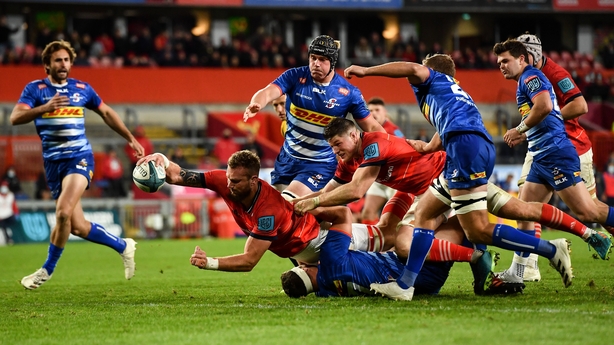 Your favourite player to watch?
Bernard Jackman: Jack Carty - Influenced by it being recent, but I've loved Carty's search for redemption, and his resilience, and how he's come out fighting and taking on leadership. I really enjoy watching him putting his hand up for selection for Ireland.
Hugh Cahill: Romain Ntamack - He's not the best 10 in the world, he still makes mistakes but I love how he tries things all the time, he's getting better and better. A lot more of what he tries works out, and he's been a four-year project for France. By the time the next World Cup comes, he's going to be the main man. I love that they stuck with him and that he was allowed to make mistakes both for Toulouse and France and the result is what you see now. I wish Ireland would do that more with young players
Wes Liddy: Antoine Dupont - Any number of the French team at the minute. I just think they're so exciting. You couldn't look past Dupont, his performance against Cardiff a few weeks ago was Playstation stuff. There's just huge excitement and talent in French rugby at the moment. It's hard to even narrow it down. Honourable mention for Gael Fickou who burst onto the scene at a young age and had a few quiet years, but is realising his potential now.
Neil Treacy: Andrew Porter - Porter's legacy as a tighthead prop shows he was good enough to be picked for the British and Irish Lions. That makes his switch back to loosehead even ballsier. His move across the scrum has been a brilliant success and has added a new layer to the Irish and Leinster pack. He's been a joy to watch.
Michael Glennon: Mack Hansen - Is he going to pass? Is he going to pick and go? Dink it in behind, chip ahead, assist? Leap through the air like a salmon and dot down. We don't know, neither does the defence, and I would suspect neither does he. A joy to watch. My Da - not a rugby man - wants to know when Connacht are playing, Hansen is half the reason for that.
Fiona Hayes: I just love watching Jack O'Donoghue. What he brings to Munster in every game, between fitness, turnovers, lineout steals. His passion on the pitch is brilliant, I love watching him.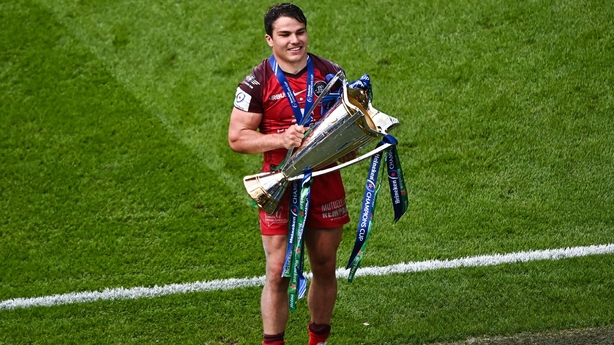 Your breakout star of 2021?
Bernard Jackman: James Hume - We saw glimpses of him last year, and he looked good for Ireland in June, but in the last few weeks has just really stood up. Even though we have a lot of depth at centre, he has a different skillset and profile to Garry (Ringrose), Bundee (Aki) and Robbie (Henshaw) in particular.
Hugh Cahill: Alex Kendellen - I did a lot of his games in the U20's and he was absolutely brilliant, hopefully the next Munster coach will be a bit more adventurous about picking younger guys and bringing them through. I think if he's given game time in the next 18 months he could be an Ireland international in the next two years.
Wes Liddy: In an Irish context it wouldn't be someone young, someone in his late 20s; Jack Conan. A guy who was very good as an underage player and struggled to get into Ireland teams due to the competition, whether it was Jamie Heaslip or CJ Stander. He's just taken his game to a whole new level, which has been so impressive.
Neil Treacy: He's been on the scene for a couple of seasons, but Ronan Kelleher's lifted his game to a new dimension in the last eight months. In the Six Nations he was behind Rob Herring in the Ireland pecking order, but if there was a Lions Test team being picked tomorrow morning he'd almost certainly be the starting hooker. He's improved with his bread-and-butter duties at the lineout, and combined with his power and speed as a ball carrier, he's up there with the very best in the world right now.
Michael Glennon: Nathan Doak - Playing second fiddle to John Cooney at Ulster for the most part but slotted in seamlessly when needed. Just 19 but plays like a 29-year-old; calm, assured, strong, fast and has a smashing boot. Will be surprising if he doesn't train with Ireland at some stage in 2022.
Fiona Hayes: Craig Casey. I think he's been phenomenal. Getting capped by Ireland is brilliant and for me as a Limerick women, to see a Limerick player up there is absolutely brilliant.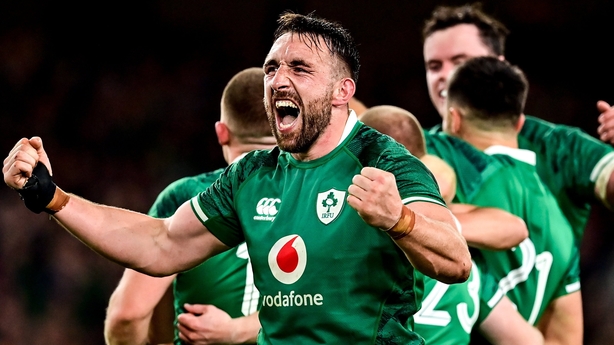 One to watch in 2022?
Bernard Jackman: I still believe in Jack Crowley, and I know he's now completely new but I think he's got something special and I think he could be a serious player for Munster and Ireland in the future.
Hugh Cahill: Not exact for 2022, but my one to watch is Harry Coghlan. He's only five days old, but his mother Fiona wasn't a bad player in her day! Keep an eye on him! Not necessarily next year, but one to watch for the future.
Wes Liddy: Internationally I'd be interested to see how Caleb Clarke comes back and gets into that All Black jersey and the thoughts of him and Will Jordan out wide is an incredible prospect. Matthis Lebel at Toulouse is someone I've liked for a while and would love to see kick on. They've such competition in the back three and Galthie has his favourites with France, but his performance against Munster was incredible.
Neil Treacy: We thought he was in line to be a breakout star of 2021, but hopefully we can see more of Josh Wycherley in 2022. After that wonderful game against Clermont in France in December 2020, some niggling issues meant that his progress got stymied this year, but he's got a huge future at loosehead. There's a gap in the market at Munster for someone to make themselves Dave Kilcoyne's long-term successor, and Wycherley looks well placed to do it.
Michael Glennon: With Joey Carbery recovering from a broken elbow, Ben Healy is set to get a lot of game time. Yes, his cameos over the last two years have been impressive but he's going to have to lead from the front now. Exuded calm in the win over Castres, when many others on the team were quite excitable.
Fiona Hayes: James Hume is going to make his mark on the international setup, he's playing unreal rugby with Ulster at the minute. In the women's game, I'm picking Maeve Óg O'Leary. With Ciara Griffin and Claire Molloy retiring, that girl is going to create competition in the back row, and she's got all the attributes to be an exceptional seven.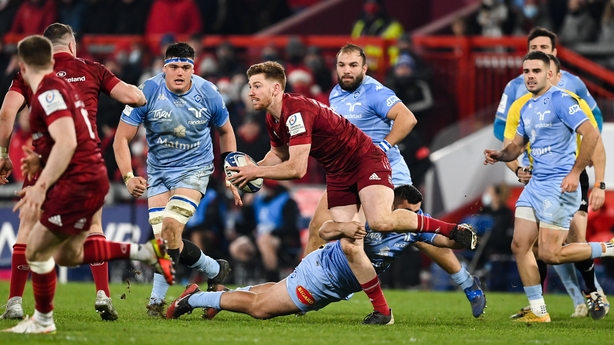 Predicted Six Nations table
Bernard Jackman: France (no Grand Slam), Ireland, England, Scotland, Wales, Italy
Hugh Cahill: France (no Grand Slam), Ireland, England, Wales, Scotland, Italy
Wes Liddy: France (no Grand Slam), England, Ireland, Wales, Scotland, Italy
Neil Treacy: France (Grand Slam), Ireland, England, Scotland, Wales, Italy
Michael Glennon: France (no Grand Slam), Ireland, England, Wales, Scotland, Italy
Fiona Hayes: France (no Grand Slam), Ireland, England, Wales, Scotland, Italy
---
United Rugby Championship winner
Bernard Jackman: Leinster
Hugh Cahill: Leinster
Wes Liddy: Leinster
Neil Treacy: Leinster
Michael Glennon: Munster
Fiona Hayes: Munster
---
Heineken Cup winner
Bernard Jackman: Leinster
Hugh Cahill: Racing 92
Wes Liddy: Leinster
Neil Treacy: Racing 92
Michael Glennon: Leinster
Fiona Hayes: Leinster
---
Your one wish for rugby in 2022?
Bernard Jackman: To see full houses back in stadiums again, and for the crowd to be entertained.
Hugh Cahill: I have two. No more games behind closed doors, which isn't in our control. But what is in our control is proper treatment for women's rugby from now on. Root and branch reform, and start again from scratch.
Wes Liddy: I'd like Munster's coaching appointments, and some of the structural issues like player pathways to be brought up to speed as much as possible, and for the organisation to be harnessing its full potential.
Neil Treacy: That coaches and players start practicing what they preach when it comes to rugby being a game of respect. The way Rassie Erasmus instigated a pile-on on referee Nic Berry during the Lions series was horrible, and the opening rounds of the Heineken Champions Cup show that players are showing less and less respect for officials on the pitch. Something has to change.
Michael Glennon: Ireland to win a Test match in New Zealand.
Fiona Hayes: That more and more people go out watching the Energia All-Ireland League, both men's and women's leagues. I just think the rugby being played is phenomenal in Division 1A and 1B. I want to see more people going out and supporting their local clubs.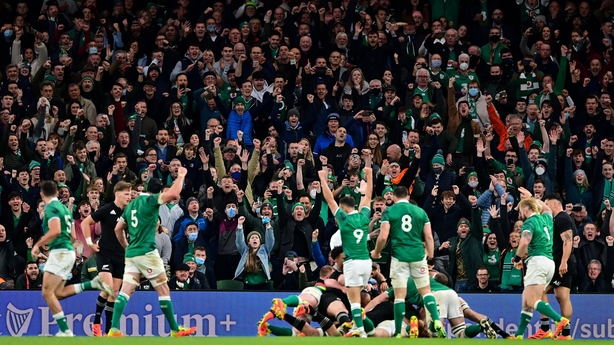 What's the biggest challenge facing the game in 2022?
Bernard Jackman: Finances, off the back of Covid-19. Games behind closed doors due to Covid have had a massive effect on the game's finance. Finance is going to become a massive issue.
Hugh Cahill: It's obvious, but it's Covid-19. Financially everything that comes from that. We have to just get on with life in this virus, get vaccinated and keep on top of things, but if we have to shut sport down again, Irish professional rugby is in serious trouble. The challenge is to keep going and keep crowds coming into games.
Wes Liddy: It's the same challenge every year; needlessly tinkering with laws, and the lack of clarity for the average punter around those changes, unless you're fanatically tuned in. On that I'd lump the sheer amount of stoppages, which is just not appealing at the moment. The ratio of ball-in-play to stoppages needs to go in the other direction.
Neil Treacy: Making it through the rest of this season without having to perform major surgery on the URC and Heineken Champions Cup. Even already with the postponements in both competitions, the backlog of games is building, and there already doesn't look like being enough weekends to cater for them.
Michael Glennon: Aside from getting the fans back? Fixture chaos coming down the line, how many more hits can the URC or Heineken Champions Cup take without having to resort to a plan B or C? On the playing side, sorting out the legacy concussion issue will be a big deal this year.
Fiona Hayes: The uncertainty of Covid, because if games return to empty stadiums the playing levels will drop.