Leinster wrote the script and Bath followed it.
The filming of the action was little more than a formality.
On the search for a fifth Heineken Champions Cup trophy this will go down as a solid opening episode.
Leo Cullen's side ran in seven tries, five in the first half, against a limited Bath outfit, whose losing record in all competitions now stretches to 10 games.
The head coach, who brings his side to Montpellier on Friday night, was not going to make a thriller out of an at-times, slow-paced exposition piece in the post-match press briefing.
"[We're] pleased to get a bonus point," he said after the 45-20 Aviva Stadium victory, Leinster's tenth win in 12 meetings with Bath.
"To get a win and a bonus point is great, lots of good stuff, particularly early in the game, I thought.
"It was great to get a big crowd as well, that's one of the big challenges for sports teams at the moment so we're very appreciative of the crowd we had here.
"The last 20 minutes is probably the thing that is lingering a little bit for us in terms of some frustrations, because ultimately Bath win that 20-minute period 7-0.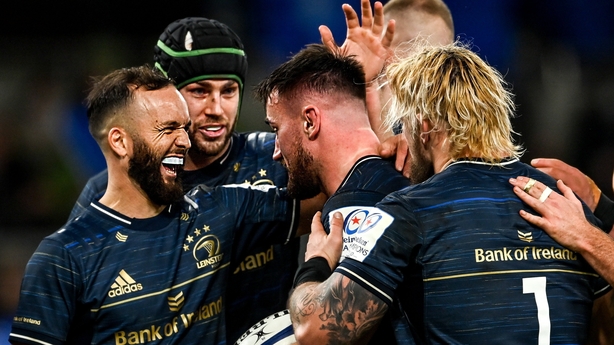 "But anyway, if you had given it to us earlier in the week we probably would have settled for it.
"So, lots of good stuff, but for now it's just trying to turn the page because we've a short turnaround into Montpellier away next weekend."
Those final scenes, after Leinster began to empty their bench with a 38-13 advantage in the 48th minute, will give Cullen and Stuart Lancaster a decent amount to rehearse.
"Definitely the game got very, very loose quite early really," he added
"We lacked control. Some of it is down to us as coaches, making some changes early which created a bit of disruption around that cohesion part.
"Obviously that is the decision we made. Some of it is in our hands as coaches as well. We become a little bit loose and lose a little bit of focus.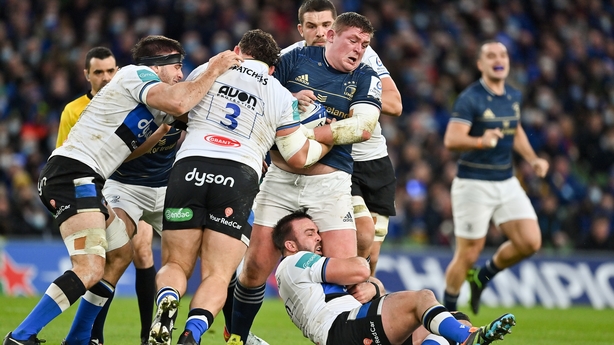 "As you could see it was tit for tat, both teams were having cracks when the game became loose with lots of turnovers in the last 20 minutes.
"It didn't particularly suit us. It was a pity that we didn't kick on a little bit more. We were 45-13 at 57 or 58 minutes.
"The last 22 or 23 minutes it is 7-0 to Bath. It was a lost opportunity for us (to score more points). It is important that we turn the page now."
As for next Friday's sequel, Cullen did indeed indulge in a well-worn line about the performance having to improve.
"Well, we won't be able to afford to [let up] next week it because it's a whole different beast that we are taking on," said the former Ireland international lock.
"Montpellier, you just look at the depth to their squad, the quality of international players that they have there.
"They've close to an unlimited budget. They are very, very ambitious there. They are motoring on pretty well in the Top14 at the moment, sitting third.
"It's a brilliant challenge for us now. For us, it's just about getting excited about the week now.
"Montpelier have sent a funny selection to Exeter tonight, so the general message is that they have got their big stars resting up this week ready for our game. It's a good challenge for us."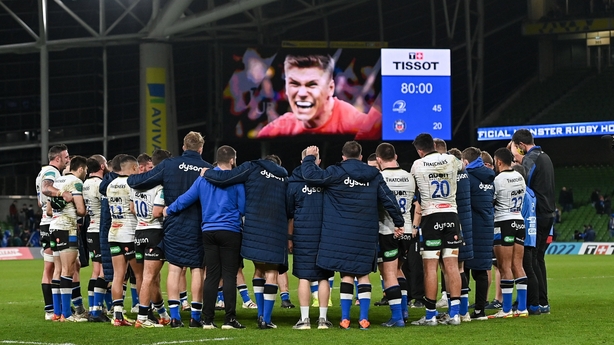 Bath boss Stuart Hooper said Leinster's breakdown work was essentially the difference between the teams.
The team from the Rec handed out six full Heineken Champions Cup debuts with 20-year-old academy out-half Orlando Bailey among them.
"The speed of ball Leinster get is very good," he said.
"The difference is the breakdown on both sides. They are very efficient on their own ball, very good getting the ball to the width on the back of that.
"They are very competitive when we're on the ball as well. They are a quality team.
This is as close to a Test match as you get in club rugby, they are near enough an international side
"We knew that coming here and it's really important from a player and club perspective that we understand the context of where we are right now.
"It doesn't cover over any of that as a performance or as a result but there are lots of guys here playing their first European game, which is a big step for some."
Captain Charlie Ewels added: "This is as close to a Test match as you get in club rugby, they are near enough an international side.
"We had the upper hand around the scrum at times, and the lineout. You saw the difference in quality around some of the open phase stuff and their ability to hold the ball and move the ball and their decision making."
Listen to the RTÉ Rugby podcast on Apple Podcasts, Soundcloud, Spotify or wherever you get your podcasts.
Follow Connacht v Stade Francais (Sunday 1pm) and Wasps v Munster (Sunday 3.15pm) via our live blogs on RTÉ.ie/sport and the RTÉ News app or listen to Leinster v Bath and Connacht v Stade Francais on RTÉ Radio 1 and RTÉ Radio 1 Extra.