Those familiar with the workings of GAA Congress would have been able to empathise with the frustrations of Daniel Leo and his colleagues at the Pacific Rugby Players Welfare group last month.
Plenty of popular motions have been struck down at Congress having failed to meet the required 60% majority needed to pass, although even that wouldn't have been enough for world rugby's player eligibility laws to change.
The PRPW had been campaigning for World Rugby to change their policy on players swapping national allegiance for five years since the body had been founded, one of four key goals they set out to achieve.
Their campaign had gathered enough momentum that the World Rugby Council would vote on it. The 75% majority they needed didn't seem attainable, even for those most intimately involved in the process.
"We believed it was a dead duck, it was gone," says Daniel Leo, former Samoa international, and now CEO of the PRPW.
Hopes had fallen to such an extent that a £10,000 campaign for the final few weeks before the vote had been scrapped. World famous Pacific Islanders - including Dwayne 'The Rock' Johnson - had been lined up to share the message, but with the 75% majority seeming more and more unlikely, Leo and his colleagues planned to re-focus their resources into more realistic ventures.
They would continue to lobby for votes, but wouldn't waste resources.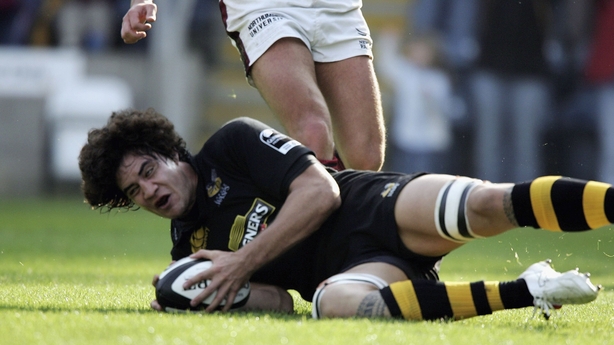 One of the reasons they were losing hope was that it seemed Fiji would be voting to maintain the status quo.
"We were on the phone to the Fijian rugby union, trying to use our players from our board to talk to their board members to try to sway their decision," Leo explains.
"If Fiji were to vote against it, then all the nations who would traditionally have voted against it would have the perfect excuse.
"We played on the fact that the brotherhood is strong, what would be good for Tonga and Samoa would be good for Fiji.
"We played on that and the bonds that Pacific Island players share"
"Our concern was that Fiji were happy where they were in the rankings, in terms of being the top team in the Pacific, where they get the majority of targeted funding from World Rugby over the last two World Cup cycles.
"We were worried that they would be voting on a rule that would largely benefit Tonga and Samoa and would actually threaten their position, that was the feeling. But until they crack the Rugby Championship, they rely on Samoa and Tonga being strong to develop.
"We played on that and the bonds that Pacific Island players share."
Eventually, Fiji Rugby Union's CEO John O'Connor gave his word that the union would back the proposals. It was one sure thing, but so much uncertainty around other countries remained.
"It was looking pretty dire," Leo adds.
---
Pacific Rugby Players Welfare was established in 2015 by a selection of former Samoa, Tonga and Fiji internationals with the aim of empowering and giving a voice to players from Pacific countries, many of whom had been exploited by professional rugby in the past.
Their key goals for change involved the weighting of World Rugby Council votes, profit-sharing models and creating a fit-and-proper-persons test for those governing rugby in Pacific countries.
Their fourth key goal was around player eligibility, and allowing players who have previously played Test rugby to switch national allegiance later in their careers.
Last Wednesday, 24 November, World Rugby's Council officially passed the motion. As of January 2022, players who have been removed from Test rugby for at least three years will officially be able to switch national allegiance, providing they were born there or had a strong ancestral link.
Aside from simply being a progressive step, it makes both Tonga and Samoa instantly more competitive on the pitch.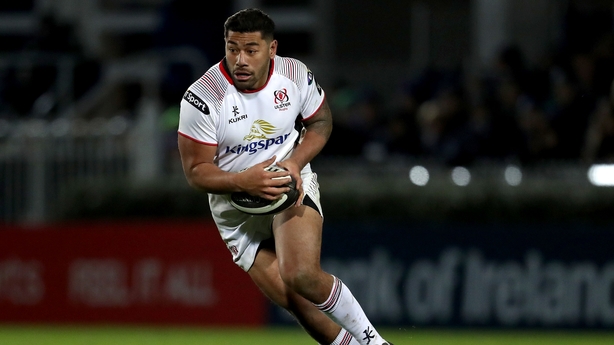 The most high-profile player who has declared his intention to switch allegiance is former Ulster full-back Charles Piutau, now of Bristol in the Premiership.
The New Zealand-born 30-year-old won 17 caps for the All Blacks before his move to Europe, and for several years has been the face of the campaign to change eligibility criteria.
"Ardie Savea, who is happily an All Black and All Blacks captain, was still going out of his way to push it, which is brave, because when you're playing for another country it can look like you're being ungrateful to the country that has served you well and given you those opportunities."
With his move to Europe meaning he's surplus to requirements from a New Zealand standpoint, he has long spoken of his desire to play for Tonga, where both his parents are from.
He'll get that opportunity next year, and should they qualify for the 2023 World Cup in France, Piutau would form part of a much more competitive Tongan side, one that would provide opposition to Ireland, South Africa and Scotland in Pool B.
The first-person testimonies of players like Piutau are almost certainly a large reason why three-quarters of the World Rugby Council votes fell in favour of change.
Another former All Black, Lima Sopoaga, has been vocal of his desire to play for Samoa, while Ardie Savea - who captained New Zealand in this year's Rugby Championship - has also strong supported the campaign.
"One of the biggest jobs was empowering those guys to realise they had a voice and a powerful voice," Leo says.
"As Pacific Islanders, our culture is ingrained in respect for elders, humility, not rocking the boat which some aspects makes us great team players.
"Naturally ,when you meet him (Piutau), he's a bit of an introvert, very quiet, not outspoken at all, so in the early stages it was encouraging guys that they are the ones with the stories.
"I could say it, but it's going to be 10 or 100 times more powerful if they're the ones going out backing it, which they did.
"Ardie Savea, who is happily an All Black and All Blacks captain, was still going out of his way to push it, which is brave, because when you're playing for another country it can look like you're being ungrateful to the country that has served you well and given you those opportunities."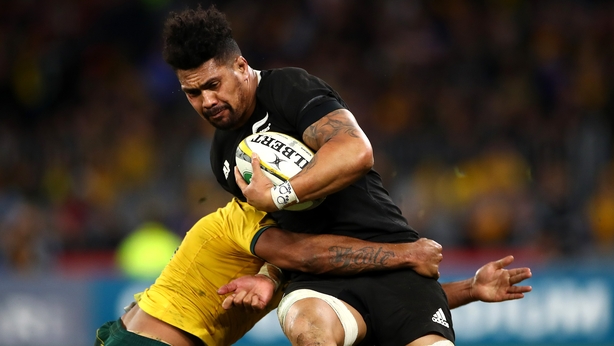 While the new ruling covers every Test playing nation, it's impact will be most-strongly felt by Tonga and Samoa, and to a lesser extent Fiji.
New Zealand rugby's policy of only selecting players based in the country means that a large portion of those who will switch international colours in the short term will likely be former All Blacks based in Europe, whose clubs may have been paying a premium on the basis that their Test days were behind them.
"There are wider implications on them getting contracts in the future, Charles for instance probably would have signed for Bristol under the pretense that he would be available all the time,"
"How does him being vocal about playing for Tonga get received by the club?
"The player power was such an influence. Everyone's got things like they feel they could lose," adds Leo, who was born in New Zealand before playing 39 times for his ancestral Samoa.
---
While those lobbying for change were pessimistic about whether they would achieve it, the main obstacle was simply convincing the 75% that change was needed rather than dealing with vocal opposition.
The main argument that has been made against allowing players have Test careers for two different nations was that it may just encourage more players to take the lucrative option while they are in their prime, with the likes of Tonga, Samoa and Fiji getting high-profile but second-hand models late in their careers.
When it's put to Leo that this could be the case, he doesn't deny it could happen, because he says it's already happening, and is one of the reasons why the change will be beneficial long-term.
"It's true, but it's not an argument against it, it's an argument for it, because we understand that's the case now," he counters.
If some high-profile players can make Tonga or Samoa more competitive in the short-term, they might even make them a bit more marketable. And if they're a bit more marketable, they may get a slice of pie from the Tier One nations, rather than just crumbs off the table. And the more they get those slices of pie, the more they can feed their own union and make it sustainable.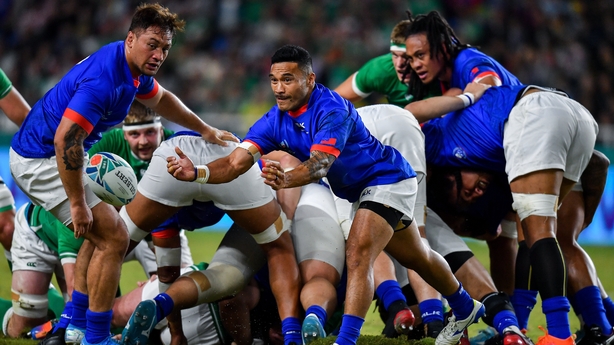 The goal - 10 or 20 years down the line - is that those unions are no longer even relying on former New Zealand or Australia stars to headline their teamsheets, but rather it'll be players who were born, raised and had their rugby educations in the country.
"Better player, better results, better financial opportunities which are invested back into making better players."
"It gives us a fighting chance to be able to build the brand power in our jerseys that will make people want to buy them, and make people want to pay us to come and play," the former Wasps lock adds.
"At the moment when we come over to play games in the November window, we get nothing for it. The Wallabies and All Blacks and Springboks are big brands, they fight for a fee they know is fair to play at a sold out Twickenham.
"We have to accept matches for free because if we don't, we just won't get any Tier One matches and we won't be in the shop window. That's at the heart of this.
"With these players coming back it increases the results hopefully, it increases that brand power to be able to get better games, more consistent games against Tier One opposition.
"It becomes a cycle, the better player we're getting in 10 or 15 years won't be ex-Tier One players, it'll be players we've been able to foster and retain from our island communities, who haven't made the decision to go and play with a Tier One nation firstly, because we have the resources at home.
"That's not to say players won't leave, that's always going to happen, it's just natural migration.
"Better player, better results, better financial opportunities which are invested back into making better players.
"That whole cycle takes about six or seven years, and I think it'll be two or three cycles before you see the full impact of what this has on the islands. It relies on people knowing what they're doing and not selling ourselves short," he adds.
---
With the potential injection of Ngani Laumape, Charles Piutau, Israel Folau, Malakai Fekitoa, George Moala, and Augustine Pulu, it's hard to see Tonga shipping 100-point defeats any time soon.
It comes at a perfect time too, with two new Super Rugby franchises - Fijian Drua and Moana Pasifika - set to debut in 2022.
While Leo says the plans for the Fijian franchise look promising, he does have question marks over Moana Pasifika's decision to take out a lease in Auckland, fearing they may just become an extra New Zealand franchise rather than providing a pathway to the Tier Two Pacific countries.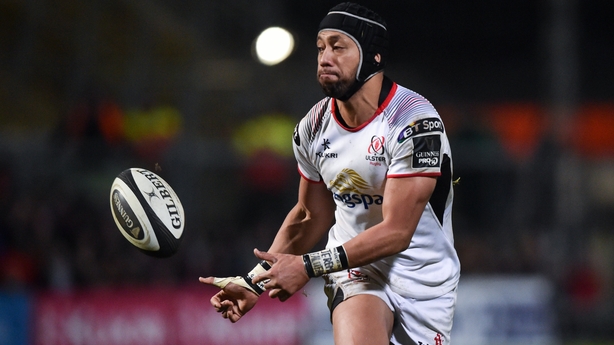 Improving the standard of player available to Tier Two nations is only part of the battle though. Making sure the unions can capitalise on the opportunity being given to them remains a huge challenge.
"If it's just the next World Cup is a blast and that's it, we'll have achieved nothing," Leo says.
"It's the sponsorship and revenue opportunities that it drums up, that we've got to harness now.
"As hard as we thought getting the eligibility reforms across the line would be, this challenge is probably 100 times harder, because it relies on our unions, who have failed miserably at times in the past.
"Fiji is getting better at this, in the way their marketing is developing and internal systems, but Samoa and Tonga are still very much off the pace. A lot of that comes down to a lack of resources, but in the past we've had people in those unions for the wrong reasons, seeing what they can get out of it rather than put into it.
"That's what we've got to change if we're going to make the most of this massive opportunity that's been handed to us. That's where our focus turns to next.
"Without this vote going through, I honestly don't see how Tonga and Samoa would have survived."