Plans to get the Irish Wolfhounds, formerly known as the Irish 'A' team, back into competitive fixtures in the 2022 season couldn't come at a better time for Irish rugby.
Between the interprovincial game at the RDS and Connacht versus Ospreys, there was a lot of exciting Irish talent on display.
The return of the 'A' team is a couple of years overdue now, Covid-19 may have pushed it out further than original plans, but this would come at a great time for Farrell, his coaching team and the extended Irish squad.
Due to Covid restrictions, most of the players in squads are well overdue some game-time. The younger squad members are being stalled in their exposure because the more experienced players are desperate for game-time after some disruptions in play over the last 18 months.
Aside from Covid-19 itself, Ireland are in such a positive place when it comes to the strength in depth of the squad. Not only would an 'A' side allow for younger players to bridge the gap between top-end club games and full-on international matches, it would also allow the fringe players or non-selected players in the squad to get back in the mix.
When you think about some of the experience that Ireland cannot find fixtures or space in the squad to call upon, there has been little game time, if any, for Jack Carty, John Cooney, Caolin Blade and either of the Byrne brothers.
When you mix in the youth in these positions, you would like to get the likes of Nathan Doak, Ben Healy, Jack Crowley and Conor Fitzgerald into some form of green jersey. These players would be more than capable of making the step up if given the structures and platform to grow another level, but the game-time is even shared at club level, never mind the international scene, due to the level of competition and investment gone into the Irish teams.
Gavin Coombes is going to have to wait for another campaign to get game-time in the green jersey after some form of viral illness kept him out of the Autumn Nations Series. Then there are Jordan Larmour, James Hume, Nick Timoney, Ethan McIlroy, Ciarán Frawley, so the list of young Irish players capable of stepping up to the next level is quite embarrassing really.
We need your consent to load this YouTube contentWe use YouTube to manage extra content that can set cookies on your device and collect data about your activity. Please review their details and accept them to load the content.Manage Preferences
There are talks of some added games during the Six Nations and on the summer tour to New Zealand to accommodate the Wolfhounds. From a playing perspective, this would be very beneficial for the guys left out in the cold, and the next generation trying to make the step up.
Not only would this benefit the players, but a similar arrangement could be made for the coaches. If someone like Paul O' Connell had the intentions of being a head coach, it would be the perfect opportunity for someone like him to take control of the team for a midweek game, if the work load of his preparation for that weekend isn't too much.
It may also be an opportunity to bring someone like Noel McNamara in the last few years when he was the Under-20 head coach, if timelines allowed it. Ireland have been progressive in the past in terms of bringing up and coming coaching on tour with them to step into the international scene. An orchestrated 'A' team series alongside the senior set-up would allow for a lot of development of coaches and players.
The downside to this idea is the size of the touring party that would be going on the plane. With that brings increased travel, accommodation and sustenance costs. Considering the financial implications that Covid has had, it may slow down the development of some of these tours within the unions.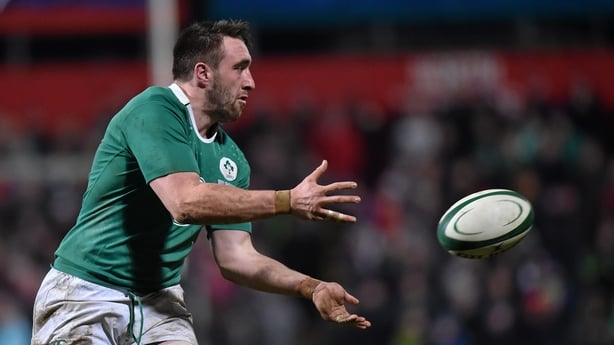 However, there are some trade-offs with this too. Gate receipts are vital for the running of the IRFU, as they are with all sports organisations. It won't be as easy a sell as full international matches, but the appetite is there among the general public to go to as many live events as possible, whether they are club GAA matches, live concerts or the return of international rugby.
You only have to watch the interprovincial clashes to get a taste of the amount of developing talent that Ireland has. I've been outspoken enough when it comes to moving on our most experienced players too early. They deserve to be playing international matches for as long as they are physically capable and this shouldn't be seen as them blocking the development pathway.
If more 'A' matches were available you could get these development matches for players without having to retire your over 30's. There would be less risk with putting younger guys into proper test matches too because they would have played the same system in live, competitive games for the management to get a better idea of their potential.
The 'A' side would allow a pathway to give more game-time and develop these players without them falling out of the international system
Some players simply step up to the level that they are playing at, but throwing them in at the early stages can compromise their development and confidence.
Too often players will get a sniff of international action but with the size of the squad they find it difficult to get back in. In some instances there is a full international barrier at their club too.
Look at the likes of Shane Daly at Munster, Larmour at Leinster, Ultan Dillane at Connacht, Billy Burns and Stuart McCloskey at Ulster. These players have all been involved in multiple camps and got some caps but they can fall out of the system because of the competition at international level and their clubs.
The Leinster back row is particularly tough to get selected in. The coaches have a serious problem keeping them all happy but even more so with finding game-time for all of these players who are more than capable of living in that green jersey.
The 'A' side would allow a pathway to give more game-time and develop these players without them falling out of the international system and potentially losing their confidence as a result of being dropped. An 'A' tournament would give them a tangible bunch of games to work towards when they are a bit more out of favour with the full national team selection.
It might not be as simple as arranging a few fixtures, but it would be great to see how this grade could be redeveloped, starting with next season's Six Nations.