Stephen Ferris believes an element of perspective will be crucial for Ireland as they look to build on an impressive November window and carry their form into the next Six Nations and beyond.
Andy Farrell's side scored a combined 142 points in the three successive victories over Japan, New Zealand and Argentina, with a new dimension in attack providing a welcome boost two years before the next Rugby World Cup.
Speaking on RTÉ's Game On, former Ireland back row Ferris spoke of his excitement at the Irish squad's "refreshing" step forward but also highlighted the need to maintain the standards attained.
"I do think there does need to be a little bit of perspective put into the last three weeks. We shouldn't get carried away with ourselves," he said.
"I know the typical Irish thing to do is to shout the house down and think we're the favourites now to win the 2023 Rugby World Cup.
"But I think the All Blacks have had 14 test matches in the last few months, Argentina they look like a beaten side very early on in that game and Japan lost the run of themselves and Ireland just ground them down."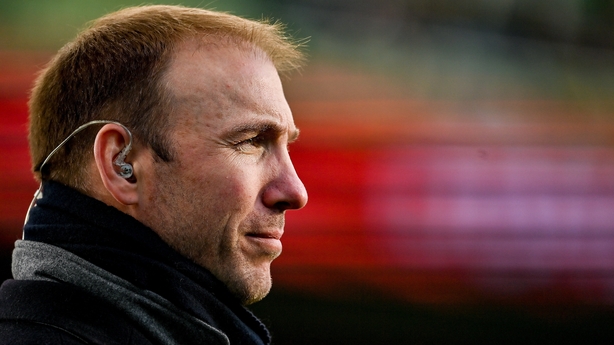 Beyond the results over the three sides, it's the approach from Ireland which is raising Ferris' optimism.
"It's the style of rugby that's the huge positive to come out of the last three weeks," he said.
"Moving the ball from width to width, the wingers seeing plenty of the ball. James Lowe and Andrew Conway have been outstanding. It's long gone the days of watching Tommy Bowe just chasing box kicks all the day long and I'm sure it was very frustrating times back then, even though the game plans worked in forcing the opposition into making lots of mistakes.
"But it just seems to be now backing yourself to make the right decisions and it doesn't matter if you have number four on your book or you're Johnny Sexton at out-half. They're all capable of putting somebody through a hole or creating an opportunity."
The only downside from Ferris' point of view, he added, was that there wasn't a fourth match for Ireland to give game time to the players who didn't feature in the three fixtures and bolster the squad depth.
"I would've loved to have seen Simon Zebo get an outing. He now finds himself playing for Munster this weekend in South Africa," he said.
"I know Gavin Coombes, he was sick for the first couple of weekends I believe, and he hasn't found himself wearing the green jersey. Joey Carbery looked really good at full-back when he was switched there, so I would have loved another game this weekend for Ireland to filter in those players and see what they're made of."