What's rare is wonderful, and those few seconds after a prop makes a line-break are one of the true great sights in rugby.
The determination and gurning of the face, the legs pumping faster than windscreen wipers in a downpour, before the craning of the neck over each shoulder to survey any hope of a support runner.
While partly tongue in cheek, there are very few non-scoring plays in a game of rugby that get a crowd as giddy as one of the big fellas running into empty space.
If you want to define that excitement, let's call it The Furlong Scale, the formula for which will be: Metres gained on line-break ÷ (jersey number ÷ number of tackle attempts before he is felled).
As an example, let's pick Tadhg Furlong's lung-buster of a run late in the first half off yesterday's 53-7 win against Argentina.
Picking and finding the gap just outside Ireland's own 22, he's finally brought to ground midway between the Ireland 10-metre line and halfway, for what we'll say is a 23-metre gain. Marcos Kremer takes three attempts to bring him to the ground, which is the same as Furlong's jersey number. That gives us an equation of 23 ÷ (3÷3), for a whopping score of 23 on The Furlong Scale.
(23, divided by 3 divided by three, is 23 divided by 1, which is 23, for those of you who have blocked algebra out of your mind.)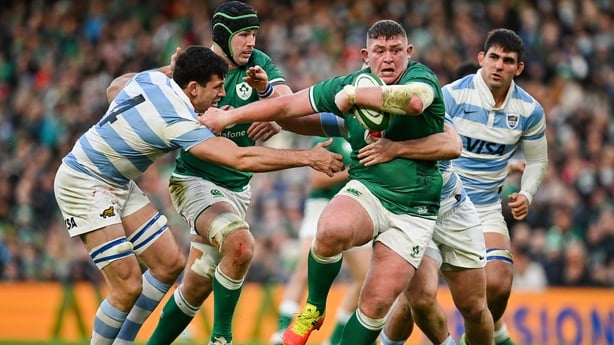 ---
While Joey Carbery got the official Player of the Match award yesterday against Argentina, Furlong certainly ran him close.
The Leinster tighthead contributed to every facet of Ireland's play, with his natural contributions to the setpiece, his workrate and physicality in defence, his presence at the breakdown and his varied skillset in attack.
In his 57-minute shift yesterday Furlong touched the ball 13 times, across a wide variety of situations.
Half of those were as a first receiver, a further three were receiving passes from a first receiver, two were pick-and-go opportunities while two more were random possessions in broken play. Of that breakdown, there was variety in what he did with the ball; nine carries to four passes.
The Wexford prop has been a key part of how Ireland have worked their attack in recent weeks, as Andy Farrell's side exploit the ball skills that move Furlong from being a good tighthead to being a great tighthead.
His natural chemistry with Johnny Sexton has been startling. Furlong is regularly popping up as the first receiver outside a ruck where he has the confidence and skills to either carry it up the middle himself, pop it inside or outside to another runner, or drop the ball back deep to Sexton.
He didn't quite have the same connection with Carbery yesterday, although in part it was down to a lot of line-speed from Argentina, one of the few things the Pumas did consistently and well.
But the beauty of using Furlong in that role is that if he's forced to carry it up the guts of a defence, he's more than capable, and more than happy to do it.
It's a dual threat that Ireland are replicating all over the pitch, whether it's Furlong or Caelan Doris or Jack Conan or Tadhg Beirne popping up in those first-receiver roles each and every one of them now just as comfortable spreading a pass to midfield as they do trucking it up the middle.
After the hammering of Japan at the start of the month, we broke down how the new attacking system is seeing Ireland's forwards being used as distributors far more than in previous campaigns, and those number have continued to be high with 34 and 40 passes from the starting forwards respectively in the last two games.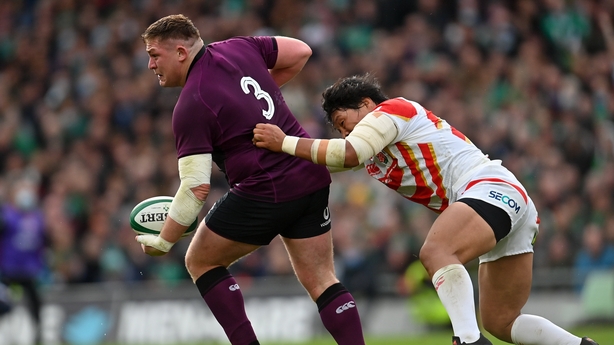 Furlong, specifically, is flourishing in the role.
When you have a tighthead prop who is in the discussion of world's best when it comes to setpiece stability, you are inclined to overlook what the player can do around the pitch.
But Furlong's ability with the ball in his hands sets him apart from the rest of the tightheads to make him the best in the world in his position.
With his ability to break tackles and get gain-line success, his presence at first receiver has to be respected, and the likelihood is you'll need two tacklers to stop him.
But by using him to distribute the ball as often as he is carrying, it means teams are constantly having to second guess themselves. Even the tiniest fraction of doubt can lead to gaps in a defence.
If you bunch multiple defenders close together in anticipation of a carry, he can shift the ball to one of his several options and you're potentially exposed elsewhere.
If you prepare for him passing the ball and he carries, he could just go through you.
For too long that element of surprise just didn't exist with Ireland. If the number on your back was eight or lower and you had the ball in your hands, the likely scenario was that you were bringing it into contact.
Not any more.
The next challenge will be seeing how teams adapt to Furlong and co in the Six Nations, with coaches getting two months to pour over the tape and crack the code of Ireland's new attack.
If they can't, expect some more big entries on The Furlong Scale.