It was Ciara Griffin's day and nobody was going to spoil it.
Not Japan, not the conditions and not the outside noise or inside tweets that have been the soundtrack of her team's autumn.
The retiring Ireland captain grabbed a game that looked to be slipping away by the scruff of the neck and almost single-handedly dragged her side over the line.
On the occasion of her 41st and final cap it was no more than she deserved.
Ireland had to play against Japan with 14 women for most of the game following Hannah O'Connor's dismissal and it's testament to the Kerry woman's leadership that they were able to rally.
Despite a positive start, Ireland looked clueless at times in the first half, aimless kicking was compounded by sloppy defending.
Japan discovered a soft centre and exploited it.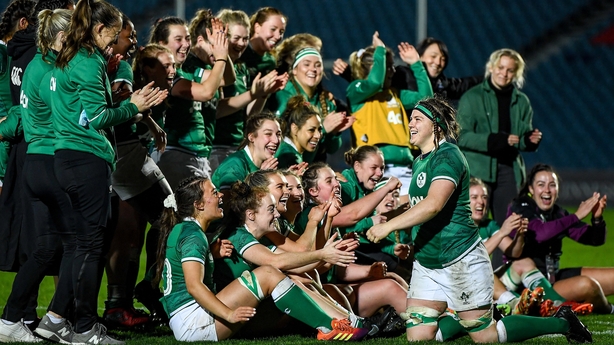 That the hole was there in the first place was poor enough, that the Sakura XV broke through the same gap three more times was baffling.
Only a super defensive play by Aoife Doyle and Laren Delany saved them from a 16-point half-time deficit, a chase that would probably have been beyond the almighty powers of Griffin to salvage.
"[At half-time] it was just focusing on our systems, our defensive line and focusing on [defence]. We took the chances when we got them," said Griffin afterwards, mightily relieved that she didn't wave goodbye with a loss.
"It was a mix of everything, we dug in and got the result we wanted
"We acknowledged we needed to improve at half-time, we put in a complete performance and ground out the win."
Griffin's brace after the break turned around a 12-3 deficit but the game was in the mix until the final play.
Ciara Griffin has done it again! Try number two, after a TMO review, and Ireland are in front. pic.twitter.com/Hjrll6yaM8

— RTÉ Rugby (@RTErugby) November 20, 2021
Head coach Adam Griggs, whose four-year spell in charge came to an end last night, was content to finish his time with two wins after the disappointment of Parma.
"Yeah, hugely important [to win]," he said.
"Also understanding that I was coming in for my last two games, for the last four or five weeks we spoke about just facilitating the group and letting the group as players and individuals have internal motivation of what they wanted to get out of this block and how they wanted to perform for Greg [McWilliams, new head coach] coming in.
"Hopefully this has given him a solid foundation to push these players on.
"We spoke at the end that there is still so much more potential in the group, and it's just about trying to knuckle down and push on, and hopefully Greg can do that with this group of players."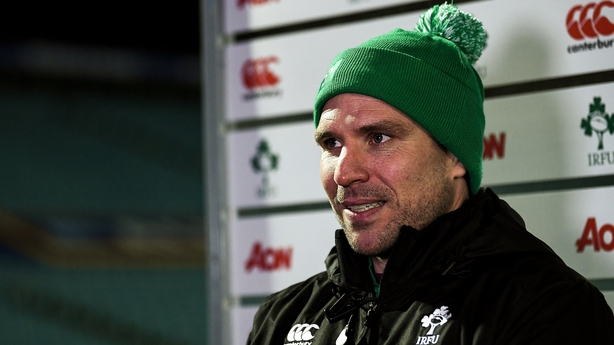 Griffin, meanwhile, agreed that the squad, who have undergone a tumultuous fortnight with off-field events overshadowing the matches, will survive without her.
"Out there you have a group of players who keep fighting for each other, even when their backs are against the wall," she said.
"They don't give up, they don't drop the heads, they keep pulling each other up when they are tired, making tackle after take ad keep going.
"You can take a lot of solace from that, that the group are very close, the team has your back."
Family is everything for Ciara Griffin as she pays tribute to those closest to her who have been present on her Irish journey. pic.twitter.com/KL93XDgkID

— RTÉ Rugby (@RTErugby) November 20, 2021
It may have been a different story on the field had Ireland been able to call on Beibhinn Parsons, Stacey Flood, Amee-Leigh Murphy Crowe and Eve Higgins, who were all unavailable due to a sevens tournament in Dubai. The squad flies out there today.
On that subject, Griggs said: "In the last couple of weeks we obviously knew that those players had Dubai coming up so we looked at it and we made sure we had to box off last week [beat the USA] first and foremost before we looked at any changes.
"But we did always plan that this would be a game that we would give others opportunity to play.
"Giving Enya [Breen] that time at 10 will really stand to her in understanding what it takes to control the game at Test level.
"Then you look at Shannon Tuohy who I've had in the squad and around the team for the last couple of years.
"She performed so well at inter-pro level it's great to get her out here and give her an opportunity.
"It's more about really focusing on the players that were able to take that opportunity and put their hands up for future squads."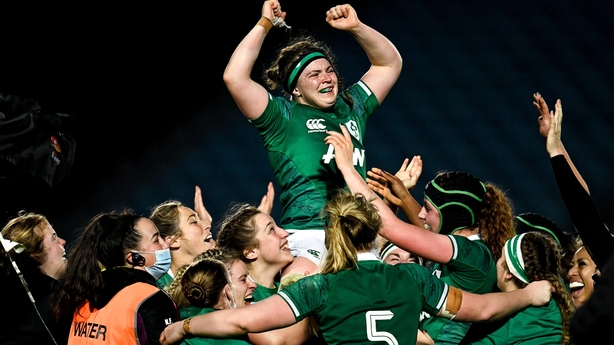 But the day was about Griffin and her force of will ensured that the tears shed at the end were tears of joy and not sorrow.
"We've always spoken about her leadership qualities and no different from this evening, where she led with her actions in what she does on the field," said the Kiwi, who acknowledged the back row will be hard replaced.
"It was great to see the players row in behind her and support her and ultimately, we had to grind that out.
"It was scrappy at times, but just really happy for the group that they could send Junior off on a high like that, and no better woman to perform the way she did."
Did the nature of the win give Junior, 27, any second thoughts?
"I'm very comfortable with my decision, it's the right time to leave," she said.
"It was a lovely way to go out too, I get a lot of solace from that."
Listen to the RTÉ Rugby podcast on Apple Podcasts, Soundcloud, Spotify or wherever you get your podcasts.
Follow Ireland v Argentina (2.15pm) via our live blog on RTÉ.ie/sport and the RTÉ News app, watch live on RTÉ 2 and the RTÉ Player, or listen to national radio commentary on RTÉ Radio 1.