Iain Henderson was the first player to be called ashore during Ireland's 29-20 win against New Zealand last week, when he was replaced by Tadhg Beirne on 47 minutes.
It's not to suggest he was having a bad day. The Ulster lock was playing just his third game of the season, having had a thumb injury delay his start to the campaign.
It was always expected that whoever of Henderson or Beirne started against the All Blacks would be swapped for the other early in the second half last week at the Aviva Stadium.
Andy Farrell never explicitly said that was the plan, but nine years and 64 caps of Test rugby left Henderson with a strong feel for how these selection calls go.
As a result, he was ready to empty himself in what limited time he'd have on the pitch.
"I had it in the back of my head," he said, when asked if he knew he'd be coming off early in the second half.
"I knew that 'Cheese' (James Ryan) had a good few games under his belt so I had anticipated that in my head. The coach will never fully give you a black and white of what's going to happen, but you have a fair idea what the plan is.
"I understood that when you're playing, especially if you have a suspicion you might be coming off that you have to empty yourself a wee bit and get as much done in the time you've got. It was definitely an all-round effort and I thought the guys who came off the bench did an excellent job too."
When pressed as to how many minutes he had left in the tank, Henderson laughed before suggesting he could have kept going until he was running on fumes.
"It's funny, I always feel when I'm playing a game I go through waves.
"It could be between 45 and 55 minutes I feel horrific, and then you get this peak of energy and you think 'flip, I'll actually go the full 80 here,' and get to 70 or 75 and feel 'oh goodness what was I thinking?' and then you get a third wind."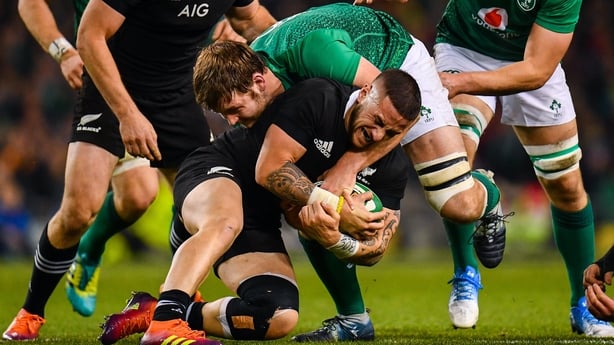 Having missed out on Chicago in 2016, this was Henderson's second time beating New Zealand, coming off the bench in the 2018 victory against the All Blacks at the Aviva Stadium (above).
The difference between those two victories is stark though. While 2018 was a thoroughly deserved win, it was a performance built on grinding New Zealand into submission, a more methodical beating than the high-octane performance of 2021.
"I think definitely the game felt different to the one I was involved in prior (2018), and I think it looked different again to the ones we played against them.
"It's good to see us finally getting to express ourselves in the way that you talk about and the fans were unbelievable, definitely one of the best atmospheres I've had in close to my entire career. It was phenomenal afterwards.
"The crowd's refusal to leave the stadium was unbelievable, and that added to building the atmosphere. Right from the anthems through it all I thought it was great, and it was not only great for the fans, but it was a really enjoyable one as a player to be involved in too," the Ulster captain added.
This month's wins against Japan and New Zealand have been the fruits of two campaigns worth of labour, which have seen several frustrating outings as Ireland worked out the logistics of their attacking philosophy under Farrell and Mike Catt (below).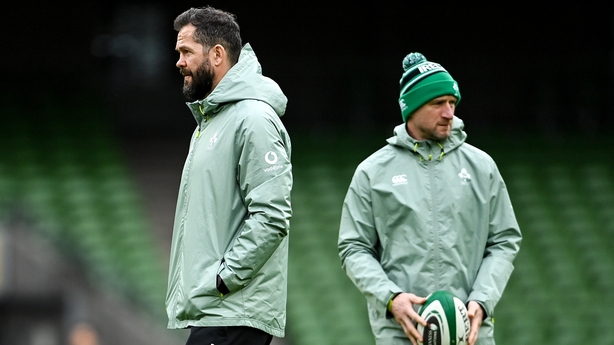 Throughout the process the coaches maintained they were adding layers to the Irish attack, when it appeared they were hitting brick walls. It's been a process that's required a lot of patience for both coaches and players to work through the stop-start performances of 2020 and early 2021.
"Yeah it's frustrating, when you want to play like that, sometimes when teams resist you trying to play like that you're going to get some games where it does not click and does not flow.
"If it doesn't happen in one game it doesn't mean it's all failed, you can go back and review. It's very simple and very easy to pick out an instance of why it isn't flowing.
"All it takes is for one play to go right and it looks like a team is flowing very well because they score an extra try, or similarly if one play doesn't go right it looks like you're not really playing well. The more we spend time together as a group, the more time we're getting together on the training pitch, and that's only benefitting us, and hopefully we're starting to see the fruits of that."
Henderson starts against Argentina (live on RTÉ2 and RTÉ Player) in what's been a very settled pack this November.
It's an unchanged group of forwards from last week's win against New Zealand, with Henderson the only one of the pack that hasn't started all three games.
"Not only do we work well together, we get on really well together.
"There's no big egos in the pack, no one who is a standout, full-on personality that's going to clash with anyone, which I suppose in an international pack is quite rare to come across that.
"We're really good at working together. I think that's something that I find most exciting about it, it's bringing a real enjoyment to training and playing with, and around the hotel. I think it's exciting and hopefully we've only seen the start of what we can put together," the 29-year-old added.
Listen to the RTÉ Rugby podcast on Apple Podcasts, Soundcloud, Spotify or wherever you get your podcasts.
Follow Ireland v Japan (Saturday, 3pm) and Ireland v Argentina (Sunday, 2.15pm) via our live blog on RTÉ.ie/sport and the RTÉ News app, watch live on RTÉ 2 and the RTÉ Player, or listen to national radio commentary on RTÉ Radio 1.