Johnny Sexton says Ireland's growing belief helped them to overcome New Zealand.
Andy Farrell's side produced one of their best ever showings to record just a third win over the All Blacks in a thrilling 29-20 triumph.
"I'm very, very proud," said the captain. "Very proud of one to 23. I thought we played some great stuff in the first half. I don't know how we went in 10-5 down at half-time.
"We were brave with some of our calls. In hindsight maybe that first penalty we should have taken three [points] but they had a player in the sin-bin and I thought let's have a go."
Asked after the Japan game if Ireland were confident of beating the All Blacks, Sexton said that you can never be confident of beating the three-time world champions but did admit that the faith in the team is growing.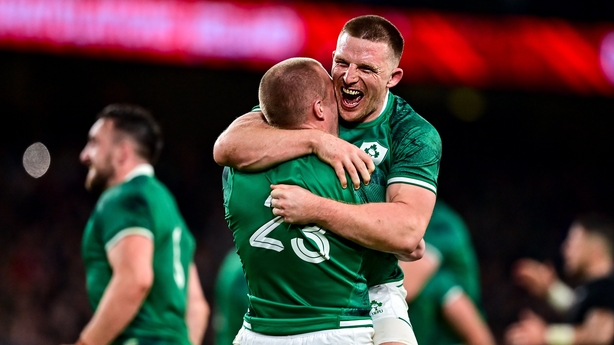 "Belief comes from looking across and making sure you can trust your team-mates to prepare well and show up on the big day," he said.
"That's where belief comes from.
"We didn't have that because we hadn't done that consistently enough as a team last year. Six Nations, we had a tough start but we've won seven on the bounce now so there is that belief now that if we can play our best, then we can get good results.
"That belief is there now but last week, was it there 100%?
"No, we've got to get it out here and show we can play well and see what we can do. As Faz said, it's making sure you do all the things you have to do and then the results will look after themselves."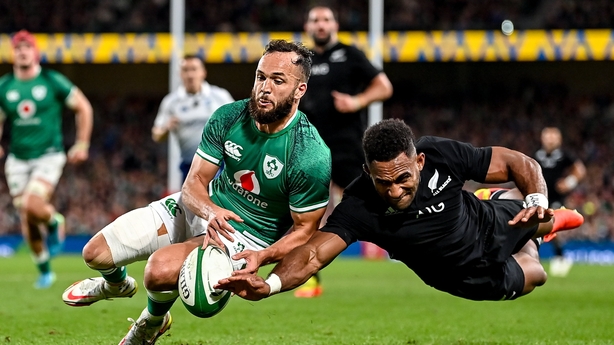 "We've already identified that this is the start of a two-year journey and we've said that. This is the start and it's important that we continually improve.
"Obviously, this being a peak is no good to anybody.
"I think there is room for improvement individually. There's room for improvement from that first half, doing things to make sure we take our chances because we could have scored a few tries in the first half that would have counted.
"There's lot of room for improvement - we need to keep our feet on the ground and keep driving this.
"There's a lot of young guys, very young, a lot younger than me, and they need to realise that this is still a start and we need to keep building.
"The great thing about beating New Zealand is that it gives a lift to the country, but you don't win a trophy and you don't have something to show for it, as such. As happy as we are, we need to push on."
Listeners to the ref mic would have picked up number exchanges on the field, including an x-rated comment directed at Sexton by Dane Coles.
Referee Luke Pearce wants less chat from Ireland captain Johnny Sexton
📱 Updates - https://t.co/5pKHYHScer
📺 Watch - https://t.co/CStwnXf2cB
📻 Listen - https://t.co/wUq1XxhF4x #IREvNZL #RTERugby pic.twitter.com/PUkVa4Xw40

— RTÉ Rugby (@RTErugby) November 13, 2021
The captain said: "He has plenty to say all the time. I don't mind that, when you're on the pitch it's heated, it's a battle and I was trying to speak to the ref. They were taking offence that I was trying to speak to the ref.
"I wasn't trying to say anything out of line, I don't think. I will have a look, it's always something I'm trying to work on - that communication with the ref.
"We'll see how it went, it maybe boiled over sometimes towards the end of the first half when I felt we had the ball and we weren't getting rewards for it."
The 36-year-old, winning his 101st cap, was replaced by Joey Carbery with 15 minutes to play.
"It's hopefully okay, I just twisted my knee and was struggling a little bit after half-time with it but we'll see tomorrow."
Ireland face Argentina next Sunday at the Aviva in their final Autumn Nations Series game.