Ireland forwards coach Paul O'Connell says Johnny Sexton is up there with the greats of Irish sport, on the eve of the captain's 100th Test appearance for his country.
Sexton will become Ireland's seventh centurion tomorrow afternoon when he takes to the field against Japan at the Aviva Stadium.
The 36-year-old, who made his debut against Fiji at the RDS in 2009, remains Ireland's first-choice option at out-half, as Joey Carbery and Harry Byrne play back up this month.
O'Connell, who won 108 caps during his international career, played alongside Sexton at two World Cups with Ireland, and says his attitude and professionalism puts him alongside Irish sporting royalty.
"I compare him to a Henry Shefflin or a Roy Keane, winning doesn't take the edge off him", said O'Connell.
"I think winning makes him want to win more.
"Winning doesn't take the edge off. He moves on from winning very quickly.
"Sometimes if we win badly, he almost treats it like a loss - if we don't play well, don't perform well, if we don't execute what we want to do.
"I think that's one of the big reasons that he's had such a big influence on the teams he's been involved in."
The Leinster out-half has played his part in three Six Nations titles, including a Grand Slam in 2018, as well as playing six Test matches for the British and Irish Lions in 2013 and 2017.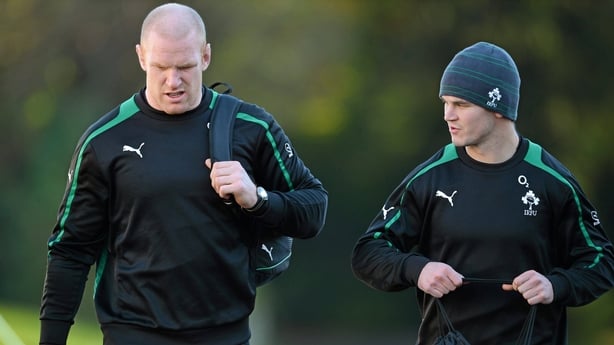 For his province, Sexton has been involved in all four of Leinster's Heineken Champions Cup successes, as well as winning six United Rugby Championships.
His obsession with winning, O'Connell says, is what sets him apart.
"Some guys have big lofty goals and when they achieve them they take their foot off the gas or they allow their teams to take their foot off the gas.
"He just pushes harder and harder. And he has credibility with it because, despite what he may look like, he's great fun, he's great craic around the place. He builds relationships with people.
"When a guy you've built a relationship with drives you to a higher standard, you tend to react quite well to it.
"When I played, he was a great guy to have as a captain on the team because he didn't wait for other people to lead or he didn't look for the captain to always be on top of people.
"He just drove the team on relentlessly himself. The way he reacts to winning is the big thing for me.
"A lot of the guys that have got to 100 caps, I think they're an important part of the team as players but they're probably an important part of the team in terms of their leadership and their attitude and in terms of how they bring the team forward as well.
"I think loving it and loving training, loving preparing, loving being part of the group is one of the things that probably allows you to be consistent over time, allows you to keep putting your hand up for selection," O'Connell added.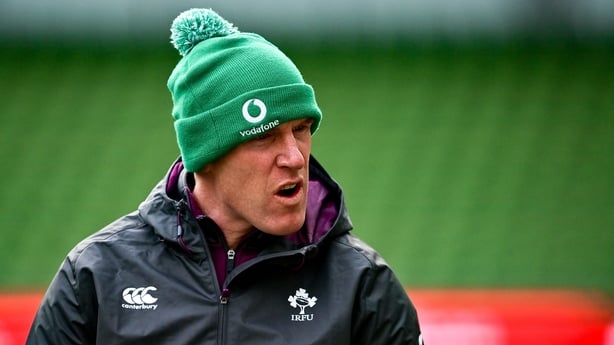 The Ireland forward coach is expecting a fast-paced game against Japan tomorrow, paying tribute to the level of coaching their opponents have been given by Jamie Joseph in recent years.
"At the World Cup, they had brilliant players but they were brilliantly coached as well.
"They're coached the right way. They're not over-coached to the point where they have a little bit of paralysis.
"They still have this attitude to go and play. They seem to be backed to chase the unpredictable, chase offloads, take chances."
And while the Brave Blossoms are considered to be small by Test rugby standards, O'Connell says they are more than capable of challenging Ireland's pack physically.
"They scored a maul try against us during the summer and a big part of Australia getting a result against them was how they stopped that part of their game.
"Sometimes they're really scripted but they seem to have a real license to offload and go play, then they can pick teams off with maul tries. We have a bad memory of a scrum at the World Cup in the back of our minds.
"They have great balance, excellent coaching and they work very, very hard.
"That's something we pride ourselves on so when we see it in another team, we recognise it. They work incredibly hard to attack and defend well, so the boys are under no illusions about how hard it's going to be."
Listen to the RTÉ Rugby podcast on Apple Podcasts, Soundcloud, Spotify or wherever you get your podcasts.
Follow Ireland's November internationals v Japan, New Zealand and Argentina via our live blogs on RTÉ.ie/sport or the RTÉ News app, or watch live on RTÉ2 and RTÉ Player. Live commentary on RTÉ Radio 1.