If there's an area of the game where journalists can generally offer more insight than the players, it's about being dropped.
It's something that often crops up; the reality check that players get when their name is no longer on the team sheet.
That mirror held up to their face, their flaws being presented in front of them, the feeling of being cut from a team. For the average person, it happens so much you're no longer taking heed of it by your late teens, but for a lot of elite athletes who have been top of the class for their whole sporting lives, it's a big moment.
For James Lowe it happened in March 2021, and he was 28-years-old.
"I don't say that in a pr**k of a way," he says, self-aware enough to realise that none of the people he was speaking to could relate to his situation.
"I've just been fortunate enough with the teams I've played and a lot of luck along the way that I was able to get in front of other people and stay in front."
After a try-scoring debut for Ireland just under a year ago, the Leinster wing found himself exposed defensively during the 2021 Six Nations, before being cut from Farrell's side following the penultimate game against Scotland, with Jacob Stockdale taking his place on the wing for the final round against England.
It was an unfamiliar feeling.
"It was the first time I've ever been dropped," he says, adding that while it stung initially, it's made him a more rounded player.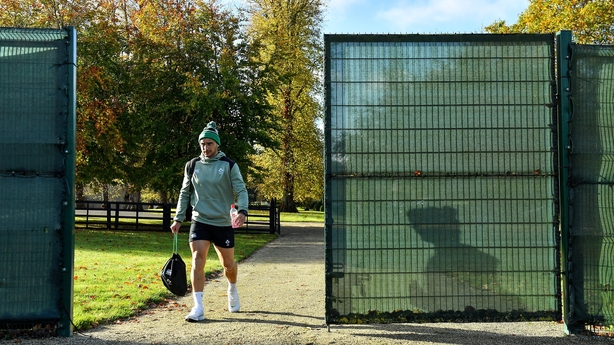 "It was an awesome learning curve and something I wouldn't change, that's for sure.
"To go away, be told you're not good enough and this is what you need to work on. You look yourself in the mirror and make sure that if the opportunity comes again, you've done the things that you've been asked to do. That's all part of being a professional and coming back swinging.
"I wasn't out of my depth by any means, it was just my 'plus-minus' was closer to a flat line than what I expected from myself and what the team needed from me.
"The ball, that's always been my bread and butter, it's always something that comes very natural. It's being able to impact the game without the ball in my hand is literally what I've gone away and worked on, and come back as a student trying to learn off the best in the game. That's where we're at."
Having been injured for Ireland's summer games against Japan and the USA, Saturday's game against the Brave Blossoms will be Lowe's first for Ireland since being dropped eight months ago.
Earlier, Farrell had described the player's increased diligence in preparation, his attention to more minor details, and Lowe says he's spent the last few months becoming more detail-oriented.
"Rugby, that's the plan, to be better at that," he says.
"But no, I guess it was to break things down and my week-to-week... not necessarily habits but more the consistency of actions.
"Being able to write things down, make sure I tick all of those things off, then the next week make sure I reflect on the last week if I wasn't able to achieve things for different reasons and making sure I get on top of those for the following week.
"That's all part of being a professional and probably something I was lacking for a little bit, so to hear Andy say he has seen those things is a good thing."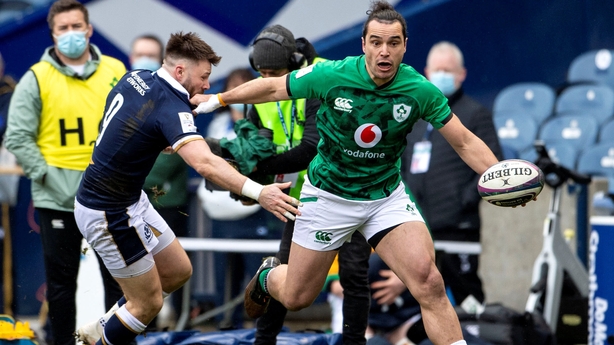 Farrell also mentioned how the New Zealand-born wing has come into camp lighter on his feet, with Lowe confirming he's about 2.5kg below his Six Nations fighting weight.
However, it doesn't look like he'll have lost much of his power, adding that he's still tipping the scales at around 103.5kg.
He'll need to be quick to deal with the pace of the Japanese attack this Saturday.
Jamie Joseph's side tore through Ireland at times during the summer meeting between the pair in Dublin, with James Ryan last week noting how the visitors negate their lack of size by playing the game at break-neck speed.
They've got Jamie Joseph and Tony Brown at the helm - two very, very experienced Kiwi coaches who like to play expansive rugby and it suits them," Lowe adds.
"They've got to very, very big boys on the wing, that's for sure. I'm expecting wave after wave of constant threat, whether with or without the ball. They're a team that never dies and I'm excited for the occasion."
While returning to the Ireland team is important for Lowe, he won't be the star of the show this Saturday, with that honour set to fall on Johnny Sexton, who will bring up 100 Test caps for Ireland.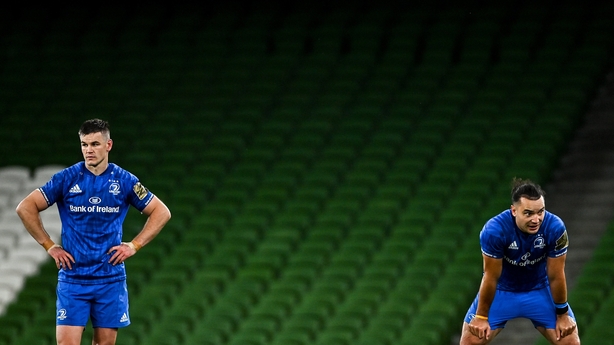 It remains to be seen how much longer the Ireland captain will continue to line-up for both Leinster and Ireland, although Lowe draws comparisons between his team-mate and another 36-year-old athlete who is showing no signs of slowing down.
"He's been a pretty significant leader. As soon as I signed, I heard from him. When we were in New Zealand, he went out of his way to introduce himself there and make sure everything was going to be sorted for when we got over.
He says: "Over here, as a player he is freakish in his preparation and his attention to detail with what he expects from himself and others.
"That's consistent in what everyone says about him. He's borderline a maniac and that's sometimes what you see in the overflow of emotions that you see on the rugby field.
"He cares so much about his performance and when Jonathan is playing well, the team is playing well. That's been a reflection of his hard work throughout the week and over many, many years. To play 100 Test matches for your country is no easy feat.
"When he first came onto the scene he was probably overlooked and nobody thought he was going to be the player he is now but he's the second-most expensive 36-year-old behind Ronaldo in the world.
"I think he's really blossoming and he stands up when needed."
Listen to the RTÉ Rugby podcast on Apple Podcasts, Soundcloud, Spotify or wherever you get your podcasts.
Follow Ireland's November internationals v Japan, New Zealand and Argentina via our live blogs on RTÉ.ie/sport or the RTÉ News app, or watch live on RTÉ2 and RTÉ Player. Live commentary on RTÉ Radio 1.