Refereeing decisions were once again the hot topic of conversation after a weekend of rugby. Interprovincial matches always bring an added spice and hostility, particularly between Connacht and Munster these days.
Andy Friend wasn't happy with a number of decisions, mainly the Munster try just before half-time which brought the visitors back into the match, leading 7-6 at half-time in less than ideal playing conditions.
Tadgh Beirne was in front of Rory Scannell as he kicked the ball crossfield in the direction of a number of Munster players that were queuing up to score the try before the end of the first 40 minutes and Friend is right to feel aggrieved with the decision.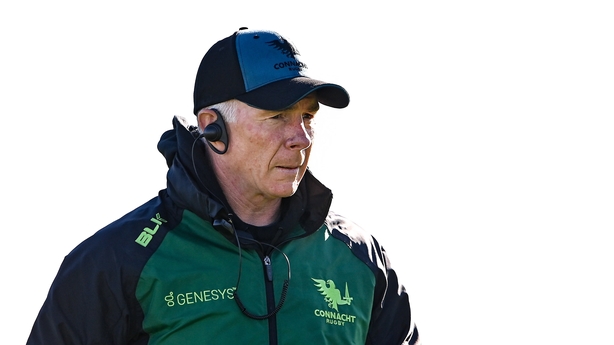 However, the yellow card for Sammy Arnold was as clear as you'll get for a head collision in the modern game. There have been complaints about the further sanction of the yellow card and that a penalty should have been enough.
Under law 9.11, referees are entitled to issue a card for any action that is deemed to be reckless or dangerous.
In the high tackle decision-making tree, World Rugby outlines what the referee should do so based on a number of factors.
If there is head contact with the shoulder or the head of the tackler, on the head of the ball carrier, then there's a decision to be made on the degree of danger.
For a high degree of danger, it is a red card, and for a low degree of danger it's a yellow card. I'm not a referee, but that to me seems pretty clear. Once Sammy Arnold made contact with his head on Mike Haley's head, then he opened himself up for a sanction.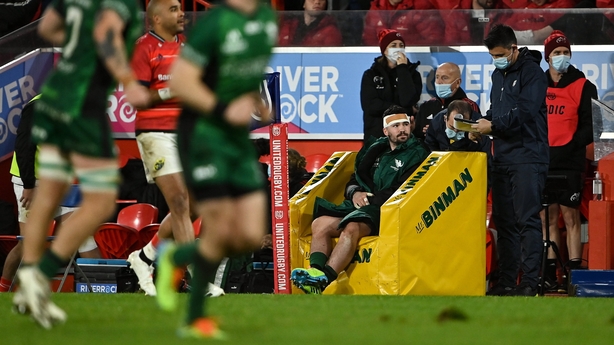 Of course, there can be mitigation, such as Bundee Aki also being involved in the tackle, but Sammy was upright, trying to make a double hit on the Munster full-back and to make this game as safe as possible, the onus is on the tackler to get it right.
Arnold was in control of this situation and chose to add contact to the ball carrier, which he is entitled to do. There was nothing malicious and there wasn't any intent to clash heads with the opposition player, but that's not the point.
This isn't an agenda or bias on my side. I played with Sammy and got on very well with him. It's also not really to do with this tackle, it's just the most recent example of these types of tackles and sanctions that splits opinions, including the opinion of former professional players and journalists who watch a lot of matches on a weekly basis.
The reason for the laws is actually to protect both players
The responsibility is on World Rugby to keep the game as safe as possible, whether it suits our agenda as supporters, ex-players and coaches or not. It's not even simply with respect to the ball carrier.
Both players came off worse for wear in this instance. The reason for the laws is actually to protect both players. The tackler is responsible for the velocity of their own body when entering a tackle area.
If they rush in too fast and can't control the outcome of where their body hits the opposition body, then they have gone into that tackle in a reckless or dangerous manner.
Again, I don't think there was a massive amount of recklessness in the Sammy Arnold incident because they were both moving in the same direction across the pitch so it wasn't a front-on collision. However, there was another incident where Ciaran Frawley - pictured below - got rocked by Gareth Davies' tackle which I would have had more of an issue with because of the decision to not award a penalty or a card.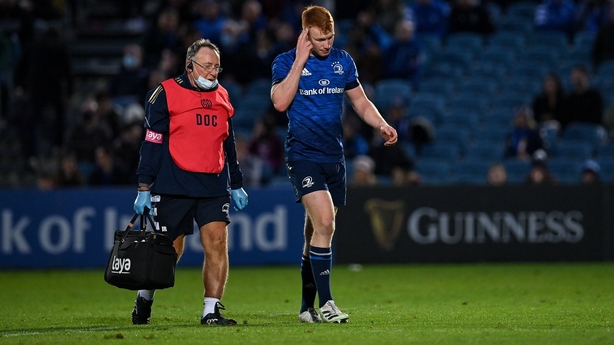 Leinster captain Jonathan Sexton questioned referee Marius van der Westhuizen in this instance to explain the ruling again because he clearly didn't agree with the decision.
The mitigation that the official used was that it was a realistic tackle position from Davies and he made reference to Frawley's sudden dip in height before contact.
That mitigation is enough to bring the sanction down to just a penalty, in my opinion. The only other thing complicating this instance is that Frawley had dropped the ball just before the collision, and had he stepped into the ball and caught it, the Welshman would more than likely have put his head side on and made a legal hit.
Yet, it's the speed of Davies entering the tackle and his inability to sort his feet out to enter the tackle in a controlled way that I have an issue with.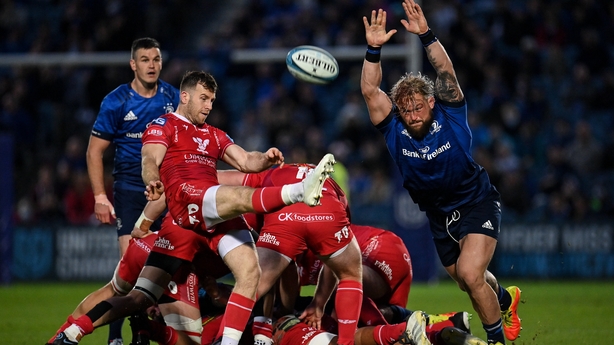 As a coach, I feel the frustration when a few of these decisions go against you. I've probably given out about them too and probably will again because when you're on a sideline, particularly in the amateur game, you don't see the replay and can't know exactly where the contact was made.
Yet, I still know that if head contact was made then we can't really give out too much. It's part of the game and we must adapt with it.
As an ex-player, it's really easy to say that's collisions are part of the game and you can understand the player that is flying in to make an impact for his team. But again, you have to think about the habit that is being created and the outcomes where players are going off with head injuries.
If you've ever had a concussion from playing the sport, you will look at these incidents differently.
Having concussion symptoms for weeks after an incident occurs isn't nice and it can make you quite uneasy knowing you're messing with the health of your brain. Concussion symptoms and head injuries in this game won't just go away because we decide to ignore the outcome of these hits in favour of trying to understand the intent of the player.
Tip tackles were outlawed and there were many aggrieved fans, coaches and players, particularly the Welsh nation and Sam Warburton after his famous red card in the 2011 World Cup.
We are currently going through another area of the game that is transitioning and there'll be more understanding in a few years if the referees stand their ground and keep penalising high shots
Why should he be punished for having such a dominant hit? Well, because it put the opposition player in danger, and the more we find out about the impact of these head traumas, the more it makes sense to outlaw or attempt to control the dangerous tackles in our game.
We used to give the benefit of the doubt to players chasing kicks when there were collisions in the air, but that changed. Jared Payne had a standout European Cup red card that annoyed plenty of Ulster fans as well as neutral rugby supporters.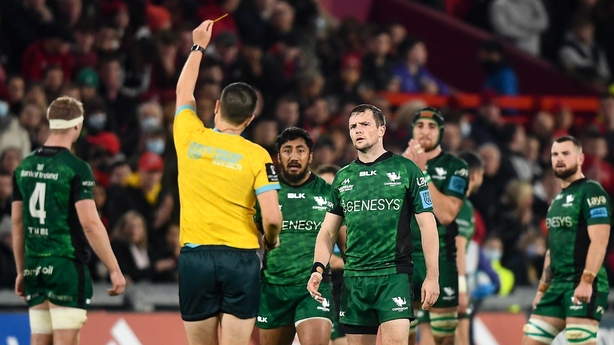 Nowadays, we know that these acts of play aren't allowed and we move on a lot faster. We are currently going through another area of the game that is transitioning and there'll be more understanding in a few years if the referees stand their ground and keep penalising high shots.
The problem here is the inconsistencies between the two hemispheres, the backlash from the public when it doesn't suit their bias and the ex-pros who deemed it a non-issue when they were playing so the current pros must suffer through it too.
Head collisions will happen in sport, but if it's a result of the tackler not controlling themselves going into the tackle then there should be a sanction all day long. Players will adapt when there's enough consistency from referees to force this adaptation.
Andy Friend can be aggrieved by the lack of TMO checks on the Munster try, but the yellow card can't be a talking point.