Cian Kelleher was initially surprised when he found out he wasn't going to be offered a new Leinster contract last February.
The 26-year-old certainly hadn't been a first choice player for Leo Cullen's side that season, but he'd been a regular presence on both the teamsheet and scoresheet.
By the end of January 2021 he'd started five of their 11 games in the Pro14, scoring four tries, while he'd also worked his way into the starting team for the Heineken Champions Cup meeting with Northampton Saints a couple of months earlier.
But rugby is a ruthless business, and early 2021 had been a bit more ruthless than usual.
The Covid-19 pandemic and the locked gates of the country's stadiums had seen the IRFU lose millions over the previous 12 months, and that meant significant budget cuts.
Kelleher was one of the unlucky few, his second spell at his native province would be ending in the summer, so he and his agent hit the phones. He'd been frustrated with the Irish system.
---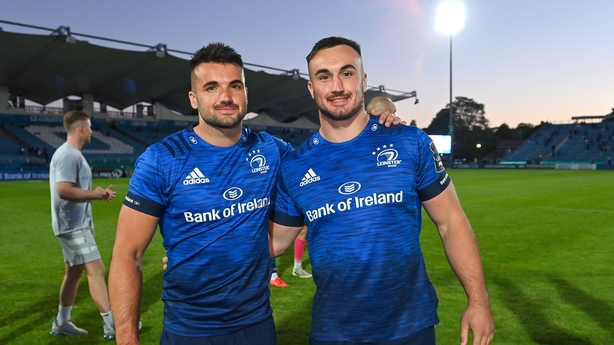 Fast forward six months, and Kelleher speaks to RTÉ Sport from West London, along with his Ealing Trailfinders team-mate David Johnston.
The pair are part of what is an ever-growing Irish contingent at the English Championship club, who caused quite a stir when they ruffled the feathers of Saracens last season upon their imposed relegation for breaching the Premiership's salary cap.
Mark McCall's side eventually won their promotion back to the top flight, but only after recalling some of their Test match big-hitters for the two-legged final against Ealing.
Johnston, a native of Cashel who joined from Munster in 2018, featured in both wins against Sarries in the pre-season Trailfinders Cup, and says despite their heavy defeats in the play-offs, it's given them a yardstick to measure themselves off against Premiership opposition.
"We had a good year last year," he says.
"I think we proved ourselves that when we we play that Premiership-style opposition, we can really compete.
"We had some great results against Newcastle, Sarries a couple of times. We probably got to see the level when we played them in the play-off games, we could see the standards that are required. We're trying to bring those learnings into this season."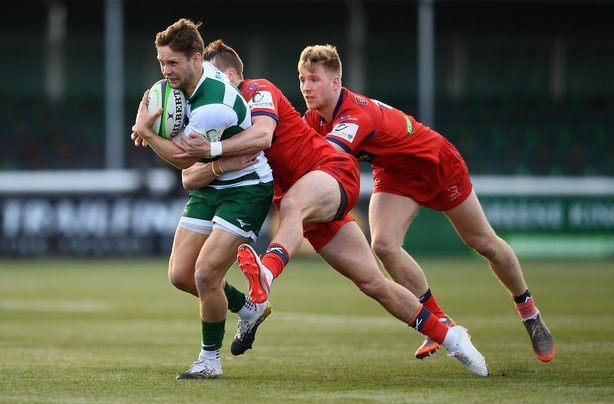 Ealing have Premiership ambitions, and they aren't shy about declaring it.
Even prior to the RFU's drastic budget cuts in 2020, the Championship was a strange league; a select few, Ealing among them, had designs on being in the Premiership, while for several others, the only thing they wanted less than relegation was promotion, and the crippling costs that would come with it.
With plans to create an expanded 14-team Premiership from next season, which will be ring-fenced for two years, this is the most crucial season in Ealing's history.
They've invested in the squad, they've invested in their structures off the pitch, and are considerable favourites to win the league and get into the top flight, where they wouldn't have to worry about relegation in their debut season.
Having climbed three divisions in the English ladder between 2008 and 2013, they've been knocking on the door of promotion to the top flight for the last four seasons.
Their location gives them a natural recruiting edge, sitting just a few miles north of Twickenham in west London. Johnston and Kelleher are among eight Irish players in the first team squad, including former Munster and Ulster out-half and younger brother of David's, Bill Johnston, former Ulster wing Angus Kernohan, ex-Munster backrow Shane Buckley, and Sligo scrum-half Stephen Kerins, who arrived from Connacht in the summer.
Add to that the arrival of former Ulster academy manager Kieran Campbell (below) to Ben Ward's coaching ticket, it's clear there's a strong value being placed on the overflow of talent in the Irish system.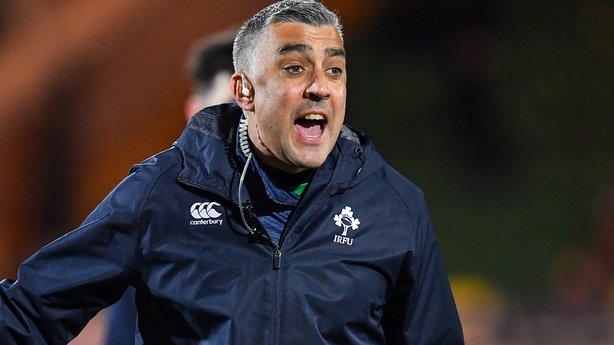 ---
Kelleher admits that Ealing weren't prominent on his radar up until last season, but when he and his agent began exploring their rugby network for new opportunities, the club ticked a lot of boxes for him, both on and off the pitch.
"I didn't really know too much about Ealing before coming over," he admits.
"I kept a close eye on them last year, when they got the result against Sarries last year, which I think a lot of world rugby saw and got a bit of an interest in them.
"I saw it was in west London, saw the ambition they had, and when the time came in February I was chatting to Wardy (director of rugby Ben Ward), I was really interested, and by the time I got over I was really impressed with the setup here and where they want to go.
"To be honest I was more keen on staying somewhat local and then in terms of London being so close to home, and actually getting something for after rugby as well.
"Ealing put in a clause in my contract that they would support me doing a masters which is great. It gives you that thing on the back burner to help you enjoy your rugby a bit more, knowing you're taking a step in the right direction after rugby too."
It came as a shock to Kelleher that he wouldn't be extending his time at Leinster though.
When he left is home province for the first time in 2016 it was by choice, and it caused a bit of a stir.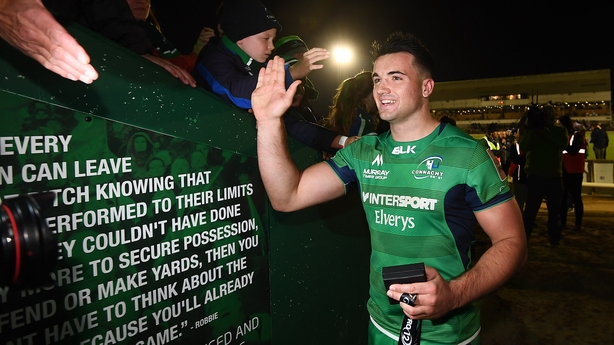 The former St Michael's student had been plucked from the Leinster academy to join Connacht, having gained international recognition as a 20 and 21-year-old when he played for Emerging Ireland, as well as for a non-Test XV against the Barbarians.
Injuries stunted his progress at Connacht, but when fit he was a popular and consistent selection for Pat Lam, Kieran Keane and then Andy Friend, before his home province came calling again in 2019.
Upon his return, he found his name down the depth chart at the RDS, but not to the extent that he feared for his future.
"I was actually kind of shocked at the time. I thought I was playing a lot and I was playing well, so when I got called in I was a bit taken off guard by it.
"I just started getting in touch with people, like Birch (Bernard Jackman) was really good, and the likes of Friendy (Andy Friend) were very good.
"I'd just ring around, even Pat Lam got in touch. There was a lot of good people in my corner, and my agent got a few clubs involved."
While the news came as a shock, he says part of him was ready to move on from the Irish system.
"I kind of wanted to leave Dublin at the same time, I was kind of done with the Irish system and how it was going. I was kind of frustrated with it.
The size of the Leinster squad, and their consistent rotation policy meant that his game time was stop-start, any injuries causing a fall on the depth chart. Rugby wasn't as fun as it used to be.
"To be honest I was pretty shocked at the time, but I wasn't upset or anything," Kelleher says.
"I kind of wanted to leave Dublin at the same time, I was kind of done with the Irish system and how it was going. I was kind of frustrated with it.
"I got injured a lot when things were going well, and just as things were about to go well I'd miss out on a chance, or international selection when I was younger, or just getting game time at Leinster when I was going well.
"It never really panned out the way I wanted. It was just frustrating, it was a frustrating time.
"I didn't really enjoy it as much as I would have liked. It nearly did feel at times like more of a job or a chore than it should have. I was constantly frustrated with my body not being able to perform as I like.
"I don't mean to talk negatively at all because I did love it, but it can be a frustrating sport at times, and that was my feeling."
---
Unlike Kelleher, Johnston had foreseen his Munster departure a while out.
Having played nine times in the 2015/16 season and been awarded a two-year deal, he found himself surplus to the requirements of Rassie Erasmus and then Johann van Graan.
He kept himself ticking over with B&I Cup games and All-Ireland league action with Garryowen, but just one senior Munster appearance fell his way over the course of two seasons.
"I didn't feel like I had gotten the opportunity to give it what I wanted to, I think I was only 23 or 24 when I left, so I was really confident to keep going, and just to grow with the team.
When the news came that he wouldn't be kept on, he had long been preparing for it and despite the disillusionment of how his final couple of years at the province had gone, he was determined to prove himself in the professional game.
He took a chance.
"I was ready to jump at something new," he says.
"As Cian said, coming to live in London, experiencing that and meeting new people, it's great.
"I didn't feel like I had gotten the opportunity to give it what I wanted to, I think I was only 23 or 24 when I left, so I was really confident to keep going, and just to grow with the team.
"When you're not involved, you probably don't feel that value to the group, and feel as close to the group, because you're not helping the guys at the weekend.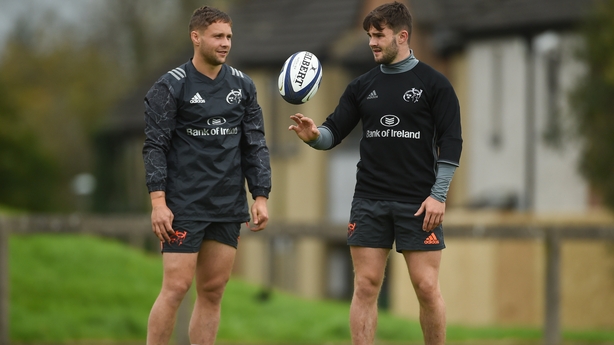 Fast forward four years and Johnston is at home in Ealing, a regular presence in the starting team and set to make his 50th appearance for the club in their Championship meeting with Nottingham.
"I think the club has progressed a lot since I arrived, this is my fourth season now.
"When I arrived the squad had changed completely, there were 27 or 28 new players when I arrived, they were getting a new squad to try and progress to the next level.
"I got in at a really good time and there's still a core group of us that are still in the squad.
"That's what I really enjoy now, I feel I add a lot of value to where I am, and that gives me really good satisfaction to see myself improving as a player, and the team improving."
While Ealing are big favourites to be promoted, they have been given an early warning shot with a 15-12 defeat to the Cornish Pirates last week, with Johnston's former Ireland U19 teammate Rory Parata in the Pirates' midfield.
The narrative has changed this season too. In each of the last four seasons, Saracens, Newcastle, London Irish and Bristol would have been the consensus pick to be promoted, with Ealing finishing best of the rest. But with the Premiership expanding to 13 teams in this campaign, and soon to be 14 teams from next season, it leaves the perennial runners-up as the team to beat.
And with such a heavy and growing presence in their team developed in the Irish system, seeing them make the final step to Premiership of rugby is of undeniable interest to Irish rugby.
Listen to the RTÉ Rugby podcast on Apple Podcasts, Soundcloud, Spotify or wherever you get your podcasts.
Follow Scarlets v Munster (Sunday 2pm) via our live blog on RTÉ.ie/sport or the RTÉ News app, or watch live on RTÉ2 and RTÉ Player. Watch Leinster v Zebre (Saturday, 1pm) on RTÉ2 and RTÉ Player.