World Rugby are set to introduce a rule to prevent teams wearing red and green colours from playing one another, in order to help colour-blind supporters.
The change is set to be introduced for the 2027 Rugby World Cup.
Red-green colour blindness is the most common form of the condition, which impacts roughly 8% of the male population.
The most prominent fixture which would be impacted by this change is Ireland-Wales, in which, historically, both teams have invariably worn their home strip.
Former Republic of Ireland soccer international Matt Holland has been part of the campaign to drive this change and told the Today programme on BBC Radio 4 that his own colour blindness had an impact, albeit a slight one, on his playing career.
"It only really affected me once in a game, my very first game for Charlton. We went down on a pre-season tour to the West Country. We were playing Plymouth and we were in red – it was the only kit we had with us on the tour – and they played in dark green and I couldn't tell the difference between the two shirts.
"Five minutes into the game I ran over to the assistant manager and said 'I've got a real problem here, I can't tell the difference!'. And he just looked at me like 'what on earth have we signed?!'"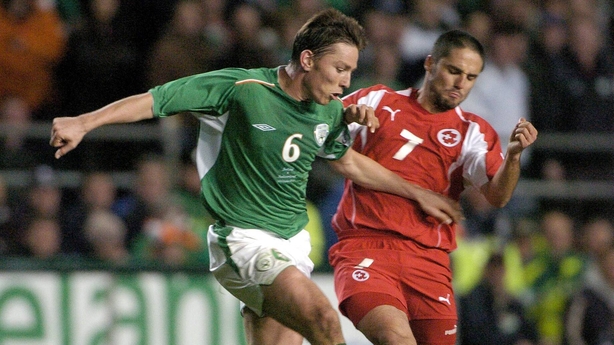 Holland earned 49 caps for Ireland between 1999 and 2005 and said the problem had persisted beyond his playing career.
"In terms of watching games, sometimes numbers are very difficult to pick out on the back of a shirt.
"I remember watching a Liverpool-Man United game not that long ago and I was really struggling, looking at the two teams and picking out who was in which side.
"It's a problem when you consider that one in 12 men are colour blind. There's lots of people that are in the same boat as me.
"I don't think I've got severe colour blindness but it's bad enough for me to have an issue when watching games."
The World Rugby Turf Research and Equipment manager Marc Douglas said there were numerous complaints this year when Wales played Ireland in the Six Nations.
The world body have no say over the management of the Six Nations and the terms of participation have already been agreed for the 2023 World Cup, though they can request that teams change their strip for that competition.
Roughly one in 12 men suffer from some form of colour-blindness, the condition being far lower among women, amounting to 0.5% of the female population.
Listen to the RTÉ Rugby podcast on Apple Podcasts, Soundcloud, Spotify or wherever you get your podcasts.
Follow Scarlets v Munster (Sunday 2pm) via our live blog on RTÉ.ie/sport or the RTÉ News app, or watch live on RTÉ2 and RTÉ Player. Watch Leinster v Zebre (Saturday, 1pm) on RTÉ2 and RTÉ Player.