Two games, two wins, ten points, 11 tries and top of the United Rugby Championship; on the face of it, Munster should be happy with their lot.
While the accounts look good they don't tell the whole tale and Johann van Graan has plenty to work on.
Top of the list will be figuring out why they went missing for almost an entire half on Saturday night in Thomond Park against the Stormers, who restricted Munster to a watching brief for 30 minutes.
While man of the match Gavin Coombes conceded the players were caught off guard by the free-spirited and lively South Africans, Van Graan insisted they were well prepped on what to expect.
"Maybe it's the first time that he's played the Stormers," he told RTÉ Sport.
"We planned for them very well. If you look at someone line Salmaan Moerat, I've coached him before, looked at the hits that they've put in, [Nama] Xaba in terms of his poach, you've got to experience first time.
"The Sharks was a totally different game.
"The South African sides, they've got a certain DNA. Obviously the Stormers lost last weekend to Benetton so they were always going to come out fighting.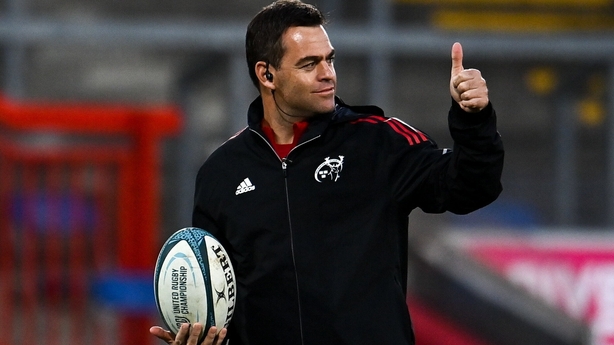 "No, [they were] exactly as we expected. Obviously on pitch it's a different feeling and in this game either you hit or you get hit and they certainly got hit in the first 30 and I thought we did pretty well in the last 50."
The sum total of the metres made while Munster's forwards scored five tries wouldn't get into double digits but Van Graan wasn't complaining.
"We adapted tonight to what the opposition gave us.," he said after the 34-18 comeback victory.
"They came with a big rush defence; they didn't give us any space beyond the 15s.
"They boxed us in and then they played with their wings high. They hit us and they dominated the breakdown.
"So we needed to adapt at half-time and like I said that's the sign of a good team is one that can adapt. From a coaching point of view, we are very happy that the team did that.
"You take the cards that have been dealt you on the night. So, we are certainly not going to moan about scoring four (forward-based) tries in the second half.
"It is about balance. We tried to play at the start of the game but the opposition hit us backwards and we made mistakes, so we had to adapt and I am pretty happy with that."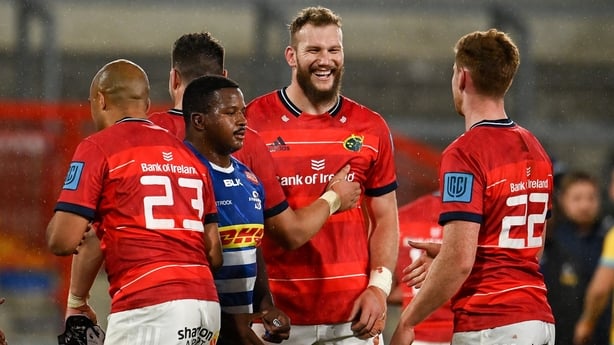 On the plus side there was a first Munster try for RG Snyman, who last week made his return from long-term injury.
"That was a big moment for him and for us," said Van Graan.
"Last week was all about getting back on the pitch after such an extended period [out injured] and tonight was about contributing even more.
"That try was even one of the reasons why we have him at Munster, to do those type of things. He has a lot more to come but like I said before, he has to keep building his minutes."
Out-half Joey Carbery had a mixed night before being replaced by Ben Healy in the 62nd minute.
"I think it was a solid performance by Joey," reflected Van Graan.
"He definitely has a couple of gears left in him; he has had two starts to the start of the season and he was involved in two winning games. We use our tens pretty well with Joey starting and Ben coming off the bench and I am pretty happy with how he performed."
Munster's next outing is away to Scarlets on Sunday.