Law variations and adaptations go hand in hand with rugby union these days and with the ever improving conditioning and developments in professional training programmes, the pitch is made smaller by bigger, faster and more explosive rugby players.
World Rugby is continuing to identify areas that will make the game safer for the players while also trying to encourage attacking play.
One of these variations is the 50:22 law that has come into all competitions. It had been a part of the Rugby Championship and last season's Currie Cup, so the southern hemisphere sides have gotten the jump on those of us living north of the equator. Although, that's not to say that the laws have become second nature just yet.
Following the Rugby Championship in the last number of weeks, there have been very few incidences of 50:22 plays. The reward is a lineout to the kicking team, if they manage to kick the ball from inside their own territory, bouncing inside the opposition 22-metre line and out of touch.
The idea behind this is to make sure the opposition are covering the backfield areas, which should keep at least one man less in their front field defence, and therefore there should be more space on the tackle line for the attacking team to keep the ball in hand.
So far, it doesn't look like many teams have been deploying extra players in the back field. That, or the southern hemisphere teams have decided to stick to their guns and play the same attacking rugby as they've always played.
It will take the attacking playmakers some time to really figure out which situations work best for a 50:22 kick
South Africa have stuck with Plan A of kicking to contest and turn the opposition over. Although Pollard did kick a lovely 50:22 from a counter-attack, which seems to be one of the big opportunities for teams with a good kicking full-back, or those that leave their out-half in the backfield after a kick.
It will take the attacking playmakers some time to really figure out which situations work best for a 50:22 kick. From my viewing so far, counter-attack seems like a good opportunity but a good kick from a midfield scrum is almost undefendable.
Midfield scrums are probably the toughest defensive situation as it stands without the law variation on a 50:22 kick because the pack have to stay in the scrum, the scrum-half will be near to the scrum and it leaves six backs covering both sides of the scrum in the frontfield near the tackle line, as well as the backfield kicking space. Add in a 50:22 situation and all of a sudden there are many areas for the attacking team to target.
The C Cell Sharks seemed to go after the 50:22 plays in their match against Munster on Saturday night, but with poor accuracy. It resulted in a loss of possession on a few occasions, and one of them being kicked out on the full, which gave Munster the lineout back where the ball was kicked.
Not only did it not have a positive effect on the Sharks game, it gave them negative outcomes on a few plays, in a game where they were struggling to take any control. Considering they were without some of their star internationals, they needed a lucky bounce on their kicking strategy.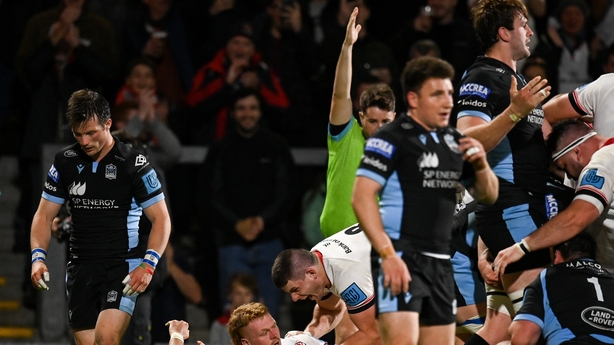 The other law variation that stood out at the weekend was the ability for attacking players to latch on to the ball carrier. You are still allowed to latch one player on to the ball carrier but teams were getting close to the opposition line and latching two players on to a ball carrier before contact was made, meaning that the opposition tackler was facing a three-man wedge from the attacking team.
It's very hard to know which side to put your head in a tackle like that which is dangerous, but it's also the sheer force of 300+ kilos of ball carriers coming towards you. World Rugby was right to stop this and it has changed the dynamic for attacking inside the opposition 22-metre area. Not only does it clean up the tackle area, but it makes it harder for the attacking team to 'pick and go' their way to the try line.
Glasgow looked a bit lost with this law variation in their narrow defeat to Ulster on Friday night at Kingspan Stadium. They looked unsure as to whether they could latch on to their ball carrier at all which resulted in many one out ball carries, to which Ulster repeatedly had the answer.
Glasgow attackers looked very conscious not to latch too early and waited for the contact to happen but they were allowed to latch one man on, they just couldn't latch two guys on to their ball carrier before the contact was made. It didn't look like they had any clarity and had many opportunities to sneak an important away win to start their season.
Glasgow came up short with their own kicking game, being put under unnecessary pressure repeatedly. They should have taken their time when exiting their half but continued to kick loosely. They still had opportunities to win the game because of the style of play they bring to the attack at times. George Horne popped up with a familiar support line from a half-line break on the edge.
With all of these variations, it's going to take time to get used to the ways to manage the changes. There hasn't been a massive amount of rugby played before the start of this United Rugby Championship and it looks like the players are still finding their feet.
From a coaching point of view, it takes ingenuity, but it also takes more and more games to see different situations in real time to make the changes necessary and stay ahead of others when it comes to the changing law variations.