Ireland captain Ciara Griffin is ready to embrace the high-pressure situation of their crucial Rugby World Cup 2021 qualifier with Italy.
Adam Griggs' side go into the game in Parma on the back of a hugely frustrating loss to Spain on Monday, so a win is a necessity if they are to maintain ambitions of qualifying automatically for next year's Rugby World Cup in New Zealand.
Griffin, who is set to earn her 38th Irish cap in the game, welcomed the added attention that will surround the fixture.
"From my own personal view, it's making sure everyone is firstly OK, checking in because a defeat is always tough to take and making sure everyone is OK both physically and mentally, that was a big thing this week," the Munster player said of the Spain loss.
"Just making sure we're all on the same page. We all have that target, that same end goal, and we had a talk today about pressure and how you control that pressure, and using it as an advantage.
"Sometimes we see pressure and we nearly say it's a bad thing. On the flipside, it's a pleasure to be under pressure because it means you're in high stakes, and that's what you want.
"It's flipping that switch, using that pressure to your own end goal so you can apply that pressure and absorb the pressure and flip it and put it back on them.
"That has been a big focus, using that pressure wisely and using it to our control rather than reacting to the pressure that is thrown at us."
Ireland may be playing catch-up from the off given their inability to puncture holes in the Spanish defence at the Stadio Sergio Lanfranchi, but the fact that the squad remained in camp has been crucial in their push for quick recovery, Griffin believes.
"Through all the teams I've been involved with, we've had some really tough times," she said.
"A big thing here is that we've had that time together after, we haven't left to go away and we're still together in the groups.
"It's very good in terms of having conversations with each other, doing our analysis in groups, picking up different things you mightn't pick up yourself.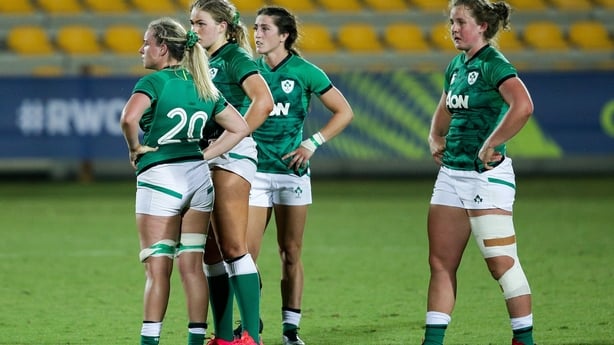 "It has been tough in terms of the result and the performance we put in because it wasn't to the standard we set ourselves, but the flipside is that it's been quite healing in that we have been here as a group doing the hard group, not shying away from analysis either and looking at ways to fix it."
In terms of what they need to do in order to fix the situation, it's very much a back-to-basics approach for Griffin.
"Focusing on us and our individual skills," she said when asked what is required.
"First thing, focus on catching that ball and worry about what we're going to do after it, small things like that that we can control.
"Sticking to our game-plan, we have a game-plan for a reason and it's up to us to stick to it.
"In terms of our defence, get off the line, we control that line speed, we can control how quick the ball can be. Putting into action what we say."
Ireland led until the 71st minute against Spain before a late slip-up, and their captain said that is a particular lesson they must learn quickly from ahead of the Italy clash.
"They've a strong pack, they're quite an experienced team as well. They've lot of experienced players there and they'll be aiming to draw from that experience.
"We have to perform, we have to arrive before the whistle goes, we have to be switched on ready to go from word dot and realise it's going to be a battle.
"It's going to be physical. It won't be won in the first 10 minutes or by half-time, it'll go to 83, 84, 85 minutes and we have to be prepared for that."
Follow Ireland v Italy with our live blog on RTÉ Sport Online and the RTÉ News app, watch live coverage on RTÉ Player or listen to Radio 1's Sunday Sport.