Rugby will be dead in five years if more teams copy South Africa's approach to the game, England's World Cup-winning former coach Clive Woodward has said.
South Africa, who play Australia in the Rugby Championship on Saturday, lost 28-26 to the Wallabies last week after the Australians beat the Springboks at their own game with a similar determination to not run the ball.
"Positive, imaginative, attacking rugby is the way forward generally," Woodward, who coached England to World Cup glory in 2003, said in the Daily Mail.
"I looked on in horror last weekend at the sheer poverty and boredom from the South Africa team against Australia. Rugby was not - and is not - meant to be played like that and I'm just pleased Australia won.
"It should worry everyone involved in the sport that rugby is going down that route. It will be dead in five years if it does."
Woodward doubted that even South Africa's players were happy with the way they played the game.
"The ball must always be your friend, not a ticking time-bomb," he added. "What is the point of neutralising your best players, kicking the leather off the ball all day?
"I'd love to sit down with the South Africa team and ask them, 'Do you really enjoy playing this way?'"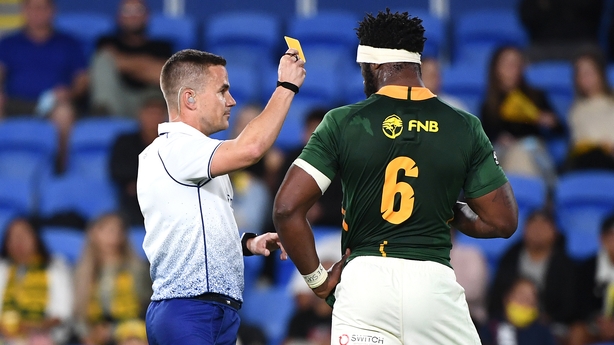 Meanwhile, South Africa captain Siya Kolisi said it was "difficult to watch" their review of last weekend's error-strewn loss but the world champions were determined to make amends in the Brisbane rematch.
The Springboks were poor in their execution on both defence and attack.
Kolisi said they had pinpointed their errors and promised a much more polished display this weekend.
"We know where we went wrong and it was very upsetting to lose like that, with the mistakes we made. It was difficult to watch," he told reporters on Friday.
"Because of that, we are more determined this week. We have worked really hard on what we must do. We made such simple errors. We can be much better this weekend, and we will be."
The Boks were left scrambling in defence and while they only conceded one try they were forced into numerous offside penalties that cost them on the scoreboard.
---
Australia make three changes for Springboks rematch
---
"You can see for yourself, 21 missed tackles and we also had less dominant tackles," said Kolisi.
"It is one of the lowest defensive games we've had. Australia played really well, they dominated the hits when they had ball in hand."
South Africa have again been criticised this week for their style of play, which relies on a strong kicking game and set-piece dominance, but assistant coach Mzwandile Stick said backline players can play a more ball-in-hand style if they choose.
"If the space is there for them to take, they always have the freedom to do so. I wouldn't say we don't look for (attacking) opportunities," he added.
"But we are not going to try and force things and play this champagne rugby that everybody is talking about. It is not in us. The most important thing for us is playing the pressure game, through the boot, set piece or with ball in hand."