More than 35,000 fans will be allowed attend Leinster's United Rugby Championship opener next week, after the province confirmed they will make 75% of the Aviva Stadium's capacity available.
This means any adult who wishes to attend the meeting with the Vodacom Bulls on Saturday September 25 will be required to show proof of vaccination, or have recovered from Covid-19 within the previous six months, in accordance with government guidelines.
It comes after the province made 15,000 tickets available for last Friday's pre-season friendly win against Harlequins at the same venue, with roughly 10,000 fans attending the game.
The Aviva Stadium's capacity is listed at 51,700, meaning 38,775 should be the maximum attendance available for the first competitive game of the new season.
Kevin Quinn, Head of Commercial and Marketing in Leinster Rugby says they are confident they can handle the logistics of ensuring vaccination or immunity.
"There will be some changes and challenges to the matchday experience but we feel that it's the right time, within the guidelines, to look towards a safe and responsible return of crowds in a Covid-compliant manner," he said.
"There will be an onus on the ticketholder to comply with the stadium policies, to wear their masks and to follow the guidelines, but that is the model that we are moving towards as a society from the end of October onwards, and we are confident that Leinster Rugby supporters and indeed any Bulls supporters will respect that," Quinn added.
A pre-sale window exclusive to Leinster season ticket holders opens at 10am on Thursday, 16 September, while general sales will start from 10am on Friday morning.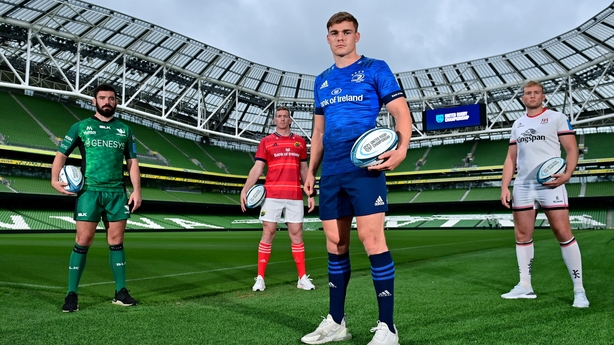 Meanwhile, Leinster and Ireland centre Garry Ringrose said he's looking forward to seeing larger crowds as the season develops.
Speaking at today's launch of the United Rugby Championship, the 26-year-old said his excitement for the season is growing, having been a spectator at the Aviva Stadium last Friday night.
"Myself and the rest of the guys at Leinster just can't wait," Ringrose said.
"Certainly, for Leinster it's a massive part of our game, feeding off the energy of the crowd. We got a little taste of it last week at the Aviva here. Myself and ten of the other lads walking in and you could feel a buzz.
"Although it was only 10 or 12,000 people here it felt like 50 outside. We were all coming in here excited and then you speak to the guys who were playing, said they absolutely loved it," he added.