Ireland head coach Adam Griggs has named three uncapped players in his squad for the upcoming World Cup qualifiers in Italy.
Lucy Mulhall, Ireland 7s captain, Ireland-qualified forward Sam Monaghan and Leinster's Mary Healy are all in line for a first appearance.
The team are vying for a spot in Group B of the Rugby World Cup, which will be played in New Zealand next year, having been delayed due to the pandemic.
Griggs' side face Spain, Italy and Scotland in a round-robin tournament being held in Parma from 13-25 September.
The winner earns automatic qualification with the runner-up entering a last-chance tournament.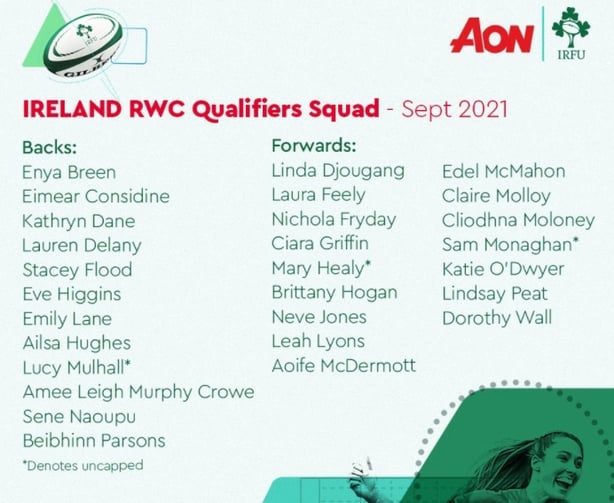 "While we can only focus on one game at a time, we won't shy away from the end goal of this being a winner-takes-all tournament for participation at Rugby World Cup 2021," Griggs said.
"The players and staff are all highly motivated and focused on making sure we are successful as a group."
Back row Ciara Griffin will again captain the team, while Edel McMahon, who missed the Six Nations through injury, returns to the panel.
---
Ireland Squad (Rugby World Cup 2021 Europe Qualifier)
Player/Club/Province/Caps
Backs (12):
Enya Breen (UL Bohemian/Munster) (6 caps)
Eimear Considine (UL Bohemian/Munster) (18)
Kathryn Dane (Old Belvedere/Ulster) (13)
Lauren Delany (Sale Sharks/IQ Rugby) (14)
Stacey Flood (Railway Union/Leinster) (3)
Eve Higgins (Railway Union/Leinster) (3)
Emily Lane (Blackrock College/Munster) (3)
Ailsa Hughes (Railway Union/Leinster) (12)
Lucy Mulhall (Rathdrum/Leinster)*
Amee-Leigh Murphy Crowe (Railway Union/Munster) (2)
Sene Naoupu (Old Belvedere/Leinster) (41)
Beibhinn Parsons (Ballinasloe/Blackrock College/Connacht) (11)

Forwards (16)
Mary Healy (Naas RFC/Leinster)*
Linda Djougang (Old Belvedere/Leinster) (12)
Laura Feely (Blackrock College/Connacht) (19)
Nichola Fryday (Blackrock College/Connacht) (18)
Ciara Griffin (UL Bohemian/Munster)(Captain) (36)
Brittany Hogan (DCU/Old Belvedere/Ulster) (4)
Neve Jones (Malone/Ulster) (3)
Leah Lyons (Harlequins/IQ Rugby) (26)
Aoife McDermott (Railway Union/ Leinster) (16)
Edel McMahon (Wasps/IQ Rugby) (9)
Claire Molloy (Wasps/IQ Rugby) (71)
Cliodhna Moloney (Wasps/IQ Rugby) (26)
Sam Monaghan (Wasps/IQ Rugby)*
Katie O'Dwyer (Railway Union/Leinster) (3)
Lindsay Peat (Railway Union/Leinster) (34)
Dorothy Wall (Blackrock College/Munster) (7)

*Denotes uncapped at this level
---
RWC 2021 Europe Qualifier schedule
Monday, 13 September
Scotland v Italy (2pm Irish time)
Spain v Ireland (5pm)
Sunday, 19 September
Italy v Ireland (2pm)
Spain v Scotland (5pm)
Saturday, 25 September
Italy v Spain (2pm)
Ireland v Scotland (5pm)