Leinster and Munster set up a winner-takes-all decider this Saturday after respective wins against Ulster and Connacht in the Vodafone Women's Interprovincial Series.
Defending champions Leinster improved on their battling opening victory against Connacht with an emphatic 57-12 win against Ulster on Saturday.
Phil de Barra's side ran in 11 tries, with nine different scorers, Michelle Claffey and Ella Roberts both scoring a brace, while among the other scorers was debutant Emily McKeon.
Player of the match Emma Murphy says their attacking performance was badly needed after they had to grind out a 17-12 victory against Connacht in round one.
"I think things clicked a little bit," she said.
"I think we were trying to do the right things last week but the last pass wasn't coming off. We fixed those last passes and they converted to tries.
"It's very expansive. It's great because there is a lot of interlinking between backs and forwards.
"We have a lot of forwards who have converted from the backline back in the day - I'm definitely one of them - so it's great to be able to link up, and there's threats all over the pitch.
"I think we showed that today, we were scoring from everywhere."
Their win sets up a title-decider against Munster on Saturday at Energia Park, and Murphy says their confidence is high after making it two wins from two.
"I suppose we dusted off the cobwebs last weekend and we just knew we had to put out a big performance, and I think we managed to do that, and I think we're ready for Munster next week," she added.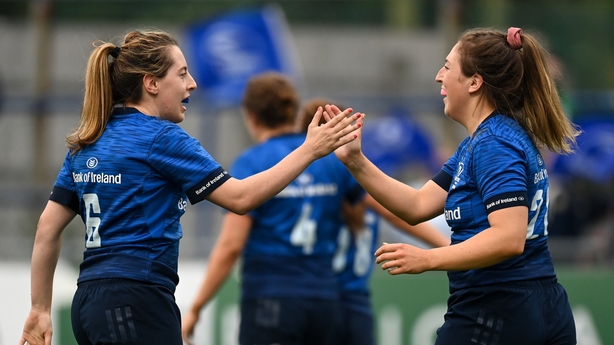 Meanwhile, Munster head coach Matt Brown says his side's 24-point win against Connacht doesn't tell the full story of the game, after they went top of the table with a second bonus-point win in a row.
Munster were 31-7 winners against Connacht at Musgrave Park, but scored four of their five tries inside the final 25 minutes, Connacht fighting bravely until Nicole Cronin's superb individual try put daylight between the sides.
Head coach Brown said his side were brought down to earth after their big win against Ulster in the opening round.
"To be honest I'm relieved more than anything," he said.
"It was nip and tuck until about 60 minutes. Certain things about that performance didn't quite go according to plan.
"We knew what Connacht were bringing to the party and to be honest it took us a long time to break it down.
"You're playing a team like that and they go hard for the whole game and thankfully we had enough on the bench to come and get us out of jail. I know we pulled away at the end but it's a not a true reflection really."