Hannah Tyrrell admits her retirement from international rugby came a "shock" to her team-mates but the postponement of the World Cup was the telling factor.
Originally due to be played later this year, the New Zealand tournament was pushed out until October 2022 due to the Covid-19 pandemic.
The competition was meant to be Tyrrell's swansong in a green shirt having represented Ireland in both 7s and 15s going back to 2014.
Tyrrell, 30, was player of the match in Ireland's Six Nations win over Wales in April but announced her retirement the following month.
With out-half having been a problem position for the team for a number of years, her form and the emergence of Stacey Flood as a rival appeared to have given head coach Adam Griggs options in the bid to qualify for the World Cup.
However, the Dubliner felt the time was right to call it a day.
"It was something that had been in the background for a while," she told RTÉ Sport.
"I had always planned to retire from the 15s game after the World Cup.
"When it was announced that it was being postponed, I had to have a think about commitment issues, personal life, I'm getting married in a couple of weeks. We had a lot of plans set out.
"I couldn't give 100% commitment and I felt it was unfair to try and stay on and not give 100% to the girls and they deserve better.
"While it did come as a shock to the squad they were very understanding and they completely get it. It is an amateur sport and we all have lives outside of rugby.
"It was a very difficult decision but I'm content with the rugby career I've had. I didn't expect to be playing rugby as long as I did and to have some of the success I did so I was content to leave it where it was.
"We had a couple of conversations and Adam has always been a huge fan of mine and had my back. And once I outlined my reasons, he understood where I was coming from. For me it was the right time."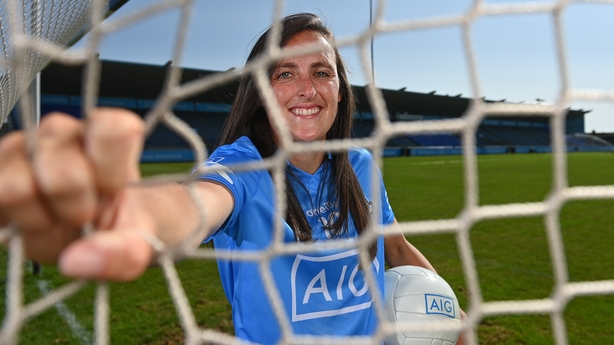 Tyrrell quickly swapped green for blue and has made a headline-stealing return to Gaelic football.
She soon got among the goals and was last week named on the Lidl Division 1 Team of the League having helped Mick Bohan's side to the title.
Having represented Dublin back in 2014, it was always in her mind to return to the fold.
"I didn't think I'd be away for seven years," she said.
"I thought I'd go to 7s, try to qualify for the Olympics in 2016 and then come back to GAA. It went on, I kept getting a contract and then it went to 15s.
"I always wanted to come back to Dublin GAA. Once I retired and the opportunity came I jumped at the chance and I'm looking for a pretty fun-filled summer."