Former Lions coach and player Donal Lenihan believes that the Lions current tour of South Africa is descending into farce as Covid-19 plays havoc with the fixture schedule.
Saturday's postponed fixture against the Bulls has been called off with the Lions instead playing the Sharks for a second time in four days.
The touring Lions were doubtful for Wednesday's match until around two hours before kick-off after two positive cases in their camp, but went on to win 54-7. They have 12 players and staff in self isolation at the moment.
Lions players spent up to eight hours in their hotel rooms, were tested twice for the novel coronavirus and only found out 50 minutes before kick-off that the game at Ellis Park would go ahead.
Covid-19 cases also forced the cancellation of South Africa's warm-up test against Georgia and there have been calls for the tour to be scrapped.
Speaking on Morning Ireland, Lenihan questioned the viability of continuing the tour.
"Unfortunately, for me, the tour is bordering on farce at the moment," he said.
"Lions tours for me are all about going into hostile environments, playing the big provincial opponents in their backyard, they're psyched to the gills trying to knock you before the test series starts.
"That's the unifying element which brings the players together because you're travelling to a foreign country, taking on not only the national side but almost the whole supporter base in that country.
"I think the players and management have been incredible over the last number of weeks in an incredibly difficult environment.
"The bottom line is that they're going from their bedrooms to the team bus, to their training camp, back to the hotel and then back to their bedrooms. It's a nightmare from that point of view.
"To now be in a position where they're playing the same opposition four days after putting 54 points on them last Wednesday, it just seems as if the powers that be want this tour to keep going at all costs, regardless of the consequences."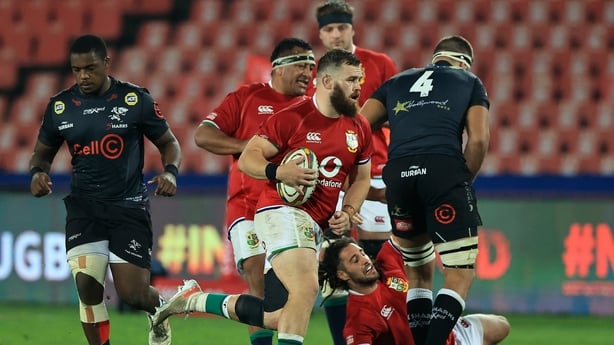 However no mater how bad things get with players being forced to isolate, Lenihan believes that the tour will limp along if for no other reason than financial obligations.
"There's a massive financial commitment for the four home unions and South Africa if it doesn't go ahead.
"The Lions are due to play South Africa 'A' next Wednesday in Cape Town, but those South African 'A' players are in the wider South Africa squad.
There's 47 players in camp there but they've had 12 positive tests over the past number of days so the likelihood of that game going ahead seems very unlikely at this stage.
"I think we might get to a scenario where that will be cancelled, they'll be lucky to get the Stormers game and just keep their fingers crossed that the test series will happen."
"But that said, it will be a South African side that have played only one match since they won the World Cup in November 2019 and have been isolated in a camp. Their players are scattered all over the world, they're only coming together so they'll be nowhere near ready."