In 1982 the Irish men's rugby team did something they hadn't done for over 30 years - beat England, Scotland and Wales to win the Triple Crown.
The defining image of that voyage is Gerry McLoughlin crossing the line with half the England team on his back. But the road to glory was anything but smooth.
Just a few months earlier the Irish squad were forced to sneak out of the country after finding themselves at the centre of a major political storm.
'Crossing The Line' is the story of Ireland's 1981 tour to South Africa at the height of apartheid and one of the biggest sagas in Irish sport.
Players lost their jobs, Irish athletes were boycotted in other events and the country's reputation took a battering as the IRFU defied a worldwide sporting boycott on South Africa.
Hugo MacNeill compares it to Saipan, but in reality it was much bigger.
"Everybody had a view whether it was right to go or wrong to go. It was a bit like Saipan, were you for Roy Keane or not for Roy Keane, there were very few neutrals," says MacNeill.
Under apartheid the majority black population in South Africa were deprived of voting rights, access to education, housing, jobs, even freedom of movement.
In response, international sporting boycotts had been put in place.
It was set to be Ireland's first tour since 1961 and the decision provoked widespread criticism with the Government, church and unions all united on the issue.
Cabinet ministers and President Patrick Hillery stayed away from Five Nations games in protest and a wire fence was erected around the pitch at Lansdowne Road.
The Government blocked a IR£12,000 grant to the IRFU and civil servants were told they would not be granted leave for the tour. However the IRFU were not for turning.
We need your consent to load this rte-player contentWe use rte-player to manage extra content that can set cookies on your device and collect data about your activity. Please review their details and accept them to load the content.Manage Preferences
At the time the sport was still amateur and the squad had to juggle work with rugby commitments.
By the middle of March nearly half the panel had informed the selectors they would not be available for a variety of reasons.
Tony Ward was one of those who decided not to go.
He had been in South Africa in 1980 with the Lions and the impact of that visit had a lasting effect on him.
"I remember seeing the signs on the walls: 'Whites only toilets'. I hadn't even thought about it. That was the thing that registered with me, I guess it had an immediate imprint," says Ward.
"I made my mind up on that 1980 tour, even though I loved it, I loved being a Lion, I played in a Test match, all the trimmings that went with it… But it was wrong. It shouldn't have taken place and I was wrong to be there."
For others like McLoughlin and John Robbie, rugby came first at that time and they decided to go.
McLoughlin had spent the 1981 Five Nations campaign on the bench and the tour to South Africa was a chance to get himself back in the team.
He was working as a schoolteacher in Limerick and resigned his job to travel with Tom Kiernan's panel.
"It was a simple decision. Do I resign or do I walk out, or not go? I just think the honourable thing to do was to resign," says McLoughlin.
"Rugby was still the most important thing for me and playing for Ireland was that important."
Robbie also resigned his job at Guinness to go to South Africa, but others like Ward, Donal Spring, Moss Keane and MacNeill took a stand against apartheid and declined the invite.
The tour had split the team and split the nation.
A huge protest by the Irish Anti-Apartheid Movement was planned for the squad's departure.
Ireland's players were booked on a flight from Dublin to London for 9 May - before taking another flight to Johannesburg - but Aer Lingus staff and unions representing airport workers indicated they would not handle the Dublin booking.
Instead the players were given secret instructions to depart.
"I was shocked. It was cloak and dagger stuff to get out of the country," says Ward.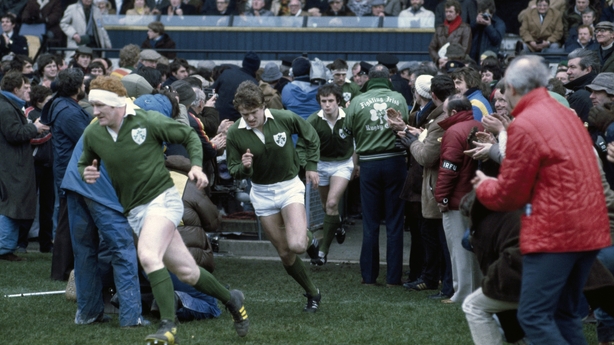 Both Robbie and McLoughlin were offered jobs in South Africa and John received small financial donations from Springboks fans while over there out of work.
"Because some of us had lost our jobs, that had become a big story," says Robbie.
"Literally we'd arrive in a hotel and there'd be envelopes waiting for John Robbie with money in them, for me, and I took them."
The IRFU had demanded at least three games against multi-racial sides before the two Tests with South Africa.
"These were simply made-up sides and as a result they weren't particularly strong," says Robbie.
As the Ireland team made their way around South Africa, tensions were rising as the ruling National Party began celebrations of the 20th anniversary of the country's full independence from Britain.
Ireland's presence was a huge propaganda coup for the apartheid regime and three South African government ministers were at a reception to meet them in Pretoria.
But the tour was also memorable for the selection of Errol Tobias — the first ever black player to line out for South Africa.
"We wanted to show that there's no difference in people with colour and we thought we could make breakthroughs in playing," says Tobias.
He has the jersey of his opposite number for Ireland that day in 1981 on his wall at home — a constant reminder of that time.
In the documentary he talks about the huge scrutiny he was under from all sides in South Africa as the first ever black Springbok.
And 40 years on, the legacy of him crossing the line.
Crossing the Line, a Documentary on One, will be broadcast on RTÉ Radio 1 at 6pm this Sunday, 11 July. Or the podcast can be listened to now.